Address of Shri Ashwini Kumar Choubey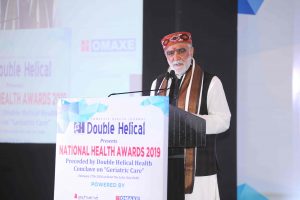 Distinguished representatives of India's healthcare community, diligent contributors to social, cultural and political spheres, other eminent guests, brothers and sisters!
I feel happy to address you all on the occasion of National Health Conclave and Awards organized by Double Helical, a prestigious health magazine, with the support of Association of Healthcare Providers (India) and Consortium of Accredited Hospitals.
Congratulations to you all for holding a brainstorming conclave on the pertinent issue of geriatric care. India has close to 115 million elderly people with multiple physical, social, psychological and economic problems. And by 2050, the country is estimated to have 20% of inhabitants as geriatric population that needs promotional, preventive, curative and rehabilitative services to take care of their overall wellbeing.
The Government of India is supporting elderly care through National Programme for Healthcare of Elderly (NPHCE). Under this, the Centre bears 75% and respective state spends the balance 25% of money on geriatric care. We are fully aware of the need to train manpower to take care of elderly patients. We have two specialized elderly care centres at AIIMS and Madras Medical College, Chennai, apart from 18 regional geriatric centres. We plan to set more centres to take care of the aged people in the times to come. In fact, we are working to have a full-fledged council for allied healthcare workforce.
As you are aware, the Union government has launched AYUSHMAN BHARAT, which is meeting the healthcare needs of a majority of underprivileged population. In addition there are state-run schemes which cover the BPL population. All in all, more than 65% of India population has received the cover of free health services. Obviously, the elderly care has also got a boost. The Government is committed to work on wellbeing of population through 1.5 lakh health and wellness centres. These centres will improve the quality of life in general and geriatric care in particular.
It is heartening to see the culmination of the conclave in conferring of awards to caregivers and institutions, who have significantly contributed to making a difference in the lives of older people. This gala awards ceremony recognizes the immense contribution and outstanding achievements of doctors and healthcare institutions in the service of the nation. Today, we have gathered here not just to celebrate the merit of our medical heroes, but also to give due regard to the values and morals which these distinguished awardees exemplify, such as care, compassion and empathy for their patients.
Awards are a way to encourage excellence. This is the reason why Double Helical organizes awards ceremony every year to acknowledge the achievements of deserving doctors and other members of the medical community who have devoted their lives to the service of humanity. The winners of today's event have not only made their profession proud, but brought accolades to the nation too. Dedicated doctors and healthcare institutions like today's winners are responsible for the continuous growth and development of India. Huge congratulations to all the award recipients; you have definitely set a very admiring benchmark for excellence in the medical profession. I hope you will continue to achieve further brilliance in your respective spheres.
In the end, I would like to use this opportunity to compliment Shri Amresh Tiwari, Editor-in-Chief of this complete health magazine, for organizing the National Health Conclave and Awards 2019. I would also like to extend special thanks to all those present here for joining me in publically celebrating the sheer hard work and perseverance of the members of India's medical community in geriatric care and all other aspects. I thank you all for having come together and making this day special for all those who have made Health for All as the mission of their lives.
Thank you all!
(Shri Choubey is Minister of State for Health and Family Welfare)