"We are committed to imparting awareness about health issues among masses and advocating for the availability of affordable world class health services to all strata of society" 
            Amresh K Tiwary, Editor-in-Chief, Double Helical
Double Helical is the country's leading health magazine. Brought out from New Delhi by a team of experienced journalists, the publication has carved a niche for itself as a complete magazine on health, fitness and holistic living through its print as well as web edition. Over the last more than a year, the national monthly has gained credibility as the voice of all stakeholders of the health sector – patients, doctors, health, wellness and fitness industries and all other health services providers and experts. The publication has emerged as a credible source of news and views pertaining to various aspects of healthcare in India.
Gradually, the health sector in India is witnessing a rapid growth. As it evolves and embraces global standards, trust and transparency, it is vital to take stock of the new developments taking place in the medical field at a fast pace. In Double Helical, we take a critical look at myriad aspects of Indian healthcare sector and the related issues.
We are committed to imparting awareness about health issues among masses and advocating for the availability of affordable world class health services to all strata of society. To achieve this end, we also give away national and regional health awards to deserving doctors, institutions and healthcare professionals every year to encourage them to do quality work and strive for realising the goal of health for all. The awards are given in various categories including awards for social commitment and services.
Double Helical Health Conclave and National Health Awards 2016, New Delhi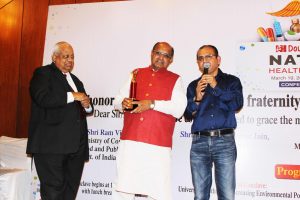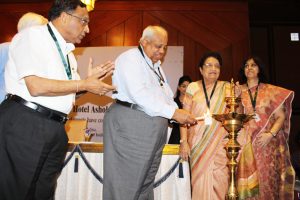 It was highly encouraging when hundreds of doctors, social workers, politicians, and other eminent persons gathered to witness Double Helical Health Conclave and National Health Awards in March, 2016. The award night took place in the esteemed presence of K.C. Tyagi, Member of Parliament (Rajya Sabha), a prominent name in JDU, Dr. Jayshree Mehta, President, Medical Council of India, Dr A K Agarwal, Professor of Excellence and Ex-Dean, Maulana Azad Medical, Dr Vinay Agrawal, former National President, Indian Medical Association, New Delhi and Founder Chairman, Max Super speiality Hospital, Vaishali. The event saw keen participation from stalwarts of Indian health sector who were looking not less than celebrities in their own right that day.Double Helical believes that the topics covered and discussed during the conclave have contributed in the overall progression
of health industry in India.
Double Helical State Health Awards 2016-Rajasthan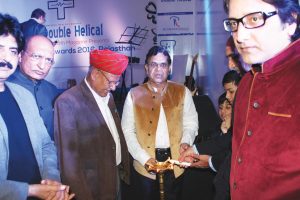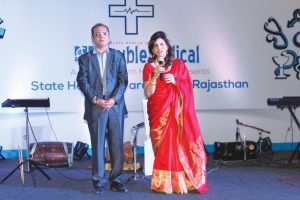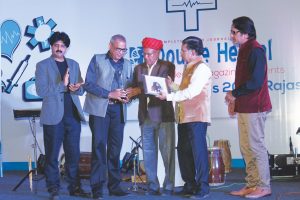 As part of its regional edition of Health Awards, Double Helical organised the State Health Awards 2016 in November 2016 at a gala function held at Clarks Amer, Jaipur. A large number of doctors from all over the country and eminent persons from other fields witnessed the glittering Awards ceremony held to acknowledge the extraordinary contribution of doctors and allied professionals hailing from the state of Rajasthan. This was the second time when the awards were organised by the magazine after the 'Double Helical National Health Awards 2016' in New Delhi. By organizing the state awards event, the magazine took the capital of Rajasthan by storm. Eminent professionals from the medical, social and political fields graced the night-long definitive event of the Indian healthcare sector.
The evening began with the lighting of the lamp by chief guest Shri Onkar Singh Lakhawat, Chairman, Heritage Conservation and Promotion Authority of Rajasthan, who has also got the status of a cabinet minister in the Govt of Rajasthan;
Dr S S Agarwal, noted physician and the then National President, Indian Medical Association (IMA), New Delhi; Dr Neelam Mohan, pioneer in Paediatric liver transplant, and Director, Department of Paediatric Gastroenterology Hepatology & Liver transplantation, Medanta Medicity Hospital, Gurugram, and Dr S P Yadav, Chairman and Managing Director, Pushpanjali Hospital, Gurugram, amongst others. It was followed by inspiring speeches made by stalwarts of medical field and in between the audience was entertained with delightful cultural performances.
Double Helical National Health Awards 2017, New Delhi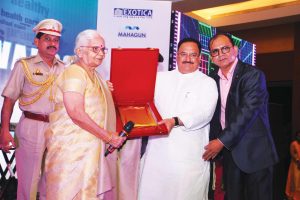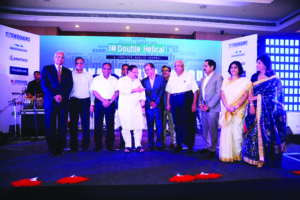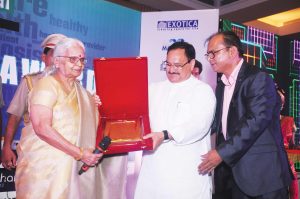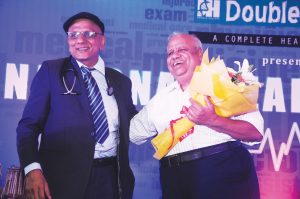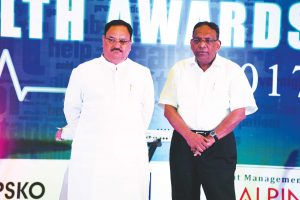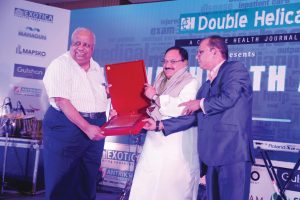 The Jaipur event was followed by Double Helical National Health Awards 2017 in New Delhi in May 2017. The prestigious event of the Indian healthcare sector witnessed a high profile gentry including eminent doctors, bureaucrats, politicians and social workers. This initiative to recognise and honour innovation and dedication in healthcare was widely appreciated. The Double Helical award recipients are champion healers whose extraordinary efforts in fulfilling the goals, values, and mission of inclusive healthcare were duly recognised at a credible platform.
The award event was graced by eminent personalities who included J P Nadda, Union Minister for Health and Family Affairs as Chief Guest, accompanied by Smt Mridula Sinha, Governor of Goa; Sharad Tripathi, MP (Lok Sabha) from Uttar Pradesh, and Shamsher Singh Manhas, MP (Rajya Sabha) from Jammu and Kashmir as Guests of Honour. Other important persons present on the occasion included Dr K K Aggarwal, National President, Indian Medical Association (IMA); Dr A K Agarwal, Professor of Excellence, Maulana Azad Medical College; Dr Vinay Agrawal, Ex-National President, IMA and Founder Chairman, Max Superspeciality Hospital, Vaishali; and Mr Amresh Kumar Tiwari, Editor-in-Chief, Double Helical.
It was an immaculate award show that honoured and felicitated the healthcare community for their tireless efforts towards the realisation of Health for All. The winners on the awards night were extremely happy and joyous at the recognition of their efforts and hard work at such a prestigious level. The awardees were chosen after a rigorous selection amongst the medical community pan-India. The different award categories acknowledged the efforts of the flag-bearers of the Indian healthcare sector in providing the best medical care with a healing touch.
The awards were given away by Chief Guest J P Nadda, Union Minister for Health and Family Affairs, and Guests of Honour – Smt Mridula Sinha, Governor of Goa; Sharad Tripathi, MP (Lok Sabha), and Shamsher Singh Manhas, MP (Rajya Sabha). Appreciating the efforts of the magazine in acknowledging excellence in the medical field, J P Nadda quipped, "Happy to have attended the Double Helical National Health Awards 2017, in august presence of Hon'ble Governor of Goa Smt. Mridula Sinha ji.My best wishes to all the recipients of these prestigious awards. I thank them for rendering outstanding services to the community."
By organising the awards third time in a row, Double Helical has lived up to its promise of successfully organising the bellwether event of the healthcare industry. The event will now be followed by similar gala events to be held in various states and abroad too.
Double Helical Healthcare Awards 2017 served as a testimony to the hard work of medical fraternity in developing the best healthcare and promoting state-of-the-art diagnostic and treatment facilities. Prior to the awards ceremony, the event had evoked a huge response with an increasing number of people logging on to the link www.doublehelicalawards.com to file their nominations.
The last edition of the Double Helical Healthcare Awards 2016 too was marked by participation of top doctors, healthcare professionals, medical experts and policy-makers, amongst others. The Double Helical Healthcare Awards 2017 emerged in a new avatar with newer, wide-ranging categories to identify and felicitate the meritorious healthcare players.
The awardees were chosen through a rigorous selection process presided over by a highly credible jury comprising experts and opinion leaders from the healthcare industry and other stakeholders to select winners across various categories. The eminent jury was headed by Dr K K Aggarwal as Chairman. The other jury members included Dr R N Tandon; Dr Vinay Agarwal, Ex-President, IMA; Dr Girdhar Gyani; Dr Suneela Garg, Director Prof and Head Community Medicine, Maulana Azad Medical College, and Dr Ved P Mishra.
The event served as an appropriate recognition of the extraordinary contribution made by healthcare institutions and professionals in terms of quality, attention and patient satisfaction. A galaxy of stalwarts from healthcare sector and luminaries from various fields converged under a credible media banner to be a part of the event.
Celebrating and promoting the finest achievements in the medical field since 2016, Double Helical Awards have grown to become the most-sought-after event in healthcare sector. Honouring the healthcare professionals and institutions that have genuinely made a difference to people's lives, Double Helical provides a platform to recognise innovation, people, products and services that are helping to transform the healthcare sector in the country and ushering in affordable, high quality and inclusive healthcare for patients. No wonder that Double Helical awards has become a mega annual event, keenly-awaited in the healthcare sector of the country.
CSR Activities of Double Helical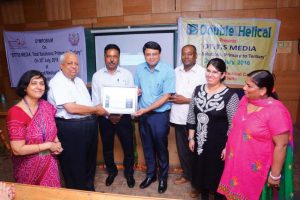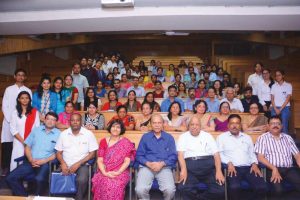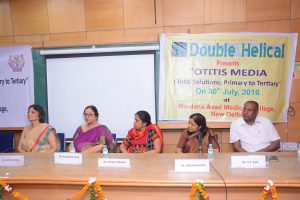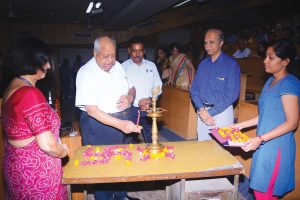 Double Helical is proud to be associated with the Society for Sound Hearing (SSH), an organisation working to eliminate hearing impairment by the year 2030 through development of sustainable and inclusive ear and hearing care systems in Asian countries. Based at the campus of Maulana Azad Medical College, New Delhi, the SSH works closely in partnership with institutions, committees, national and international Civil Society, WHO and other development partners in promoting better hearing for all.
Society for Sound Hearing is associated with Double Helical as an NGO partner.
In order to spread awareness regarding ear and hearing care, Double Helical sponsored a short talk, conducted in a school run by Neev, an educational project of Nav Abhiyan (A grassroots development initiative promoting self-reliance and self-esteem). Awareness talks were delivered using information, Education and Communication (IEC) material (including pamphlets, posters and flipcharts both in Hindi and English) developed by Society of Sound Hearing.
All the beneficiaries screened were counselled by interns from Maulana Azad Medical College, New Delhi. The patients who were found to be suffering from ear problems were provided medication free of cost through Department of Community Medicine, MAMC. Twenty percent of the patients required further intervention and were referred to Department of ENT, Lok Nayak Hospital, New Delhi.
A brief play was performed by the interns of MAMC to raise awareness about ear care in the community. The content of the talk included commonly encountered ear problems in children, talking about various milestones which can help detect hearing loss in a child.
Double Helical keeps contributing to such social and philanthropic causes. We also distribute aids and devices for physically challenged people from weaker sections. We have been making a difference in the lives of the socially and economically disadvantaged groups through raising awareness as well as making voluntary contributions in the areas of education; health; human rights and social services.