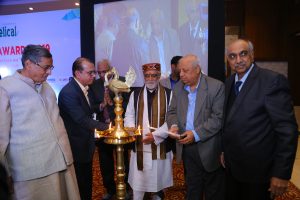 National Health Conclave and Awards 2019 organised by Double Helical witnessed a galaxy of eminent persons, who gathered to celebrate the medical excellence as well as care, compassion and empathy for patients epitomised by deserving doctors, healthcare institutions, and diverse organisations…..
By Vishal Duggal
Double Helical, India's leading health magazine, successfully organised 'National Health Conclave and Awards 2019' at Hotel Lalit in the national Capital on 17th of February, 2020. An impressive gathering comprising who's who of the healthcare industry besides distinguished guests and people from different walks of life witnessed the brainstorming Conclave and glittering Awards ceremony, organised by the magazine with the support of the Association of Healthcare Providers (AHPI) India and the Consortium of Accredited Hospitals (CAHO).
The magazine organised the Conclave on the pertinent issue of geriatric care, which acquires significance in the wake of the fact that India has close to 115 million elderly people with multiple physical, social, psychological and economic problems. The Conclave culminated in conferring of awards to caregivers and institutions, who have significantly contributed to making a difference in the lives of people.
More than 400 doctors and prominent persons from various fields witnessed the mega awards ceremony organised to encourage the quality work being done in the healthcare sector. The ceremony was graced by Shri Ashwini Kumar Choubey, Minister of State for Health and Family Welfare as Chief Guest; Tariq Anwar, senior political leader and Ex-Minister of State for Agriculture and Food Processing, and R K Sinha, Member of Parliament, Rajya Sabha as Guests of Honour. Other eminent persons present on the occasion included Dr A K Agarwal, Professor of Excellence, Medical Advisor, Apollo Hospital, New Delhi, & Ex-Dean, Maulana Azad Medical College; Dr Giridhar J Gyani, Director General, Association of Healthcare Providers-AHPI, India; Dr Suneela Garg, Dir. Professor & Head, Community Medicine, Maulana Azad Medical College & Associated Hospitals New Delhi; Dr Neelam Mohan, Director, Dept of Paediatric Gastroenterology, Hepatology and Liver Transplant, Medanta Hospital, Gurugram; Dr Vijay Agarwal, President, CAHO; Dr Ramesh K Goyal, Vice Chancellor, Delhi Pharmaceutical Sciences and Research University (DPSRU); Dr Nimesh G. Desai, Director, Institute of Human Behaviour and Allied Sciences (IHBAS); Dr R K Tuli, Chief Consultant, Holistic Medicine, SOHAM, New Delhi, and Amresh Kumar Tiwary, Editor-in-Chief, Double Helical.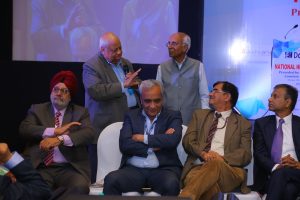 The evening began with the Conclave on Geriatric Care anchored by Dr Vijay Agarwal who said, "By 2050, the country is estimated to have 20% of inhabitants as geriatric population that needs promotional, preventive, curative and rehabilitative services to take care of their overall well-being." He stressed on making healthcare services accessible and affordable for the older people.
The immensely thought-provoking Conclave discussed in detail the ways to bring about a sea change in the current status of elderly care in the country. The Conclave was followed by lighting of the lamp by the esteemed Chief Guest, Guests of Honour and other dignitaries, and an engaging Kavi Sammelan which was made unforgettable by the presence of eminent poets Dr Kunwar Bechain, Ex-Head, Hindi Department at MMH College, Ghaziabad, and Laxmi Shankar Bajpai, former Deputy Director General at AIR Akashwani.
The Kavi Sammelan was followed by an immaculate award ceremony that honoured and felicitated NGOs, doctors, hospitals and institutions for their dedicated services in social field and health sector. The winners on the award night were extremely happy and joyous at the recognition of their efforts and hard work at such a prestigious level.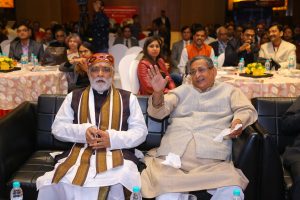 Chief Guest Shri Ashwini Kumar Choubey delivered an inspiring speech in which he praised the commitment and hard work of the medical community in the care of aging population saying, "Dedicated doctors and healthcare institutions like today's winners are responsible for the enhancement of the glory of medical profession. I would like to extend special thanks to Team Double Helical for joining me in publically celebrating the sheer hard work and perseverance of the members of India's healthcare community." Addressing the gathering, Guest of Honour Tariq Anwar said, "Awards are a way to encourage excellence. This is the reason why Double Helical organizes awards ceremony every year to acknowledge the achievements of deserving doctors and other members of the medical community who have devoted their lives to the service of humanity. The winners of National Health Awards 2019 have not only made their profession proud, but brought accolades to the nation too."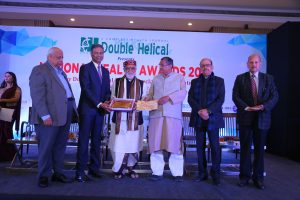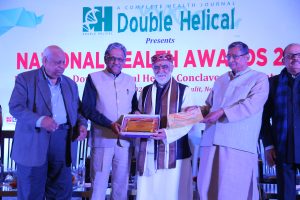 Double Helical Health Awards is a platform that recognises innovation, people, products and services that are helping to transform healthcare sector in the country and ushering in affordable, high quality and inclusive healthcare for patients. It is a mega annual event, keenly-awaited in the country. Amresh Tiwary, Editor-in-Chief of Double Helical expressed his gratitude to all the people who contributed to making the event a huge success. "Today's gala awards ceremony recognizes the immense contribution and outstanding achievements of doctors and healthcare institutions in the service of the nation. I thank you all for coming together and making it the definitive event of the healthcare sector," he added.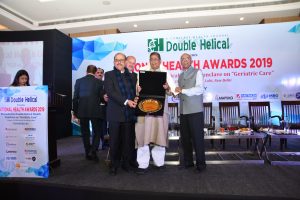 Double Helical Healthcare Awards 2019 served as a testimony to the hard work of medical fraternity in developing the best healthcare and promoting state-of-the-art diagnostic and treatment facilities. The event aimed to take a look at the macro and micro factors, the current scenario and the way forward for the healthcare sector. Focused on the pertinent issue of geriatric care, the ceremony saw a galaxy of eminent doctors, politicians, bureaucrats, social activists, industry officials, experts, top notch realty players and other stakeholders converge under a prestigious banner provided by Double Helical.
Awardees of Double Helical National Health Awards 2020 For Distinguished Contribution In Geriatric Care
1 Dr. Dominic Benjamin, Senior Consultant & HOD General Medicine, Bapist Hospital, Bangalore
2 Dr. Anoop Amarnath, Chairman- Geriatric Medicine, Chief of Clinical Services, MH, Bangalore
3 Dr R K Singhal, Chairman-Internal Medicine Department, BLK Hospital, New Delhi
4 Dr Alexander Thomas, President AHPI
5 Dr Pereira Pratibha: Head of Department of Geriatric, JSS Medical College JSSAHER, Mysore.
6 Dr. H.S. Chhabra, Chief of Spine Services & Medical Director, Indian Spinal Injuries Centre, New Delhi
7 Dr Tanuja Manoj Nesari, Director, All India Institute of Ayurveda, New Delhi
8 Dr Rajiv Sood, Dean, RML Hospital, New Delhi
9 Dr Vikas Swarnkar, Chairperson, MGUMST
10 Dr Kapil Zirpe, Director, Neuro Trauma, Ruby Clinic
11 Dr Steve Paul Manjaly, HOD, Geriatric Medicine, Jubilee Mission Medical College, Trissur
12 Dr. Surekha V MD, Department of Geriatrics Christian Medical College Vellore
13 Lt Col Dr Vivek Aggarwal, Associate Professor, Department of Internal Medicine (Geriatrics Division), Armed Forces Medical College, Pune
14 Dr. Baljeet Singh Johal, CMD Johal Hospital
15 Dr. Anand P. Ambali, Professor of Medicine, Dean Student Affairs, BLDE, Master trainer, National Program of Health Care of Elderly (NPHCE), Karnataka and Maharashtra states.
16 Dr Prachee Sathe, Director ICU Ruby Clinic
17 Dr Abha Chaudhary, Founder Chairperson, Anugaraha, An NGO works all social field especially Geriatric Care
18 Dr Shishir Narayan, MD Eye Trust and Associate with Shroff Hospital New Delhi: Excellence in Eye Treatment
19 Dr Neelam Mohan: Department of Pediatric Gastroenterology, Hepatology & Liver Transplantation
20 Dr P D Rath, Director, Max Superspeciality Hospital, Saket, New Delhi
21 Dr Inder Parkash, DG, NPHCE & Public Health, Ministry of Health and Family Welfare
22 Dr R K Goyal, Vice Chancellor, DIPSRU, New Delhi
23 Dr Harvinder Popli, Principal and Registrar, DIPSRU
24 Ms Upasana Arora, Director, Yashoda Super Specialty Hospital, Kaushambi
25 Dr Gowri N. Sengupta ADG, NPHCE & Public Health, Ministry of Health and Family Welfare
26 Dr G S Grewal, Chairman of Wellness Health & You, Mentor, Age-Friendly India Initiative
27 Dr Veerendra Mishra, Director, NISD, Ministry of Social Justice and Empowerment, Govt of India
28 Dr Anupam Sachdeva, Head of Pediatric Hematology Oncology and BMT Unit, Sir Ganga Ram Hospital, New Delhi, India
29 Dr R K Tuli, Founder, Society for Holistic Advancement of Medicine (SOHAM).
30 Dr S P Yadav, CMD, Pushpanjali Hospital, Gurgaon
31 Dr Sachin Bhargav, Society For Promoting Awareness Regarding School And Health
32 Dr Manisha Yadav, Associated with Indian Spine Injury Centre & Sir Ganga Ram Hospital, New Delhi
33 Pankaj Shandilya: CEO, Rankers Group of Hospitals
34 Kumar Anand; Senior Journalist for Excellence in Journalism
35 Brahm Singh Yadav/Meeta Rai: DPS Siddharth Vihar for Excellence in Quality Education
36 Action Cancer Hospital, New Delhi for Best Hospital for Quality Care
37 Dr Pranay Mahajan, Hospital Administrator PGIMER, Chandigarh for Most Promising Healthcare Administrator
38 Dr Uttam Thakur, Surgeon PGIMER, Chandigarh for Most Promising Surgeon
Creators of Healthy Living Spaces
Ashiyana Housing: Best Developer for Senior Living
Central Park: Best Super Luxury Housing Developer
Mahagun India: Best Developer, Quality Housing
Gulshan Homz: Best Luxury Housing Developer in Delhi/NCR
Signature Global: Excellence in Affordable Housing
MAPSKO: Best Realty Player of Quality Housing
Antriksh India: Excellence in Quality Housing
MRG Group: Best Affordable Housing Developer of Year
Branding and Marketing
Social Welfare
1. Neeraj Ojha, Dicector, Zenith Orthocare, New Delhi, Best in Respective Field
2. JVS Healthcare, Best in Respective Field
3.Paful Singh, Best in Respective Field
ICCPL: Best in Public Relations
Jury Members of Double Helical National Health Awards 2019
1. Dr A K Aggarwal
2. Dr Girdhar J Gyani
3. Dr Vijay Agarwal
4. Dr Vinay Aggarwal
5. Dr Suneela Garg