Shahnaz Husain: Now a "Subject" at the Harvard Business School
Shahnaz Husain: Now a "Subject" at the Harvard Business School
Thanks to her extraordinary business acumen coupled with a relentless passion for promoting India's priceless legacy of natural beauty and wellness system, Shahnaz Husain has today become a 'Subject' at the prestigious Harvard Business School
By Bipin Sharma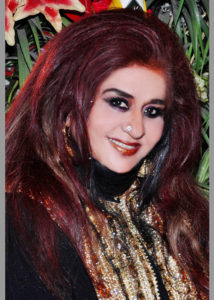 Padma Shri awardee and India's celebrated Herbal Beauty Queen Shahnaz Husain has won many laurels in her long entrepreneurial journey that began more than 35 years ago. She has been globally recognized as a beauty and wellness icon, and a global pioneer of organic beauty care and Ayurveda.Currently, her Group operates in more than 100 countries, where it runs a chain of franchise salons, direct product distributors and beauty institutes.Known for introducing a totally new concept of Ayurvedic Care and Cure worldwide, the Beauty Diva is determined to take Ayurveda to every nook and corner of the globe. Chartering phenomenal business success after having been married at the tender age of 15, and becoming a mother by the time she was 16, today she epitomizes 'women empowerment' in the truest sense, and has for the last four decades been a huge source of inspiration for women all over the globe.
Adding another feather in her cap, Shahnaz Husain has now become a 'Subject' at the world's premier B-school, the Harvard Business School. It has been no ordinary feat since very few personalities who get chosen as 'Case Studies' eventually go on to become a 'Subject' at the Harvard Business School curriculum.Prior to becoming a regular Subject on "Brand Creation in Emerging Markets" at the HBS, Shahnaz was a 'Case Study on Brand Creation'. She has captivated audiences with brilliant lectures at the Harvard Business School, MIT, Oxford University and London School of Economics on 'Brand India and Ayurveda', wherein she has narrated how she was successful in creating an international brand alongside a global network of franchise ventures sans any commercial advertising. Her accomplishment has brought laurels to the nation, and Shahnaz on her part feels overwhelmed with the global recognition.
What really inspired the HBS to include her as a 'Subject' in their curriculum was her extraordinary business acumen coupled with her relentless passion for promoting Ayurveda in the beauty and wellness segment,
A prized video interview of Shahnaz Husain titled "Creating Emerging Markets" conducted by Harvard Professor Sunil Gupta from Boston sometime ago has been included in a 'Question-Answer Format' as part of the HBS Teaching Curriculum. An exclusive Harvard Conference on "Creating Emerging Markets" was organized at Taj Lands End Hotel in Mumbai on 13th Feb'17 with Shahnaz as one of the key participants.
HBS is consistently ranked among the leading business schools in the world, and was ranked 1st in the United States by US News & World Report in 2016.
Notable among other participants in the conference were Professors Geoffrey Jones and Tarun Khanna from the Harvard Business School. The event was built around the video interviews conducted by Harvard on how Business Leaders have Created Emerging Markets (CEM), a foundational effort by the School to capture, through carefully curated video interviews, the history of business leadership in South Asia, Latin America, and Africa, in which Shahnaz Husain's interview has an important contribution.
In the comprehensive video interview conducted by Professor Sunil Gupta, Shahnaz had discussed the various facets of her life, initial struggles in Tehran, personal milestones, future aspirations, Corporate Social Responsibility (CSR) initiatives, and more significantly, how she broke the shackles as a young teenage bride and mother to pioneer natural beauty products market and Ayurveda'. Through the interview, one comes to know how Shahnaz had to make herculean efforts to make it to the top rung beauty training institutes of London, Paris, New York, Germany and Denmark.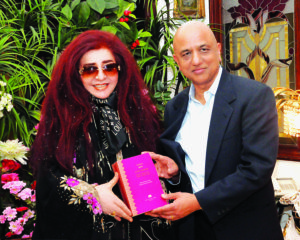 Professor Sunil Gupta was accompanied in his interview by senior researchers of the Harvard Business School Research Centre.The Interview highlights how Shahnaz's franchise model enabled her to expand her business horizons along with helping her provide employment and empowerment to countless women pan India and overseas. Her distribution network strategy synergized with her concept of shop-in-shops, with advisors, clinics, salons, spas, and also franchises out products to other FMCG companies did wonders. Then there is the mention of the vision and grit of the phenomenal entrepreneur, and how it paved the way for her to revolutionize and transform the beauty business.
The official statement from Geoffrey Jones, Isidor Straus Professor of Business History, Harvard Business School says it all, "We felt compelled to include Shahnaz Husain in Harvard Business School's Creating Emerging Markets project, both because of her entrepreneurial role in creating India's natural beauty market and her strong belief in the importance of corporate social responsibility. In both regards, she is a pioneer and a role model, and we were delighted and humbled that she was willing to spare her time to help the project succeed. We anticipate that the interview will be widely used by educators and researchers, and by many others interested in seeing how she became so successful and impactful."
Sharing his views on the Golden journey and the landmark achieved by Shahnaz, Global Pioneer in Holistic Medicine, Dr RK Tuli said, "Shahnaz Husain becoming a Subject at the HBS is a watershed moment as it would enable educators and researchers to take a leaf out of the books of the genius. The credit goes to her for showing the world a new dimension to feel and look good the natural way with her extensive range of skin, hair and beauty care herbal formulations.
Commenting on the Harvard achievement, Shahnaz said, "The Harvard case study is about how to build a global brand without using formal marketing or advertising techniques. They said I violate every norm they teach about advertising and publicity."
She added, "I have incessantly followed a clinical system, diagnosing skin and hair problems and writing prescriptions. I always advise people to never give up because this way, they can never fail. Evaluating my success story in hindsight, I feel fortunate that I was in the right place at the right time. At a time when the world needed an alternative to chemical products, I chipped in with Ayurveda and herbal solutions."
With the passage of time, these formulations have broken new glass ceilings in the Ayurvedic industry. As a tireless crusader of Ayurveda, she has promoted country's ancient herbal heritage and holistic beauty care at International Beauty Congresses such as CIDESCO when India had literally no representation or invitation. She earned the sobriquet 'Global Beauty Ambassador' chiefly for promoting India's image in the western world.
Equally commendable has been her role in spreading awareness about the perils associated with chemical based cosmetics. A 'trendsetter' in the true sense, she introduced the 'Plant Stem Cell' Beauty products in the USA. While 'Innovation' has been the secret of her success, the fact that she has never been complacent about her laurels is what really sets her apart.
By holding press conferences and regular participation in trade shows/fairs, she was successful in making an everlasting impact on the world. Promoting one of the most ancient civilizations in the world was no joke, but the mission was made possible by the sheer determination of the phenomenal Shahnaz who assiduously led from the front in promoting India's priceless legacy Ayurveda' in the beauty and wellness segment, like no one else.
"I firmly believe that India will lead the billion dollar cosmetic Industry into the next century with its ancient herbal heritage. By incorporating some systemic changes, and getting all stakeholders on board, India stands strategically poised to win a lion's share of the 'beauty and wellness' business on a global level. The creation of a dedicated Ministry of AYUSH in the year 2014 by the Government of India has done a world of good for ensuring the optimal development and propagation of AYUSH systems of healthcare," said a beaming Shahnaz, the pioneer of natural beauty products.
When the 'God of Art' painted the Empress of Beauty'
By team double helical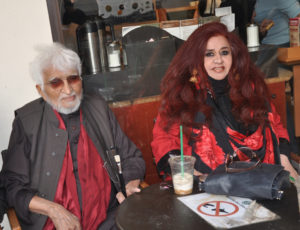 It is not every day when you get to see two iconic geniuses of their respective fields meet under one roof. But when it actually happens, it creates 'history' and becomes an unforgettable moment of life that leaves one with memories to be cherished for times to come. Shahnaz Husain has some really fond memories of the time spent with the iconic MF Husain in London.
Going into the nostalgia, she reminisces the time when she went to pay a visit to MF Husain in London and as fate would have it, became a 'muse' for the 'Picasso of India', as the man was fondly referred to.
What really bowled her over was the sheer humility of the world renowned artist who had no fuss or qualms being casually seated on the floor as he sketched Shahnaz's portrait.
Then there was another chance meeting of Shahnaz with MF Husain at Starbucks in London. It so happened that he was leaving, but on seeing Shahnaz, he stopped and scribbled a note, and just walked away bare foot.
Here is the whole story in the words of Shahnaz:
"His paintings have fetched astronomical bids, but this sketch bears testimonial to the fact that despite his colossal talent and fame, he remained a close friend, and more significantly a good human being who never lost his humility. The man had absolutely no airs about him, and I can never forget the time spent with him. He was known as "Picasso of India" because of his phenomenal talent. I remember him as a dear friend and a great human being. It seems just the other day when I met him at Starbucks in London. He always seemed to be full of energy and vitality.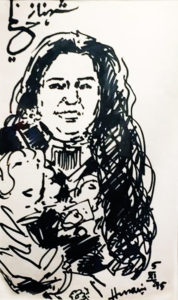 He scribbled a note to me on a small paper and walked away bare feet……the man who had the world at his feet! Whenever I made a request, he was always there for me. I feel really touched how he designed and sketched the card for my daughter's wedding. The void he has left, in the world of art and in my heart, can never be filled. We should continue to celebrate him and his works. We cannot lose the Husain magic in the archives of time. My portrait, painted by M.F. Husain, is indubitably my most prized possession. He depicted me as a Mughal Empress and told me, "This is my impression of you….the way I perceive you." The portrait is very close to my heart and always will be. It has immense pride of place in our sitting room in New Delhi. It seems like yesterday when I was shopping at Selfridges in London and we met. I was wearing a red kaftan.
He suddenly insisted on painting me and wanted me to go home, so that he could start painting at once. I canceled an important meeting with a cosmetic buyer and went home! Later, he visited my house in Greater Kailash and left the painting with a note. Today, it hangs in my home – a reminder of that beautiful and unforgettable day in London when he painted my portrait. The sketch he made of me came under the hammer recently, at Christie's in London.
He had this habit of making sketches. Whenever he visited us, he would make sketches of horses and leave them in our house. I remember the time he made this sketch, when I visited him in London. He sat on the floor, very casually, and sketched it. His paintings have fetched astronomical bids, but this sketch bears testimony to the fact that despite his enormous talent and fame, he always remained grounded, and never lost his humility."