A galaxy of stalwarts from healthcare industry descended at Double Helical National Health Awards 2018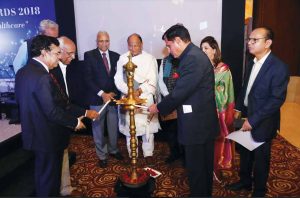 New Delhi, November 17, 2018: To acknowledge the achievements of deserving doctors, healthcare service providers, NGOs and other stakeholders of the medical community, Double Helical, India's leading health magazine, announced the winners of 'Double Helical National Health Awards 2018' at Hotel The Lalit on Friday evening, the 16th  of November, 2018. An impressive gathering comprising who's who of the healthcare industry besides distinguished guests and people from different walks of life witnessed the glittering Awards ceremony held in the heart of Delhi.
The magazine organised the star-studded award ceremony to celebrate the merit of deserving professionals as well as give due regard to the values and morals which these distinguished awardees exemplify, such as care, compassion and empathy for their patients. This event truly showcased the commitment that the healthcare and social achievers have shown for wiping the tears of the suffering humanity.
As awards are a great way to encourage excellence, Double Helical organizes these prestigious awards to acknowledge the good work being done in the field of healthcare. The winners of the event have not only made their profession proud, but brought accolades to the nation at the global level.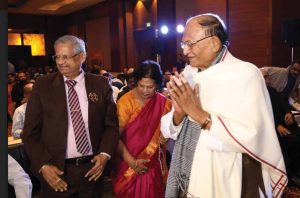 The ceremony was graced by Dr C P Thakur, Ex-Union Health Minister and presently Member of Parliament, Rajya Sabha as Chief Guest and Mr Tariq Anwar, senior political leader and Ex-Minister of State for Agriculture and Food Processing. The esteemed Guests of Honour for the night-long definitive event of the Indian healthcare sector included Dr Shamsher Singh Manhas, MP, Rajya Sabha (Jammu & Kashmir); Dr Ramesh K Goyal, Vice Chancellor, Delhi Pharmaceutical Sciences and Research University (DPSRU, and Dr Aruvir Singh, CEO, Yamuna Expressway Industrial Development Authority. Other eminent persons present on the occasion included Dr Giridhar J Gyani, Director General, Association of Healthcare Providers – AHPI (India); Dr Suneela Garg, Dir. Professor & Head, Community Medicine, Maulana Azad Medical College & Associated Hospitals New Delhi, and Dr Vijay Agarwal, President, Consortium of Accredited Healthcare Organisations (CAHO); Dr Neelam Mohan, Director, Dept of Paediatric Gastroenterology, Hepatology Liver Transplant, Medanta and Mr Amresh Kumar Tiwari, Editor-in-Chief, Double Helical. The evening began with a brainstorming seminar on 'Anatomy of Affordable Healthcare' anchored by Dr Gyani who said, "The recently launched Ayushman Bharat is a major step which is expected to improve the overall healthcare scenario." He stressed on making healthcare services affordable for the masses and increasing the availability of total number of hospitals beds in sync with the country's vastly growing population. For this purpose, it is required that the efforts be made in unison by the government and private hospitals. The session included eminent panellists such as Dr Vijay Agarwal; Dr Neelam Mohan; Dr. Nimesh G. Desai, Director, Institute of Human Behaviour and Allied Sciences (IHBAS), and Dr. R K Tuli, Chief Consultant, Holistic Medicine, SOHAM, New Delhi.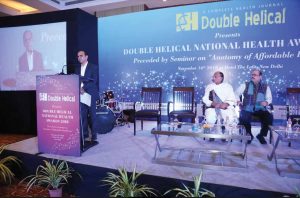 This immensely thought-provoking session discussed in detail the ways to bring about a sea change in the current status of healthcare delivery in the country as India being a vast country the last mile delivery of healthcare faces a series of roadblocks. The seminar was followed by singing of national anthem and musical performance by school children and lighting of the lamp by the esteemed Chief Guest, Guests of Honour and other dignitaries.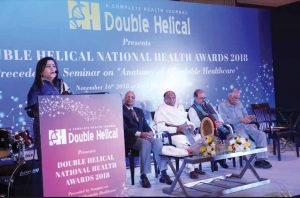 This was followed by an immaculate award ceremony that honoured and felicitated NGOs, doctors, hospitals and institutions for their dedicated services in social service and health sectors. The winners on the award night were extremely happy and joyous at the recognition of their efforts and hard work at such a prestigious level.
Dr C P Thakur delivered an inspiring speech in which he praised the commitment and hard work of the medical community saying, "Dedicated doctors and healthcare institutions like today's winners are responsible for the continuous growth and development of India. I would like to extend special thanks to Team Double Helical for joining me in publically celebrating the sheer hard work and perseverance of the members of India's medical community." Addressing the gathering, Shri Tariq Anwar said, "A huge congratulations to all the award recipients; you have definitely set a very admiring benchmark for excellence in the medical profession. I hope you will continue to achieve further brilliance in your respective spheres. I would like to use this wonderful opportunity to thank Mr Amresh Tiwari, Editor-in-Chief of this complete health magazine for inviting me to grace this momentous occasion."
In between the award proceedings, the audience was entertained with delightful cultural performances.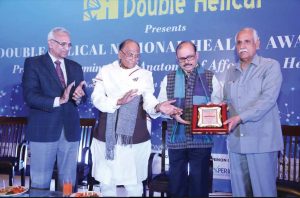 The awardees were chosen by an eminent jury headed by Dr A K Agarwal, Professor of Excellence, Medical Advisor, Apollo Hospital, New Delhi, and Ex-Dean, Maulana Azad Medical College across various categories, after a rigorous selection amongst the medical community pan India. The different award categories acknowledged the efforts of the shining stars of the Indian healthcare sector for their outstanding achievements in providing the best medical care with a healing touch. Mr Amresh Tiwary expressed his gratitude to all the people who contributed to making the event a huge success. "Living up to the promise of honouring the excellent contribution of the deserving medical professionals, we organise this most coveted event every year. The immense participation and response of the industry has turned out to be a great inspiration for us. I thank you all for having come together and making this day special for all those who have the nerve to achieve something big in their lives," he added.
List of Recipients of Double Helical National Health Awards 2018
NGOs/ Individuals in Service of Mankind
JEEV SEWA SANSTHAN: Excellence in multifarious benevolent activities in Health and Education for underprivileged sections of society.
SANKALP: Outstanding work towards inclusive Health & Education among children of underprivileged sections of society
Meenakshi Mission Hospital and Research Centre: Outstanding work in providing Affordable and Quality Healthcare Services
Indian Society for Lead Awareness & Research: Outstanding contribution in creating awareness and mitigating harmful effect of LEAD
Society for Child Development: Outstanding work in educating physically challenged people and providing legal support towards their legitimate rights.
Shri Onkar Singh Memorial Trust: Outstanding work in providing Medical and Surgical Services to underprivileged section of society
Heart Foundation of India: Excellent work done in promotive and preventive healthcare services & providing charitable services to society.
Breastfeeding Promotion Network of India: Outstanding contribution in promoting Breast Feeding
Amrita Institute of Medical Sciences: Outstanding work in providing affordable medical services in remote areas of Andaman & Nicobar Iceland
Arunodaya Charitable trust: Excellence in mitigating Curable Blindness
Dr Sushil Sharma: Special Award for outstanding contribution in providing coronary & non-coronary interventions in state of J&K.
Dr (Col.) C.S. Pant: Special Award for promoting Awareness on Breast Cancer
Indian Cancer Society: Outstanding contribution in promotive and preventive measures against Cancer
Pooranmal Phoola Devi Memorial Trust: Outstanding contribution in establishing complete range of medical services to community at large
Rajgopal Foundation: Outstanding contribution in undertaking highly subsidized orthopaedic surgeries
Diabetes Care India: Outstanding services in promoting and mitigating Diabetes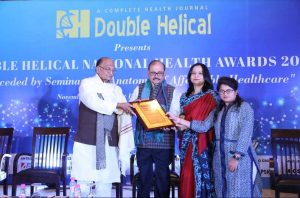 Doctors in Service of Mankind
Sushil Sharma, HoD, Cardiology, GMC&SSH, Jammu for his outstanding contribution in providing Coronary & Non-Coronary Interventions in the State of J&K
Neelam Mohan: For Excellence in Paediatric Haematology and Liver Transplant
Awardees of No Quality Life without Good House
Mahagun Group: Best Developer promoting Green Quality Living Houses
Antriksh India: Best Developer to Develop Eco Friendly Homes for Doctors
Gulshan Homz: Best Developer for Super Branded Healthy Living Homes
Double Helical has always acknowledged the efforts of the doctors who play a very important role in the wellbeing of the society. They epitomize the hopes of patients. The contribution of doctors to make a difference in the society has been splendid for which we thought to do our bit by awarding them.
About Double Helical
Double Helical (www.doublehelical.com) is a complete national magazine on health, fitness and holistic living. Over the last one year, the magazine has gained credibility as the voice of all stakeholders of the health sector. It has emerged as a credible source of news and views pertaining to all aspects of healthcare in India.