China is in the grip of an outbreak of novel coronavirus (nCoV) and cases have been reported from other countries too. In India, three students from Kerala have been infected and are placed in isolation. AMRESH K TIWARY takes stock of the state of preparedness in the country for the control and management of the dreaded infection…. 
At the time of going to the press, the death toll from the coronavirus epidemic that originated in the central Chinese city of Wuhan, at the end of 2019 had mounted to more than 700 with more than 3000 people in a serious condition. Scientists from the University of Hong Kong have warned more than 75,000 people could have battled the infection in the city Wuhan, the epicentre of the outbreak. Also, the people who have had close contact with infected people were being closely monitored.
The strain has infected people in every region of mainland China, as well as crossing national borders into 22 other countries. With the virus reaching as far as the US, UK and Australia, the World Health Organization declared it a "global emergency".
As for India, three positive cases of novel coronavirus patient, of students studying in the Wuhan University, were reported in Kerala. The patients had tested positive for novel coronavirus and were in isolation in the hospital. The patient were stable and were being closely monitored.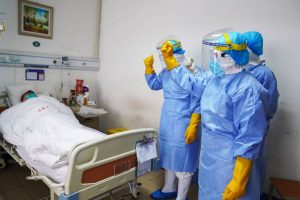 What's coronavirus?
The nCoV illness ranges from common cold to more severe diseases such as Middle East Respiratory Syndrome (MERS)-CoV and Severe Acute Respiratory Syndrome (SARS-CoV).
Corona virus is a virus that causes infection in the upper throat, nose, and sinuses. This virus belongs to the family of common cold and viruses (SARS and MERS). Hundreds of people have been infected by this virus in China. And the virus is spreading in other countries as well.
Coronaviruses were first identified in the 1960s, but we don't know where they come from. They get their name from their crown-like shape. Sometimes, but not often, a corona virus can infect both animals and humans. Most corona viruses spread the same way other cold-causing viruses do: through infected people coughing and sneezing, by touching an infected person's hands or face, or by touching things such as doorknobs that infected people have touched.
In early 2020, following a recent outbreak in China, the World Health Organization (WHO) identified a new type, 2019 novel coronavirus (2019-nCoV). Often a corona virus causes upper respiratory infection symptoms like a stuffy nose, cough, and sore throat. You can treat it with rest and over-the-counter medication. The coronavirus can also cause middle ear infections in children.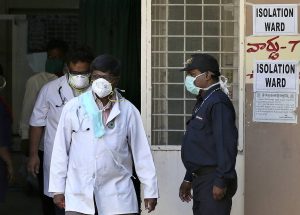 Almost everyone gets a coronavirus infection at least once in their life, most likely as a young child. In the United States, corona viruses are more common in the fall and winter, but anyone can come down with a coronavirus infection at any time.
What are the common symptoms of coronavirus?
Pneumonia, upper respiratory tract illness, runny nose, cough, sore throat, possibly a headache and maybe a fever, The symptoms of most coronaviruses are similar to any other upper respiratory infection, including runny nose, coughing, sore throat, and sometimes a fever. In most cases, you won't know whether you have a coronavirus or a different cold-causing virus, such as rhinovirus.
Possible Treatment
There is no specific treatment available as of now; symptoms may go away on their own. One must take care of self, rest and avoid over exertion. Drink enough water. Avoid smoking and smoky areas. Take acetaminophen, ibuprofen or naproxen to reduce pain and fever. And use a clean humidifier or cool mist vaporizer.

How you can prevent it?
If you have recently travelled to China (within last 14 days) or had possible contact with an nCoV-infected person, it is advised to:
Sleep in a separate room
Stay in home isolation for 14 days after your return
Limit contact with other family members and avoid visitors
Cover nose and mouth when coughing and sneezing
Avoid close contact with anyone with cold or flu like symptoms (maintain a distance of at least 1 meter from any individual)
Avoid going near a sick person, wash your hands frequently for 20 seconds, cover your mouth and nose when you sneeze, eat cooked food especially meat, eggs etc, eat healthy and stay healthy.
Measures taken to prevent outbreak of coronavirus
Sanjeeva Kumar, Special Secretary (HFW) chaired a video conference (VC) with along with the Airport Health Organization Officers (APHOs), Health Secretaries of the states bordering Nepal (Uttarakhand, Uttar Pradesh, Bihar, West Bengal and Sikkim) and other states/UTs. He reviewed their preparedness for prevention and management of coronavirus. Dr Rajiv Garg, DGHS and senior officials from the Ministry of Health & Family Welfare and NCDC were also present during the recent VC.
Special Secretary (H) informed that various advisories, and guidelines have already been issued by the Health Ministry to all the states/UTs and regular monitoring on the status of preparedness is being taken place at the highest level. He reviewed the preparedness status of all the states/UTs regarding the following: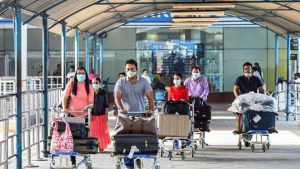 Airports – States/UTs reported that the thermal and symptomatic screening has been initiated at all identified airports. Thermal screening sensors are operational and few more such equipment is being procured. The immigration and other staff members at the airports have been sensitized and dedicated ambulances are placed at the airports. Deployment of medical & para-medical staff is also being done for round-the-clock service. Self-declaration forms are available and signages are being placed at prominent places at all airports. Seven central teams have visited the respective states and helped to strengthen the preparedness too.
Hospitals – States/UTs reported that isolation wards have been identified and readied to face any contingency. Personal Protection Equipment and masks are available in adequate quantity in all the states/UTs. States need to regularly assess requirement of personal protection equipment, masks etc., and undertake necessary procurement to ensure sufficient supply. Tertiary hospitals are also identified for these airports and the protocols for contact tracing are followed and timely collection and transportation of samples from suspected cases to NIV, Pune is being done.
States bordering Nepal reported that adequate steps have been taken at the land check posts, and people contacts & meetings have been organised at villages in the bordering areas. Awareness is being enhanced through signages in local language, miking and other media channels. Gram panchayats are being organised to make people more aware regarding the symptoms, precautions and measures taken by the state governments regarding prevention and management for novel coronavirus.
According to Sanjeeva Kumar, Spl. Secretary (HFW), states need to take pro-active preventive measures by creating awareness among the people through local media. Adequate in-flight announcements need to be undertaken to make passengers aware about the symptoms and equipping them to "Help you to help us". Call centre/helpline numbers need to get popularized through TV, radio, press releases, social media and other channels.
Spl. Secretary (H) assured states of all support from the Health Ministry, including orientation of medical personnel/staff and other agencies through regular video conferencing. High level review meetings on preparedness for novel Coronavirus are regularly being held by the Union Health Minister, Cabinet Secretary and Health Secretary.
Cabinet Secretary has held several review meetings so far. He reviewed the preparedness with the concerned ministries of Health & Family Welfare, External Affairs, Defence, Home Affairs, Civil Aviation, Information & Broadcasting, Labour & Employment, and Shipping. A video conference with the chief secretaries of the states and UTs was also taken by the Cabinet Secretary.
Following steps have so far been taken by Union Health and Family Welfare Ministry to prevent the spread of coronavirus in India:
All those who have come from China after 15th January, 2020 are being tested as there in an incubation period for the virus.
The Cabinet Secretary has stressed upon the need for 14 days' home isolation for all those who have returned from China.
It is also advised that trip to China should be avoided.
It was also decided to augment the lab facilities. Following labs have started functioning: (1) NIV Bengaluru Unit, (2) Victoria Hospital Campus, KR Road, Fort, Bengaluru (3), AIIMS, New Delhi (4), NCDC, Delhi (5) Kasturba Hospital for infectious diseases, Mumbai, 6) NIV – Kerala Unit, (7) ICMR – NICED, Kolkata (8) GMC, Secunderabad (9) KGMU, Lucknow (10) SMS, Jaipur (11) IGGMC, Nagpur, and (12) KIPMR, Chennai.
National Institute of Virology, Pune is fully geared up to test samples of nCoV.
Adequate lab reagents are available with NIV, Pune to test 5000 samples.
49 samples have been referred to NIV for testing. 48 have tested as negative.
Discharge portal for patients have been prepared by DGHS.
Check-posts have been set up in relevant tourist locations for better surveillance.
Gram panchayats are being organised to make people more aware regarding the symptoms, precautions and measures taken by the state governments regarding prevention and management for novel coronavirus in villages bordering Nepal.
States have also been advised to open control rooms, appoint a nodal officer and popularize the control room number.
IEC material is to be prepared in local language by the concerned states.
"We are on alert & our preparedness is sturdy". This was stated by Preeti Sudan, Secretary, Health & Family Welfare, Government of India while updating on the preparedness measures taken by the Ministry on novel Coronavirus reported in China. She also stated that passengers travelling from China are being requested to report to the nearest public health facility in case they feel any symptoms.
As part of the measures taken by the Ministries of Health & Family Welfare, and Civil Aviation, a travel advisory has been issued and posted on the Health Ministry's website. It has also been shared on Twitter handle for wider circulation.
Health Ministry has instructed airport health organizations at Delhi, Mumbai, Kolkata, Chennai, Bangalore, Hyderabad and Cochin for screening of passengers coming from mainland China at these seven international airports. Signages have been put up at prominent locations in these airports for encouraging public about self-reporting of illness. Immigration officers manning the counters have been sensitized at these airports. Close coordination is being maintained with Ministry of Civil Aviation to coordinate the screening effort and dissemination of information to inbound passengers through in-flight announcements.
The Health Ministry is constantly reviewing the evolving scenario working closely with the Ministry of Civil Aviation, the Ministry of External Affairs, Deptt of Health Research and the Indian Embassy in China. The WHO is being consulted for updates on technical inputs. Series of meetings have been taken to review the preparedness in terms of disease surveillance, laboratory support infection prevention & control, logistics, risk communication and in particular, hospital preparedness and the need for coordination and collaboration with other ministries.
The Ministry has also approached all states/UTs to review their preparedness, identify gaps and strengthen core capacities needed to prepare for, detect and respond to possible outbreaks. Integrated Disease Surveillance Programme has issued advisory to all states/UT to pick up any travel related case reported in the community and follow up contacts of suspect/confirmed cases. National Institute of Virology, Pune is fully geared up to test samples of nCoV. Several other laboratories under Indian Council of Medical Research's Viral Research and Diagnostics Laboratories network are also equipped to test such samples, if a need arises. Adequate stock of personal protection equipment is being maintained by medical stores.
Dr Harsh Vardhan, Union Minister of Health & Family Welfare held a high level review meeting with senior officers of the Health Ministry, ICMR and NCDC, to analyse the situation, preparedness and steps being taken for prevention and management of nCoV in India. "The situation is being closely monitored at the highest level for adequate preparedness. All the officials of my ministry, concerned departments and states/UTs have been put on high alert for novel coronavirus. We are taking all required possible precautions to manage all possible scenarios", Dr Harsh Vardhan stated.
The Union Health Minister is personally reviewing and monitoring the preparedness on a daily basis. He is also in regular contact with Dr Poonam Khetrapal Singh, Regional Director, WHO SEARO for technical support and guidance in the matter.
Dr Harsh Vardhan has spoken to Chief Minister of Uttarakhand and assured all support for screening at the border with Nepal, where a confirmed nCoV case has been reported. He has also written to the chief ministers of states requesting for their personal intervention to review the state preparedness for control and management of nCoV.
The Union Health Minister has formed multidisciplinary central teams and sent them to the seven states where thermal screening is being done at the seven designated airports (New Delhi, Kolkata, Mumbai, Chennai, Bengaluru, Hyderabad and Kochi). The central team consists of a public health expert, a clinician and a microbiologist. They are reviewing the end-to-end preparedness for management and control of nCoV in the states including at the airports, for thermal screening and transferring of patients to hospitals for isolation. They have also visited the tertiary hospitals attached to the airports for reviewing the isolation wards and availability of Personal Protective Equipment (PPE) and masks etc. They are strictly reviewing whether the infection control, surveillance and other guidelines are being followed. The teams are coordinating with the state health secretaries to explore all avenues for further supporting and strengthening the states' preparedness.
Under directions by Dr Harsh Vardhan, a 24×7 NCDC Call Centre (+91-11-23978046) has been made operational. The said call centre is monitoring the list of contacts furnished by MEA; providing details of district and state surveillance officers to those who seek them; and in case of any clinical query, directing the concerned to the relevant Integrated Disease Surveillance Programme (IDSP) officer. The Union Health Minister has urged the passengers who have a travel history to China since 1st January 2020 to come forward for self-reporting to the nearest health facility if they experience any symptoms such as fever, cough, respiratory distress etc., and also inform their treating doctor.
Dr Harsh Vardhan stated that eleven persons have been put under observation; out of samples taken from these individuals, samples of four passengers have been confirmed to be negative for nCoV by the ICMR-NIV Pune lab. He added that timely measures and promptness of the officials of Union Health Ministry has resulted into preventive actions. He also commended the media for creating awareness among the people.
Dr Harsh Vardhan said that various steps have been taken up and continual efforts are being made by the health ministry in close coordination with the Ministry of Civil Aviation, MEA, state governments and WHO. Close monitoring is being undertaken for all the passengers who are arriving from China and Hong Kong. All the passengers are undergoing thermal screening. Advisory has also been issued to all states/UTs for Severe Acute Respiratory Infection surveillance to pick up any travel related case reported in the community and follow up contacts of suspect/confirmed cases. He added that the ministry has issued guidelines for surveillance and contact tracing; infection control; lab sample testing and clinical care.