Toward Ubiquitous Healthcare
Social media has become a key tool to disseminate relevant medical information to the widest audience possible. It's important to take advantage of the flexibility and communicative power of social media channels for dialogue and genuine connection between the doctor and the patient. Healthcare professionals can utilize social media to empower patients with accurate medical information and services…
Dr Lallu Joseph/J. Adel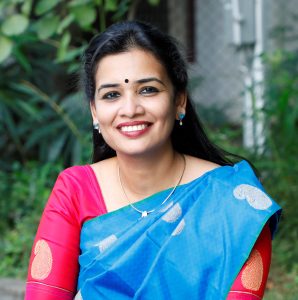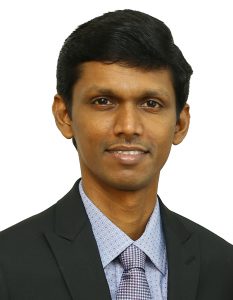 Social media as we know today is the outcome of rapid advances in technology in the 20th century. The birth of internet by the efforts of engineers to develop ways to create networks between computers can be described as the defining moment for communications in future. However, even the brains behind the internet had not imagined the sophistication and maturity of social media in a very short span.
Desire to interact with friends and family has been a natural impulse with all humans for centuries. Humans have dreamt of plenty of creative solutions to overcome situations when face-to-face discussions are not possible. It is this element that has accelerated the growth of social media. Social media is a web-based form of communication. Social media platforms allow users to have conversations, share information and create web content.
Today, there is a tremendous variety of social networking sites and an environment where users can reach the maximum number of people with unparalleled speed and ease. We can only imagine about the future of social networking but it seems clear that it will only play increasingly crucial role in times to come.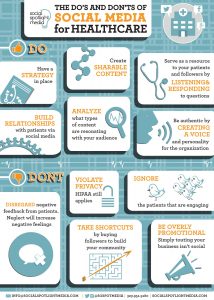 ROLE OF SOCIAL MEDIA IN HEALTHCARE
It is now evident that there isn't an area where social media has not had an impact. India is well on its way to become a trillion dollar digital economy due to expanding digital infrastructure, rapidly growing consumers, widespread adoption of emerging technologies and data explosion. It is predicted that by 2022, the number of Indian internet users will double with most penetration happening in rural areas. As per a World Economic Forum study, two times rise in internet penetration leads to 12 times increase in per capita GDP growth. These numbers indicate that India is right on the track to become a digital superpower.
Today, though millennials are highly focussed on healthy living, a good number of them do not easily turn to doctors and hospitals for prevention or treatment of illness. They tend to reach out to the social media for immediate solutions. This approach fits their cost-conscious, convenience-seeking lifestyle. Many are using social media to get healthcare advice and support either from 'experts' or peers who may be experiencing the same health-related concerns. This raises several issues like authenticity, accuracy and validity of data.
Healthcare communication has especially empowered the end users on a scale that was unimaginable just a decade or two ago. Healthcare providers are turning to social networks to educate patients, increase engagement, promote awareness and share correct health messaging with full HIPAA compliance.
Popularity of social media in the healthcare industry can be attributed to the following factors:
The widespread use of social media tools
The increasing need for patients to connect with each other
From a generation where face to face consultation was the norm and only option, shift in this scenario is striking. While most patients still prefer face-to-face consultation with their healthcare providers, social media networks are a valuable supplementary tool in their journey to wellness. Social media is one of the most powerful disruptions to digital marketing impacting the healthcare industry. Role of social media has to be ascertained for a generation that is more likely to search for medical queries online than consult a doctor. The rate at which reliance on online information is increasing is also because of integration of new technologies like Artificial Intelligence (AI) and its application to core domain of medical knowledge.
A study by Mediabistro reveals that more than 40 percent of customers agree that the information found on social media impacts the way they handle their healthcare. Another study reveals that almost 90 percent of net users trust healthcare information shared by others on social media. The youth in particular are dominating the social media landscape. This presents an excellent opportunity to connect with them and make them trust your medical expertise. Note that nearly 80 percent of millennials are keen to share their medical information online. As a healthcare provider, it is essential for one to share valuable information that informs and engages them.
Another study found that nearly 41 percent of users said social media influenced their choice of a particular doctor, facility or medical practice. People use social networks to discuss almost everything, including their experiences with doctors and medical practices. Social media is regarded as a vehicle for people to have their voice heard – whether they appreciate you with positive comments or hurt your reputation by writing negative feedback about your practice. Number of patients posting health-related experiences on the net is increasing by the day. It is important to engage with patients and caregivers on social media to ensure that they are getting the greatest care possible.
The internet users' numbers in India may not match the US statistics where nearly one-third of the population is using social media to research and share symptoms, and reading the opinions of doctors, looking up treatment options and finalizing health plans, However, the trend is catching up fast especially in metro cities. This makes a compelling case for one to strengthen online presence and become part of the conversation so that one can engage current and potential patients. Although a number of caregivers are sceptical about the value of social media in improving healthcare delivery, yet in a study nearly 60 percent of doctors admitted that social media improves the quality of care provided to patients. This shows doctors have faith in the transparency and authenticity brought by social media in improving the quality of care provided to patients. Online medical communities and the ability to interact with patients in real time are the main catalysts in making the medical landscape increasingly interactive.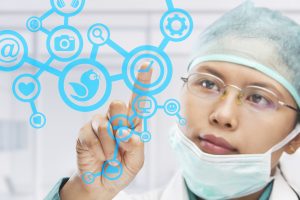 ADVERTISING IS NOT SOCIAL MEDIA COMMUNICATION
"No doctor can make high claims about any procedure."
In accordance with Medical Council of India (MCI) Code of Ethics Regulations, 2002 as well as Drugs and Magic Remedies (Objectionable Advertisements) Act, 1954, the Indian Medical Association (IMA) issued a press release warning its 2.5 lakh members against advertising in 2016. The Tamil Nadu Medical Council, in May 2016 too passed a resolution warning doctors against advertising online. The Council has asked all doctors to withdraw their names from online registries, and remove any advertisements with their names, photographs, specialty and contact details, as this violates the Medical Council of India's Code of Ethics Regulations, 2002.
According to Article 6.1 of the Code of Medical Ethics Regulations, 2002 issued by Medical Council of India, soliciting of patients by physicians or institutions is unethical. This includes publicity through any mode of his professional position, skill, qualification, achievements, attainments, specialties, appointments, associations, affiliations or honours. Art.6.1.2 of this code says that printing of self-photograph, or any such material of publicity in the letterhead or on sign board of the consulting room is considered as unethical conduct on the part of the physician.
A paid advertisement promoting the activities of a physician or practice must be clearly identified as advertising. It is not ethical to compensate the communication media in any way for publicity in a news item. If a television infomercial is used to inform the public of services available, it should be very clear at all times that this is paid advertising and not part of a news programme. Terms such as "world-class," or even "pioneer," usually are misleading and designed to take patients for a ride.
However, as health care markets became more competitive in the early 1990s, many academic medical centers began to seek new sources of revenue by increasingly using marketing strategies (including advertising) in an effort to attract patients. The most common advertising strategy used are appealing to emotions, highlighting institution's prestige, and lectures or discussion on a symptom or disease.
However, a medical practitioner is permitted by MCI to advertise regarding the following: starting practice, change of type of practice, changing address, temporary absence from duty, resumption of another practice, succeeding to another practice, public declaration of charges.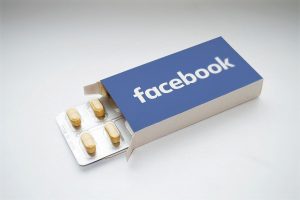 HEALTHCARE COMMUNICATION& SOCIAL MEDIA
It consists of three main types of communication
Heath communication to the public
Communication and indirect marketing of healthcare services.
Communication within hospital or enterprise social networking
1. Heath communication to the public:
Health communication can ne defined as "the art and technique of informing, influencing, and motivating individual, institutional, and public audiences about important health issues."
Effective use of communication and technology by health care and public health professionals can bring about an age of patient, public-centered health information and services, improve health care quality and safety, increase the efficiency of health care delivery.
Social media can prove to be beneficial in healthcare in the following ways:
During crisis situations, general awareness and medical information, extensive reach by the practitioner, peer support, cost effective, more available shared and tailored information, increase accessibility and widening access, public health surveillance, potential to influence the health policy.
Case 1: Social Media and Health Education during Ebola Outbreak in Nigeria
Nigeria had Ebola outbreak in 2014, which caused a global scare. Effective management of the crisis required massive education of both health workers and the public. The success of the exercise through digital media by Nigeria with the help of the global community resulted in number of deaths being only 20 compared to nearly 8,000 and 7,700 in Sierra Leone and Liberia.
Targeted social media campaigns were done to disseminate accurate disease information and also to correct hoax messaging. Twitter handles were established for sharing regular information. Army of U reporters using the young volunteers by UNICEF, organized campaign on Facebook for information monitoring, reporting and sharing information with relatives and friends. WHO and CDC provided appropriate information both nationally and internationally to assist in making messages on the virus go 'viral'. Influential national bloggers and celebrities joined in the campaign. Another device used for the response was Ebola Alert, a technology-based organisation of volunteer doctors established to provide information on specific aspects of the outbreak and virus 24/7. Countless SMS platforms were used to send information on the signs and symptoms of Ebola and International Federation of the Red Cross (IFRC) sent two million text messages each month about Ebola. Overall, the deployment of social media for accelerated and extensive information dissemination has been singled out as instrumental to the containment of the outbreak.
Case 2: Mobile Phones for Polio Campaign in Somalia
Somalia, was certified polio free in 2006, but new cases of wild polio virus were detected in 2013, necessitating an intense social mobilisation campaign for its eradication. Oxfam, UNICEF and Hijra, a local NGO decided to experiment with the use of mobile phone technology for polio health promotion for two main reasons. First, the political situation has continued to make most of the population hard-to-reach due to insecurity. Nonetheless, the country is experiencing an increasing penetration of mobile phones, making targeted information sharing much easier.
The initiative involved the use of pre-emptive community education through mobile phones. The education component comprises four interactive daily SMS sessions intended to reach 100,000 people in 17 districts. It also includes distribution of non-food items as an incentive scheme for promoting adherence to immunization schedule through an mVoucher mobile system. An evaluation of the project concluded that the polio education component reached 104,358 people, much higher than the expected target.
Apart from communication on diseases, prevention, health education etc., social media is widely used by hospitals and health professionals to inform their clientele of the services provided in the hospital, to collect feedback on the services provided, to triage them to book the appointment to the right specialist, and to provide information on the tariff about speciality services.
2. Communication and indirect marketing of health services:
Social media has become the main channel of communication among health professionals. The various ways by which health professionals use the media are as follows
Many healthcare organizations have started utilizing social media channels for their training. Trainees are encouraged to use hashtags on Twitter/FB to engage with one another and to make the sessions interactive. Live questions through tools like Kahoot enhance learning and help the faculty to understand the impact of training provided.
Platforms like Slideshare help as a repository of presentations and materials, which could be downloaded and used by anywhere. Also, this acts as a great tool to enhance the stand of the healthcare professional and organization to create a niche for themselves in the area as an expert. These presentations and material could help many readers.
The training videos of the hospitals and pictures are updated in social media channels to market their facilities indirectly and also exemplifying their training process.
Through social media, healthcare professionals have the ability to provide live procedures to fellow doctors, students and also patients. Hospitals create a buzz with these live presentations, creating public awareness of the organization to attract patients and health professionals.
Gone are the days when conferences, workshop brochures were printed and sent to healthcare professionals for enrolment. Social media plays a major role in publicizing conferences and workshops and to also have a wider reach.
Sourcing of right professionals for the job using sites like LinkedIn and also portals like Naukri, Monster etc.
Communication through social media during crisis to provide minute to minute information on hospital capacity, operation status and emergency access has beautifully been demonstrated during the floods in Kerala and Chennai.
3. Communication within hospital for patient and hospital management
Enterprise social networking is an organization's use of social media internally, to connect individuals who share similar interests or activities. Internally, social tools can help employees to access the knowledge and resources they need to work together effectively and solve problems. Enterprise social networking includes the use of in-house intranet software as well as third-party social media platforms like Yammer and Socialcast to improve communication and collaboration between employees. Hospitals use tools like WhatsApp, Messenger, and Telegram to have groups connected to work for a common cause. The most common groups noted are
Engineering and facility groups to inform the team members of possible repairs with pictures and ensuring that the right person addresses them.
Administration with department heads to send information on policy changes, receive feedback on changes and also as a tool to connect with the heads
Doctors and nurses with their team members to share information about patients admitted, problems, sharing images, reports for quick and consultative decision making
Official intranet to communicate with all staff in the organization
These tools have enhanced communication between healthcare professionals, brought out multidisciplinary approach and also ensuring that information is shared appropriately between professional in the organization.
CONNECTING WITH THE DIGITAL CONSUMER
From using Instagram to research products to chatting with customer support on messaging apps, social media has become the heart of all digital customer touchpoints. Though it is necessary for healthcare professionals to have a presence online, they fail to see it as a fundamental tool to reach, engage and attract empowered consumers effectively and efficiently. It is advisable to follow the LENS rule to have an effective conversation with your patients online.
• Listen
Social media is an open platform for users to post and share. To properly shape what you want them to discuss about your hospital, you'll have to follow 'Social listening'. Social listening reflects your hospital's maturity and reputation. It is required to gather information of what your digital customer is talking about and how they feel about your hospital.
• Engage
You could engage directly or indirectly with your customer. Engaging directly would mean that you have a direct conversation with your patient online to solve an issue or acknowledge his opinion. But you could also engage with online influencers, who're already operating in the digital space and could you help earn the trust of your patients.
An influencer is someone with a large online following. Engaging with your customers directly is always a pain-staking long process but it's always worth the effort. Your genuine engagement with your patient online will create an exceedingly strong bond for years to come and sometimes, may pass on for generations too.
• Nurture
It is very easy for anyone to be fooled in the social media. Especially, during a crisis, when rumours and misinformation are doing the rounds, one needs to be very careful of what they listen to. That is when your social media channels shall be of great use to your patients.
If you've created a reputation of delivering genuine content, then your followers are prone to turn to you for advice at the time of crisis. Your social media handles becomes a key method to disseminate relevant medical information to the widest audience possible at a very low cost. Users do appreciate genuine content from hospitals on issues that they have no knowledge about as they tend to get wary of fake news.
• Support
Several practising doctors use social media to provide necessary support to their patients. Today, doctors are exploring several apps that help them maintain health records, conduct research, make clinical decisions and network with each other. This is just the beginning. Social media is more effective when there's a dialogue between the patient and the doctor. Both doctors and patients are open to platforms which facilitate two-way communication that helps doctors proactively manage relationships with patients. It's important to take advantage of the flexibility and communicative power of social media, creating channels for dialogue and genuine connection between the doctor and the patient.
CONCLUSION
It is now evident that social media as a whole is becoming increasingly prevalent in our society and continues to impact the ways in which people interact and communicate with each other. We cannot be sure where social media is heading but we can agree that the constant evolution of digital consumers, with new formats and platforms is in the offing, which is being enhanced by technology. So, where does this rapid and exploding use of social media leave us?
Though there no easy answers to this, the one thing which is clear is that hospitals need to continue to innovate and excite users while demonstrating the value of using social media in their life.
Many healthcare professionals are working towards effectively utilizing social media to engage patients and consumers. Through effective marketing and communication tactics, organizations are able to move away from traditional advertising techniques, and use the internet to connect with consumers in the healthcare field. Consumers heavily rely on information found online and use the internet to gather healthcare information and connect with other patients to garner support and learn about similar conditions. There is a variety of ways that healthcare professionals can utilize social media to enhance their services and empower patients with accurate medical information and services.
The Authors are: Quality Manager, Christian Medical College Vellore and Secretary General, Consortium of Accredited Healthcare Organizations/General Manager – Operations, Meenakshi Mission Hospital & Research CentreMadurai.