To bring to light the good work in the field of healthcare and related fields, national health magazine Double Helical hosted a conclave and award ceremony that was a huge success and left an indelible impression in the minds of all those who attended the event
By Amresh K Tiwary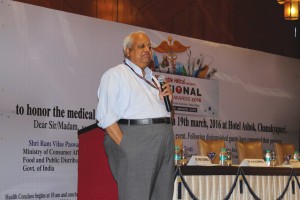 It was an event that took the national capital by storm. Eminent professionals from the medical, social and political fields took a keen part in the day and night long Double Helical Health Conclave and National Health Awards 2016.
Doctors play a very important role in development of the country and society. They are considered no less than gods and their contribution towards the society has been splendid for which Double Helical came out with this concept of awarding them.
Double Helical is a complete national magazine on healthh, fitness and holistic living. Over the last one year, the magazine has gained credibility as the voice of all stakeholders from health sector – patients, doctors, health industries, wellness and fitness domains and all other health service providers. It has emerged as a credible source of news and views pertaining to all aspects of healthcare in India.
In an exclusive first-of-its-kind event, Double Helical organized National Health Conclave and Awards 2016 in the esteemed presence of Shri K.C. Tyagi, Rajya Sabha Member of Parliament and a senior JDU leader. The red carpet cum paparazzi event was organized at the Ashok Hotel, New Delhi in the presence of stalwarts of Indian health sector, who on the day were not looking less than celebrities.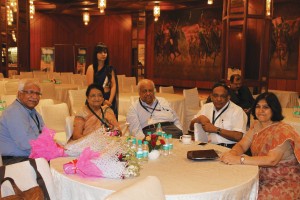 The event was organized in two phases – the first phase saw an exclusive conclave on universal health care and environmental pollution that witnessed participations from various experts of the subject. The day session began with Sarasvati Gaan in praise of the goddess of knowledge by school children belonging to Ambience Public School, New Delhi. The inaugural session was launched by Dr Jayshree Mehta, President, Medical Council of India. She appreciated and encouraged the efforts of Double Helical, for organizing the event so well.
The following were the eminent speakers at the session on universal health care and increasing level of pollution:
Dr A K Agarwal, Professor of Excellence and Ex Dean, Maulana Azad Medical, Dr. Vinay Agrawal, Founder Chairman, Max Superspeiality Hospital, Vaishali and Ex President, Indian Medial Association, New Delhi, Dr T K Joshi, Centre for Occupational and Environmental Health, New Delhi, Dr Yash Paul Bhatia, Founder and Chairman, India Healthcare Quality Forum and Astron Institutes of Social Sciences, Dr. Suneela Garg, Director Professor, Deptt of Community Medicine, Maulana Azad Medical College, Dr Damodar Bachani, Health Commissioner, Ministry for Health and Family Welfare, Govt of India, Dr Achal Gulati, Director Principal BSA Hospital, New Delhi, Dr J.C. Passey, Director Professor, Maulana Azad Medical College, New Delhi, Dr M M Singh, Dr Archana Ramalingam, Department of Community Medicine, Maulana Azad Medial college, New Delhi and Dr Anil Sharma, CMD Amrapali Group,
Dr Anil Kumar Sharma shared his views on Green Building concept for quality housing and healthy life. The evening session began with presentation of National Health Awards 2016 followed by the cultural events and ghazal nights.
As you are aware, the health sector in India is witnessing rapid growth. So it is our passion to witness and recount, the exciting journey of healthcare industry in India.
The esteemed presence of the leading doctors in India and others made the conclave interesting and full of information by sharing their mammoth pool of knowledge. In the second and final phase of the event, the crowd saw an immaculate award show that honoured and felicitated doctors, hospitals and institutions for their tireless efforts towards the society. The winners on the night were extremely happy as their efforts and hard work were acknowledged at such a credible and respected platform.
Chief Guest Shri K C Tyagi, appreciated the efforts of the organizers and saluted the doctors who were honoured with National Health Awards 2016 for their outstanding contribution to medical field. The National Health Awards were not only limited to the medical field, but ware also extended to other fraternities. The realty players too play an important role for building quality houses and ensuring healthy living. Accordingly, the event acknowledged the efforts of several eminent developers like Ambience, Antriksh Group, Wave Group, Central Park, Raheja Developers, CHD Developers, Gulshan Homz, KV Developers, Exotica Housing and Aditya Builders.
Double Helical enjoys an ever-increasing viewership in the country. It also has a global reach through its web edition www.doublehelical.com where apart from daily updates, the e-version of the magazine is available in an easy-to-download PDF format.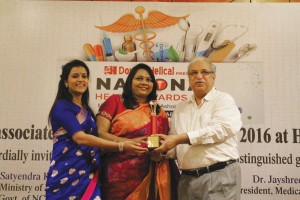 The magazine is brought out by a team of experienced journalists. Eminent doctors from famous institutions such as Maulana Azad Medical College, Max Healthcare, Centre for Sight, Bali Action Hospital are also associated with the magazine as editorial advisors.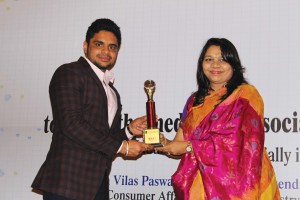 We sincerely hope that the topics covered and discussed during the conclave will help in the overall advancement of the health and medical divisions. We would like to take this opportunity to congratulate all the winners and thank everyone associated with the award night for their tireless efforts.