Time for Mandatory Heartcare
The government must come out with an innovative and cost-effective acute heart care policy, ensuring immediate help to all heart attack patients irrespective of their financial condition
By Dr K K Aggarwal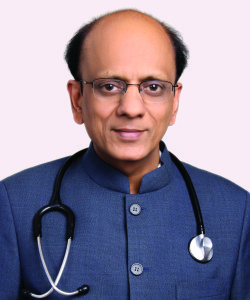 Healthcare is a fundamental right guaranteed under the Indian Constitution under article 21. The government must ensure that no one dies of heart attack just because he or she cannot afford heart treatment.
Heart attack remains the biggest killer for both men and women in India. There is an epidemic of metabolic syndrome in India that predisposes millions of patients to heart attacks. Heart attacks occur earlier in Indian men and women than their western counterparts. Women report quite late for care when they have a heart attack. This is as a result of personal, cultural, social, financial and religious reasons.
Mortality and morbidity from heart attack is much higher in India than in Europe and North America. In 2016, it is possible to dramatically lower mortality from heart attacks with pre-hospital thrombolysis or with Primary PCI. Beyond lowering the mortality, morbidity is greatly reduced as it is a long-term disability.
A two-tier approach is recommended for heart attack patients when they are brought at both a private and government hospital. It is important that both private and government institutions be included as a patient with a heart attack should be encouraged to seek care at either, at the earliest, irrespective of his financial status.
Heart attack patients should receive 300 mg water soluble aspirin at the onset of heart attack chest pain
They should be transported to nearest centre with facilities for heart attack treatment (not nearest hospital)
The transport must have trained people in CPR 10 to provide timely resuscitation.
At the centre, treatment must start within minutes.
For people who cannot afford heart attack treatment, the state government must develop a system for reimbursement (up to Rs one lakh)
Like in RTA, no advance should be insisted at the time of admission to avoid delay. From those who can afford, assurance, cheques, credit cards, undertaking etc. must be honored.
No patient must be referred back to any other centre on the ground that the patient does not have money.
The mortality can be reduced from 10% to 1% if treatment is not delayed.
Survival in heart attack is not the success end point but survival with quality is.
This emergent treatment is cost-effective – by providing emergent care for heart attacks, future expenditures can be greatly reduced for the care of these patients.
Urgent revascularization for heart attack involves an additional funding in the acute stage. However, this amount is a fraction of the long term savings from early hospital discharge, decreased long-term medications and less medical care.
For a nation with expanded global status, providing guaranteed support by the government and creating an innovative and cost-effecting acute heart attack policy, will immensely upgrade the international status of India.
Once acute emergency is over, all should be rehabilitated with prevention guidelines.
Formula of 80 for living up to 80 without a heart attack
Keep lower BP, bad cholesterol levels, resting heart rate, fasting sugar and abdominal girth levels all less than 80.
Keep kidney and lung functions more than 80%.
Engage in recommended amounts of physical activity (minimum 80 minutes of moderately strenuous exercise per week). Our recommendation is to walk 80 minutes a day and for 80 minutes per week, the speed should be at least 80 steps per minute
Eat less and not more than 80 gm or ml of caloric food each meal. Follow a healthy diet (high fiber, low saturated fat, zero trans-fat, low refined carbohydrate, low salt, high in fruits). Refined carbohydrates are white rice, white maida and white sugar.
Observe cereal fast 80 days
a year.
Doing 80 cycles of parasympathetic breathing (pranayama) a day with a speed of 4 per minute
Spend 80 minutes to yourself every day (relaxation, meditation, helping others etc)
Do not smoke else you will have to spend not less than 80,000 on your illness.
Those who do not want to stop drinking and there is no contraindication, it is advised to limit alcohol use to no more than 80 ml per day for men (50% for women) or 80 grams per week. 10 grams of alcohol is present in 30 ml or 1 oz of 80 proof liquor.
Take 80 mg of aspirin if prescribed for prevention.
Tale 80 mg atorvastatin for prevention when prescribed.
Keep noise levels < 80 dB
Keep PM 2.5 and PM 10 levels < 90 mcg/m3
For Indian Medical Association (IMA), prevention and management of heart attack represents an initiative of massive implications – as it can reduce overall mortality in the nation. For the burgeoning IMA membership, this initiative provides a cohesive, scientific and meaningful national initiative with local benefits.
A nationwide IMA fund can be created to supply stents to those who do not have any other source. In bulk bargain, the stents can be made available for the culprit vessel in acute heart attack to be as low as Rs 10,000 per patient. One does not need to tackle the non-culprit vessels in emergency. Only bare metal stent stenting is OK in such cases, as per Dr Sameer Mehta, a US specialist.IMA should file a PIL in the Supreme Court to include proper heart care among the fundamental rights.
(The author is a Gold Medalist, recipient of Padma Shri, Vishwa Hindi Samman, National Science Communication Award and President Elect and Honorary Secretary General IMA, New Delhi. He is a recipient of
Dr B C Roy National Award)