India has achieved significant public health gains and improvements in health care access and quality over the last three decades. The health sector is amongst the largest and fasting growing sectors…..
By Abhigyan/Abhinav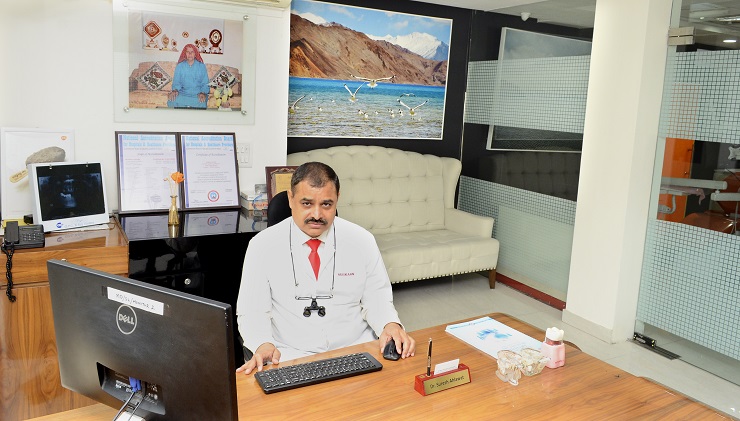 Meeting Dr Suresh Ahlawat at his Sushant Lok, Gurgaon based MUSKAAN Dentals Global was an uplifting experience that filled the Double Helical Team with positive vibes and immensely feel-good factor. During our hours-long conversation, Dr. Ahlawat dwelt at length the complementary benefits of Dental Care during Covid-19 phase which by harmonizing our inherent natural life-force helps to impart health, eliminate sickness and restore total wellness Thereby, it minimises dependence on external medication and surgical interventions.
He also explained about Ayushman Bharat Pradhan Mantri Jan Arogya Yojana is also known as Ayushman Bharat National Health Protection Scheme which main objective is to provide free access to healthcare for 50 crore people in the country. People using the program access their own primary care services from a family doctor. When anyone needs additional care, then PM- Jan Arogya Yojana provides free secondary health care for those needing specialist treatments and tertiary health care for those requiring hospitalization.
Dr Suresh Ahlawat, BDS, MDS, DNB (USA) Oral/Maxillofacial Surgery and Implantology, has been practicing in this field for more than two and half decades. In his long career, he went on bringing sparkling smiles over his patients' faces by his manoeuvred skills along with the latent reservoir of his dental knowledge. Presently he is associated with multiple centres of MUSKAAN Dental Global and Shanti mission Hospital run by Chaudhary Sher Singh Memorial Shanti Devi Charitable Trust.

According to Dr Ahlawat, India has achieved significant public health gains and improvements in health care access and quality over the last three decades. The health sector is amongst the largest and fasting growing sectors, expected to reach US$ 280 billion by 2020. At the same time, India's health sector faces immense challenges. It continues to be characterized by high out-of-pocket expenditure, low financial protection, low health insurance coverage amongst both rural and urban population. It is a matter of grave concern that we incur a high out-of-pocket expenditure on account of health and medical costs. 62.58% of our population has to pay for their own health and hospitalization expenses and are not covered through any form of health protection.
Besides using their income and savings, people borrow money or sell their assets to meet their healthcare needs, thereby pushing 4.6% of the population below the poverty line. The Government of India is committed to ensuring that its population has universal access to good quality health care services without anyone having to face financial hardship as a consequence. Under the ambit of Ayushman Bharat Yojana, a Pradhan Mantri Jan Arogya Yojana to reduce the financial burden on poor and vulnerable groups arising out of catastrophic hospital episodes and ensure their access to quality health services was conceived.
Ayushman Bharat Yojana/ Pradhan Mantri Jan Arogya Yojna or National Health Protection Scheme has two goals, one, creating a network of health and wellness infrastructure across the nation to deliver comprehensive primary healthcare services, and another is to provide insurance cover to at least 40 per cent of India's population which is majorly deprived of secondary and tertiary care services.
Says Dr Ahlawat, "Ayushman Bharat Yojana/ Pradhan Mantri Jan Arogya Yojana (PMJAY) consists of two major elements like National Health Protection Scheme and Wellness centres. National Health Protection Scheme will provide cashless treatment to patients. And wellness centres will provide primary care to the patients. In fact, the government will upgrade existing Public Health Centres to Wellness Centres."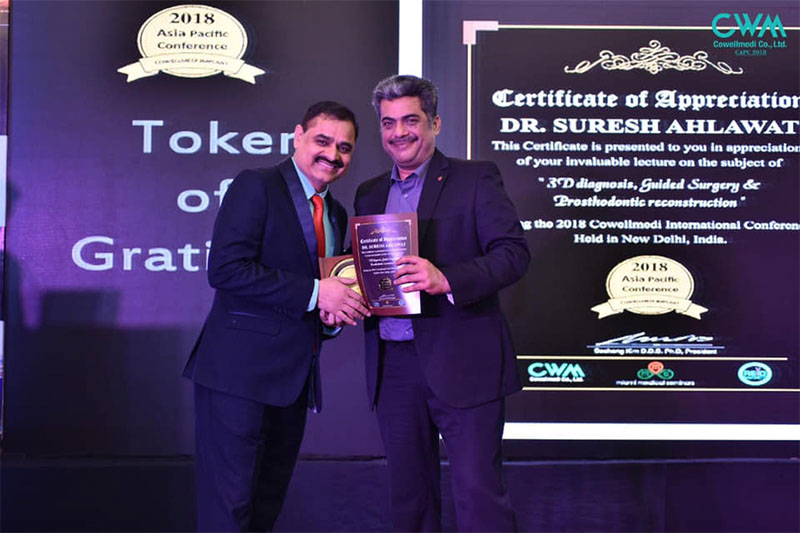 Healthcare of late has come in to greater focus by the government. NDA-1 right in the beginning mentioned about National Health assurance Mission, which is synonymous with universal health coverage. This was followed up with National Health Policy in the year 2017 and year later government launched world's largest healthcare scheme under the name AYUSHMAN BHARAT (AB). The two components of the AB scheme i.e. 1.5 lakh Health & Wellness Centers and Prime Minister Jan AyogYojana (PMJAY), providing insurance cover up to 5-lakh per family under designated underprivileged sections of society. These schemes are by all standards very ambitious/ path breaking and once get implemented will usher; New India: Healthy India.
Hon Prime Minister in his first interaction with new ministers, has directed them to come out with 100-days plan, which will specify road map for coming years to take India to newer heights. Association of Healthcare Providers (India) is fully committed to support government's healthcare initiatives in line with its motto; 'Educating and Advocating for Well Being of Common Man'. The 100-day blue print as we understand, will develop framework for coming years. In our considered opinion, we have outlined 5-priority areas, which could be part of framework to make AYUSHMAN BHARAT as India's great success story, which has potential to be role model scheme for other developing nations.
Preventive dental care is all the things should do to take care of teeth and gums: brushing, flossing, eating a healthy diet, and seeing your dentist regularly to help avoid dental disease. When it comes to the health of teeth and gums, preventive dental care is smart. Brushing and flossing help to remove plaque from the surfaces and in between teeth, keeping teeth looking and feeling clean.
A healthy diet, one low in sugar and other refined carbohydrates, helps keep whole body, including teeth and gums, in good shape. And routine dental exams and regular cleanings may help prevent the incidence of higher-cost treatments such as periodontal surgery, root canals, extractions and fillings. After all, early detection and prevention are key to minimizing your need for more serious dental treatment.
There are no clear guidelines stating how often a person should see the dentist. Some studies suggest once a year, others say every three or six months. Depending on current dental health, dental history, risk factors for dental disease, and personal preference, we will recommend the frequency of visits that's right for everyone.
Says Dr Ahlawat, "The dental filling is a treatment modality administered to restore missing tooth structure which could have been a result of decay or trauma. Decay makes the tooth hollow. Dental Filling helps in filling this gap and protect it from further decay. A filling is also used to repair broken or cracked tooth and the teeth which wear off due to dental habits like teeth grinding, nail biting etc.
Says Dr Ahlawat, "We have to outline certain priority areas, which could be part of framework to make AYUSHMAN BHARAT as India's great success story, which has potential to be role model scheme for other developing nations.
Undoubtedly India has currently half of recommended figure of 23-healthcare workforce per 10,000 population. We have about 1-doctor per 1600 population against WHO norm of 1-doctor per 1000. We have huge shortage of specialists. To cite government figure, there is 80% shortage of specialists in 5500 Community Health Centers. Government need to come out with innovative models to make up this shortage i.e. increase of PG seats in medical colleges, increase of DNB seats, recognizing of diploma program run by College of Physicians & Surgeons in various specialties. Government may consider recognizing Fellowships by various specialty associations. There is great imbalance in geographical distribution of medical colleges, which need to be urgently arrested. The plan for allowing some of selected 300+ bed private hospitals in deficient districts to have attached academic blocks for 100-MBBS seats can be quickly put in place. Government can open 10-institues, like PGI Chandigarh to operate only PG courses.It needs to be stressed that any amount of increase in healthcare expenditure will not achieve desired outcomes, unless we address the manpower issue.
Nursing profession is in dire state. Parents today do not favor their children to go for nursing career. The nurses have hardly any career progression. The salary for GNM/ B.Sc. nurse in many states is below 10,000/, while the salary to driver in these states is above 15000/. The nurses have huge potential to support doctor in clinical work, but they cannot even prescribe a basic pain killer. Indian Nursing Council need to be revamped on priority the way is being done with MCI. Same is the case with Allied &Healthcare Workforce Council, which has huge potential in providing employment to young population.