Retinopathy of Prematurity (ROP) in premature babies requires greater neonatal care including screening of infants and necessary treatment
By Dr Mahipal S Sachdev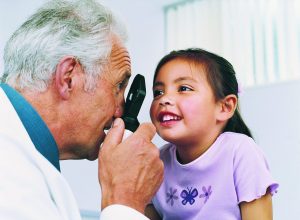 Retinopathy of Prematurity (ROP) is a disorder of the retina in premature and very low birth weight infants. The ROP is a potentially blinding disease, but it is preventable too.
With early and appropriate treatment, we can save the child from blindness and even in advanced cases give the child a vision good enough to move around. The childhood blindness – particularly ROP – now figures in the priority list of health planners and implementers. It is estimated that 20-40 % of preterm infants develop ROP, with 3-7 % becoming blind. As neonatal care improves, it results in higher survival rate for preterm infants.
ROP blindness is going to pose a major problem for our health planners. The challenge is to increase awareness of ROP and introduce screening of all infants vulnerable to ROP.
Why ROP in premature babies?
The last 12 weeks of a full-term delivery, from 28-40 weeks gestation, are particularly active for the growth of the fetal eye. Premature children are at risk for developing ROP because they have been taken out of the protective environment of the mother's womb and are exposed to many things including medications, high levels of oxygen and variations in light and temperature.
The blood supply to the retina starts at 16 weeks of gestation and the vessels gradually grow out over the surface of the retina till the time of birth. In premature infants, the normal growth of the retinal vessels stops and abnormal new vessels begin to grow in response to chemical signals.
Make ROP Screening a Must: The aim of screening for ROP is to detect all treatable neonates. Good screening can work miracle as it targets all "at-risk" and can be best done at a neonatal ICU.
Whom to Screen:
• Infants with birth weight at or below 1,500 grams.
• Infants born at or before 32 weeks' gestational age.
• Very sick infants with high risk factors for development of ROP: including prolonged mechanical ventilation, blood transfusions, infection, intra-ventricular hemorrhages, anemia etc.
Screening must be initiated at 32 weeks' gestational age or four weeks after birth, whichever is earlier when ROP begins and is seen clinically. This is followed by another screening at 35-37 weeks' gestational age. The last screening is done at 39-42 weeks when ROP begins to regress. These three screenings are critical.
Natural Course of ROP:
ROP is a transient disease in the majority of the infants with spontaneous regression occurring in 85% of the eyes. Approximately 7% of infants with birth weight of < 1251 gm will eventually develop significant ROP. Most infants with mild ROP that resolves either with or without laser treatment will have no remaining scar tissue.
Treatment of ROP: Treatment for ROP depends on the severity of the condition.
1. Mild involvement usually requires nothing more than observation.
2. Moderate involvement, needs laser or cryo therapy which is used to eliminate the abnormal vessels before they cause the retina to detach.
3. Severe stages need surgical management. In partial retina detachment Scleral Buckling is done while in total retina detachment V-R surgery is required.
4. In cases with low vision, there are a variety of educational adaptations. Optical aids like hand magnifiers for close work, hand magnifiers for distance viewing, and CCTV (closed- circuit television) can be helpful. Myopic corrections are usually indicated, as well as high level of illumination.
The most significant aspect is that careful monitoring of retinal status in premature infants will save many premature children from developing ROP.
So, if you come across anybody with premature baby inform them to have ROP screening done. A timely checkup and necessary treatment will enable the child to better see this beautiful world.
(The author is Chairman & Medical Director, Centre for Sight Group of Eye Hospitals, New Delhi)