Over the years, the process of using a surrogate mother has become a way for parents to have a child by using a third party to carry the child until birth. Although this can be an ideal solution, the concept of surrogacy is an extremely controversial issue……….
By Abhigyan/Abhinav
One of the key issues is the surrogacy procedure itself. While the process makes it possible for parents to have a child that possesses genes from one or both "biological" parents, it can also put in motion many emotional and psychological ups and downs for the intended parents.
In addition, even if both parents of the child are on board with using a surrogate mother, there are instances where it may be difficult to family members that this is the right choice. Therefore, it is essential to take the time to thoroughly think through the entire surrogacy process and to consider all of the pertinent factors before moving forward.
The process of choosing who will act as the surrogate mother can also bring up some controversy. In some cases, the biological parents may opt to use a friend or relative for this role. This, however, could cause some potentially negative issues down the road if not handled correctly medically, emotionally, and legally.
The biggest advantage to the surrogacy process has the potential to outweigh any of the disadvantages in that regardless of the time, cost, and other factors that are involved, a loving parent or parents will soon have a child to love.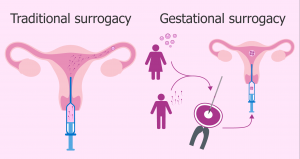 What is Surrogacy?
Surrogacy is the practice where another woman carries and gives birth to a baby for a couple who want to have a child. It might become necessary in case of absence or malformation of the womb of the lady, recurrent pregnancy loss, or repeated in vitro fertilization (IVF) implantation failures.
But it does not allow surrogacy to the people like homosexual couples, single parents, couples in live-in relationships, foreigners and couples with children ( biological or otherwise). The cheap availability of labour coupled with high international demand has fuelled the growth of this industry. However, there was no legislative backing to surrogacy and the legal aspects over it seemed to be rather unclear, unsettled and vague.
Surrogate mothers receive medical, nutritional and overall health care through surrogacy agreements. The economic scale of surrogacy in India is unknown, but study backed by the United Nations in July 2012 estimated the business at more than $400 million a year, with over 3,000 fertility clinics across India.
Pros and Cons
As the government prepares to enact a new legislation on surrogacy, it is important to understand various aspects related to the issue of choosing a surrogate mother to give birth to your child
Having the ability and willingness to provide an infertile couple with a child is essential to successful surrogacy. Surrogate mothers play an invaluable role in growing families all across the world. Those who are considering using or serving as a surrogate mother should carefully weigh the pros and cons of the situation before making a decision to have a baby this way.
Potential surrogate mothers are required to go through a series of medical tests and procedures to ensure that their bodies are fit to carry and give birth to a healthy child. The specific medical procedures used will vary from case to case, but will help confirm that the surrogate's reproductive system is in good functioning condition. It's important to keep in mind that many couples decide to use a surrogate mother because of the frustration of not being able to conceive in the first place.
No matter how professionally a surrogate mother views her arrangement with the couple for whom she is carrying a child, emotional attachments to the child are always a risk. A surrogate must be emotionally prepared to deal with these feelings. If you have any reservations about your ability to relinquish a child you have carried for another couple, surrogacy is not for you.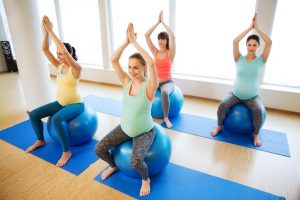 Types of surrogacy
Before we proceed it's important to mention that there are different types of surrogacy. Some types of surrogacy refer to the genetic circumstances and others types refer to the types of arrangement. There are 3 types of genetic surrogacy circumstances:
Genetic surrogacy or partial surrogacy: This is the most common type of surrogacy. Here the egg of the surrogate mother is fertilized by the commissioning male's sperm. In this way the surrogate mother is the biological mother of the child she carries.
Total surrogacy: Here the surrogate mother's egg is fertilized with the sperm of a donor – not the male part of the commissioning couple.
Gestatory surrogacy or full surrogacy: Here the commissioning couple's egg and sperm have gone through in vitro fertilization and the surrogate mother is not genetically linked to the child.
According to the Surrogacy (Regulation) Bill, 2016, the surrogacy is an arrangement whereby an intending couple commissions a surrogate mother to carry their child. The intending couple must be Indian citizens and married for at least five years with at least one of them being infertile. The surrogate mother has to be a close relative who has been married and has had a child of her own. No payment other than reasonable medical expenses can be made to the surrogate mother.
The surrogate child will be deemed to be the biological child of the intending couple. Central and state governments will appoint appropriate authorities to grant eligibility certificates to the intending couple and the surrogate mother. These authorities will also regulate surrogacy clinics. Undertaking surrogacy for a fee, advertising it or exploiting the surrogate mother will be punishable with imprisonment for 10 years and a fine of up to Rs 10 lakh.
The Bill permits surrogacy only for couples who cannot conceive a child. This procedure is not allowed in case of any other medical conditions which could prevent a woman from giving birth to a child. The Bill specifies eligibility conditions that need to be fulfilled by the intending couple in order to commission surrogacy. Further, it allows additional conditions to be prescribed by regulations. This may be excessive delegation of legislative powers. The surrogate mother and the intending couple need eligibility certificates from the appropriate authority.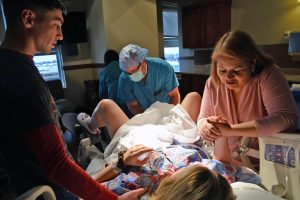 The Bill does not specify a time limit within which such certificates will be granted. It also does not specify an appeal process in case the application is rejected. The surrogate mother must be a 'close relative' of the intending couple. The Bill does not define the term 'close relative'. Further, the surrogate mother (close relative) may donate her own egg for the pregnancy.
This may lead to negative health consequences for the surrogate baby. For an abortion, in addition to complying with the Medical Termination of Pregnancy Act, 1971, the approval of the appropriate authority and the consent of the surrogate mother is required. The Bill does not specify a time limit for granting such an approval. Further, the intending couple has no say in the consent to abort.
Commercial surrogacy in India
Commercial surrogacy in India was legalized in India in 2002 with Indian Council of Medical Research (ICMR) laying down some pro-surrogacy guidelines. It includes prohibition of sex-selective surrogacy, requiring birth certificate of the baby to have the names of only the commissioning parents, requiring at least one of the commissioning parents to be a donor, requiring a life insurance cover for the surrogate mother and ensuring right to privacy to surrogate mother and the donor. The need for a proper legal system regulating the practice of surrogacy was felt in the case of Baby Manji Yamada v Union of India and Anr(2008) 13 SCC 518.
In 2007, a certain Dr. Patel working at the Akanksha Infertility Clinic, arranged for Japanese couple Ikufumi and Yuki Yamada to have a surrogate baby by Pritiben Mehta. Pritiben was impregnated using a mix of Yamada's sperm and an anonymous Indian woman's egg. However, in the months to come, Yamada and his wife filed for divorce. None of the Indian laws covered whose child the baby (Manji) was: the woman who donated the egg, Pritiben, or Yuki Yamada. Furthermore, there was even a petition filed later in court that Dr. Patel was running a child trafficking racket by abusing the lack of surrogacy laws, and gaining easy money by enabling surrogacy.Though the case was solved and the baby was given to his grandmother, the Supreme Court expressed the urgent need to enact laws on surrogacy while deciding the case.
A draft ART(Assisted Reproductive Technology) Bill was formulated in 2010 but never passed as a law. Thus, the result was booming surrogacy industry with lax laws and no enforcements. A study conducted in July 2012, backed by the UN, put the surrogacy business at more than $400 million with more than 3000 fertility clinics all over the country.
There were no rules as to how much compensation a surrogate mother should get and can get. They are over-exploited and have turned into baby making machines. In this light, Surrogacy (Regulation) Bill 2016 was introduced in Lok Sabha. It has not been passed yet.
The prime aim of this act is to abolish commercial surrogacy which is defined as surrogacy or its related procedures undertaken for monetary benefit or reward (cash or kind) exceeding basic medical expenses and insurance coverage.The bill proposes to regulate surrogacy in India by establishing National Surrogacy Board at the central level, State Surrogacy Board and Appropriate authorities in state and Union Territories.
It only allows altruistic ethical surrogacy to intending infertile couples between the age of 23-50 years and 26-55 years for females and males respectively. The bill seems to eradicate the inside business often involved in surrogacy. This is very necessary in places like Gujarat where baby farms exist. The unprivileged parents are given as surrogates to potential mothers and exploited as baby carriers. Middlemen play a large role and take huge slices of amount given.
But, the bill has been criticized since it narrows down the realm of surrogacy. It allows only intending couples who are legally married for at least 5 years and have obtained the eligibility certificate from appropriate authority to have baby through surrogacy. Various restrictions have been put on the surrogate mother too who necessarily needs to be a close relative of the intending couple.
However, in what may turn out to be a good news for single men and women who wish to have baby through surrogate mother, a Supreme Court Bench led by Justice Ranjan Gogoi lately, allowed a representation to be made before the committee to consider including a "specific provision" in the Bill so as to facilitate single persons also to embrace parenthood through surrogacy.
MCI's guidelines for surrogacy
The Indian Council for Medical Research has given guidelines in the year 2005 regulating Assisted Reproductive Technology procedures. The Law Commission of India submitted the 228 the report on Assisted Reproductive Technology procedures discussing the importance and need for surrogacy, and also the steps taken to control surrogacy arrangements. The following observations had been made by the Law Commission:
-Surrogacy arrangement will continue to be governed by contract amongst parties, which will contain all the terms requiring consent of surrogate mother to bear child, agreement of her husband and other family members for the same, medical procedures of artificial insemination, reimbursement of all reasonable expenses for carrying child to full term, willingness to hand over the child born to the commissioning parent(s), etc. But such an arrangement should not be for commercial purposes.
A surrogacy arrangement should provide for financial support for surrogate child in the event of death of the commissioning couple or individual before delivery of the child, or divorce between the intended parents and subsequent willingness of none to take delivery of the child.
A surrogacy contract should necessarily take care of life insurance cover for surrogate mother.
One of the intended parents should be a donor as well, because the bond of love and affection with a child primarily emanates from biological relationship. Also, the chances of various kinds of child-abuse, which have been noticed in cases of adoptions, will be reduced. In case the intended parent is single, he or she should be a donor to be able to have a surrogate child. Otherwise, adoption is the way to have a child which is resorted to if biological (natural) parents and adoptive parents are different.
Legislation itself should recognize a surrogate child to be the legitimate child of the commissioning parent(s) without there being any need for adoption or even declaration of guardian.
The birth certificate of the surrogate child should contain the name(s) of the commissioning parent(s) only.
Right to privacy of donor as well as surrogate mother should be protected. Sex-selective surrogacy should be prohibited. And cases of abortions should be governed by the Medical Termination of Pregnancy Act 1971 only.
Centre Too Says Ban Won't Affect Pending Cases
The Bombay high court in an interim order recently stayed the directive of the Union government and the Indian Council for Medical Research banning surrogacy for foreign couples who are in the final stages of the process.
The High Court clarified its order was restricted to cases in the midst of treatment. It asked the clinics to furnish details of such cases to the authorities and barred them from taking up fresh cases of surrogacy for foreign couples.
While doctors fraternity has opposed the surrogacy bill. According to them, this Surrogacy Bill is unreasonable and is against the Law of the Land and by raising costs of treatment severely and restricting facilities will deny fertility treatment to the common man Coincidentally , the Centre, in an online statement made available just few weeks ago announced that the ban will not affect surrogacy cases already underway andor exit of child or children born out of surrogacy be fore November 4. It added that Overseas Citizen of In dia cardholders, too, cannot seek surrogacy in India.
The High Court, rejecting the Centre's contention that there was no urgency in the matter, said before introducing a sudden change in policy, prior notice should have been given. The preparatory steps to commission surrogacy consume time, ener gy and cost, apart from pain and suffering by the individuals. Once such process is set in motion, it becomes very difficult to abandon or postpone it at the crucial stage," said the judge. In such situation, the court fails to interfere in the matter, the same shall result in travesty of justice..
The court has pointed out tha by the government's own ad mission, commercial surro gacy had not been banned and recognition of clinics not suspended. "It is therefore expected that the Government of India will take into consideration the repercussion of suddenly banning surrogacy prevailing for 10 years, without notice," the HC said. "Change in the poli cy with previous notice would be more desirable and in absence of it, the doctrine of legitimate expectation would operate to save the time, energy and cost spen and the physical and menta sufferings and pain under gone by the parties. Such par ties cannot be deprived of the ultimate benefits which they have sought to avail in accordance with the policy o the Government of India.
The Law and Medical Council states that doctors should not discriminate amongst patients and that a person is innocent unless proven guilty. Here in this Bill we have to discriminate on the basis of the colour of the skin of the patient so white skinned foreigners cannot be given treatment and even in India only economically well off can afford treatment. Also doctors are treated as criminals and presumed guilty even for a clerical error on the extensive paperwork required. 2 clerical errors means 7 years in jail 15 laks fine and permanent cancellation of medical registration. Can any human being work under such conditions? The biggest sufferers will be the infertile.
Dr.(Brig) R.K Sharma , H.O.D, I.V.F Primus Super Speciality Hospital, said, "This is right decision of High court because some patients might be already on surrogacy treatment or would have got their embryos frozen for transfer to an appropriate surrogate . Denying them surrogacy this last phase of management may be a breach of contract between Doctor & patients .So such few patients should be allowed to continue treatment & new registration can be stopped as per directive of Govt of India."
What They Say
Double Helical spoke to some eminent doctors to know their views on the issue of surrogacy. Excerpts…
"Surrogacy is the last steps towards fulfilling the desire of parenthood. Ultimately after trying different evidence based strategies, the surrogacy becomes last recommendation where regulated surrogacy is need of society. Unfortunately, due to lack of clear cut guidelines the concept of surrogacy is also required. There is need of ethical practice within the legal framework which is to be implemented throughout the nation earliest possible. It has become a trade (essential step) towards human need. The foreigners should be also allowed because there is nothing ethical. So does not hold itself boundary."
Dr A K Agarwal, Professor of Excellence and Medical Advisior, Innovation and Research, Appollo Hospital, New Delhi
"No one can deny the pains of infertility, but surrogacy makes having a child seem as like picking a product. By bearing a child, one develops obvious emotional connection to it, and this early love for a child cannot be easily substituted. I believe that if one is to take into account the child's wellbeing, surrogacy can ensure a lack of early intimacy between mother and child. Legally also surrogacy complicates rights over the child."
Dr Vinay Aggarwal,Ex National President and Founder Chairman,Max Pushpanjali Hospital, Vaishali
"Why not allow a willing woman to carry her sterile sister's child? Why not allow an older woman to carry her infertile daughter's baby? As long as all parties consent, voluntary surrogacy is as much a woman's choice as abortion. Until there are viable and successful artificial wombs, surrogate motherhood is the only option for a biological family unit's creation in some cases.
Dr Arvind Garg, Sr Child Specialist, Apollo Hospital, Noida
"A child is not something that should ever be fought over, but brought up in a loving and nurturing environment. I don't deny the reality that one does not have to give birth to or show any relation to a child to be a great parent. It is the room for complication that steers me from surrogacy."
Dr H P Singh, Senior Child Specialist, Mother Child Care, Vaishali (Ghaziabad)
 "Surrogate carriers can experience negative psychological effects because the baby they are carrying doesn't belong to them and it is no small sacrifice to bear a child in your belly for 9 whole months. Naturally a woman will start to develop an attachment to that child. Another issue is the fact that the child is being separated from the loving lady who carried it the 9 months before their birth."
Dr Shishir Narayan, Senior Eye Specialist, Shroff Eye Centre, New Delhi
"In my view, surrogate mothers should be allowed because if somebody can't have children, they should still be able to raise a family of their own. To some people, having the same DNA as your child is very important. I believe that if someone is willing to be a surrogate mother to help somebody out, they should be able to. If someone doesn't think they would be able to give away the baby after giving birth to them, they shouldn't have signed the contract, although there are now laws and they would have to give up the child to the other family."
Dr Vibhor, Innovation and Research, Appollo Hospital, New Delhi
 "Surrogate motherhood should be allowed. Just because a woman is physically not able to conceive shouldn't keep her away from being a parent. Genetically having a child that you've wanted would be a lot better than having one that isn't. Just because someone else is carrying the child for you doesn't mean it won't be loved as much. It isn't about the money, it's about giving the gift of love to a person who can't do that on her own."
Dr Saujanya Aggarwal, IVF Expert, Max Hospital, Vaishali(Ghaziabad)