"Medical profession is being hand-cuffed by the government, gagged by the media and assaulted by parents"
Dr Vinay Aggarwal, former National President, Indian Medical Association (IMA) and Founder Member of IMA-East Delhi Branch, has devoted his life for mobilizing doctors to fight for their rights and professional dignity. He is all for a relationship of deep trust between patients and doctors, for which the doctor has to go an extra mile for providing healthcare with a healing touch. He has been closely involved with various welfare measures adopted for the betterment of doctors.
Dr Aggarwal founded Pushpanjali Medical Centre (PMC) under which the social initiative of Beti Padaho Yojana was started for its employees in April 2016. He believes that educating a girl child means educating an entire family and the society. This yojana provides regular and gracious help to the minor girl children of the specified category of employees as decided from time to time. The PMC provides a monthly financial assistance to the eligible girl children of the employees covered under it.
The multifaceted Dr Vinay with an ever-present winning smile on his face, spoke at length to Amresh K Tiwary, Editor-in-Chief, Double Helical on a wide range of issues. Excerpts of the interview…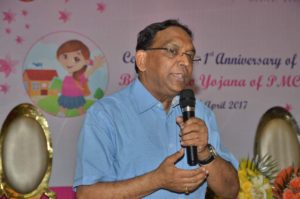 Can you please take us along your long journey as a medico-social activist and leader?
I started my medico-social activist journey in 1970 as a rebel medical student against the urban health programme run by the Preventive and Social Medicine (PSM) department of Maulana Azad Medical College, where students were not made to actively participate. We collected funds and started our own dispensary at Seelampur. It grew from strength to strength from a few eager medical students trying to help the well known NSS Seelampur Health Centre to the one which fulfilled the medical needs of a large minority population of the area. Then as a medical intern in 1974, I took an active part in the historical national strike to increase the meager spend provided to doctors by medical colleges, which successfully culminated in the government taking note and including doctors salaries in the National Pay Commission. This is how the residency program was started. At an early stage, I realized the potential of Medical Associations, the need for doctors to stand united and in 1978-82 became the youngest secretary of Delhi Medical Association (DMA). From an elite eminent club of handful senior doctors, I strived hard and increased its membership to include hundreds of young doctors. As DMA Secretary and president of ESI Medical officers Association, I successfully achieved the regularizing of more than 500 ad hoc doctors through DPC. Subsequently, as a recognized state medico political leader, I worked for the revival of IMA East Delhi Branch (EDB) along with Dr S N Mishra, Dr Harsh Vardhan and Dr Sudarshan Vaid.
How did you achieve excellence in the medical field?
I studied in Government Boys' Higher Secondary School, Krishna Nagar and was the first student from my school to be selected at the prestigious Maulana Azad Medical College. I come from a humble background and paid for my college education by selling anatomy dissection boxes to fellow classmates. I went from a shy awe-struck boy among a batch of 140 to later being recognized by my alma mater with the "Best Alumnus" award. I started a small clinic in Krishna Nagar, and like most doctors, I was the neighbourhood 'Family doctor'. With the goodwill of my parents and friends I established Pushpanjali Medical Centre, a 60-bedded secondary care hospital and then started Pushpanjali Crosslay Hospital, a 300-bedded tertiary care centre of excellence (now Max Super Specialty Hospital, Vaishali).
We would like to know more about some community health programmes you have been a part of…
Some of the projects I have been actively involved with and played a leadership role in include the following:
Save the Girl Child & Stop Female Foeticide, Anemia Free India; Stop Child Abuse; Prevention of Blindness Programme; Programme for Prevention and Control of Water and Vector Borne Diseases; Leprosy Control Program; HIV/AIDS programme (in close association with the Clinton foundation); amongst many others. I spearheaded the 'Aao Gaon Chalen' project under the aegis of IMA, with adoption of a village by each branch of IMA. I was recognized by the President of India with the BC ROY Award (2005), by FICCI as the Healthcare Personality of the Year award (2014) and honoured by Global Association of Physicians of Indian origin with the Lifetime achievement award (2014) for my medico social work besides many others.
What is your opinion about the current medical scenario in the country?
These are hard times to be a doctor. Medical profession today is being hand cuffed by the government, gagged by the media and assaulted by parents. The tradional issues of wages and working conditions for doctors that the IMA has always fought for all remain unresolved and yet we have additional demons to deal with such as violence against doctors, Clinical Establishment Act, criminalizaon of Pre-Natal Diagnostic Techniques (PCPNDT) Act, Cross pathy, need for capping of compensation in medical negligence, generic medicine, and now the NMC bill. I think now more than ever the medical fraternity needs to stand united and support the IMA in voicing the concerns of doctors.
What has motivated you to champion the greater role for women doctors in the decision-making process of medical associations?
Shouldn't everyone be a proponent of a hard working and dedicated female leaders? Over the years women's membership and participation in IMA activists has been increasing but unfortunately they are still grossly underrepresented in leadership positions in the medical fraternity. Gradually, now many women doctors have started working for the benefit of IMA for several years now. Nominating women doctors for leadership positions was a natural choice and one that I assumed would be unanimous. Accordingly, women contestants have now come out stronger by winning successive elections with a thumping majority. I think various association posts are in good hands and I wish all of them all the success in their endeavour to strengthen the IMA.
What are your main community and socio-medical achievements?
With efficient leadership skills and an aim for greater social benefit, I initiated and significantly contributed to the following projects:
Aao Gaon Chalen – a Dream Project
As Secretary General of Indian Medical Association (IMA), initiated the project to improve rural health as envisaged in the National Health Policy.
Anemia Free India
On Doctor's Day on 1st July 2005, a National Project – "Anemia Free India" – was initiated with the aim to create public awareness regarding the ill effects of anemia, to promote better nutrition and promote vitamin, iron and folic acid supplementation.
Physician's Training Initiative – Bill Clinton Foundation
An ambitious project of sensitizing 1.5 lakh members of IMA to HIV/AIDS and anti-retroviral therapy has been undertaken with NACO and Clinton Foundation. The project was accredited by the Medical Council of India launched on 26th May, 2005 by former president Bill Clinton himself in Delhi.
Iodised Salt
Convened a country-wide campaign along with UNICEF, Department of Nutrition and All India Institute of Medical Sciences, explaining the importance of iodization of salt. Five regional meetings were organized in various cities on this issue.
Integrated Disease Surveillance Programme
Working on a National Project along with NICD and the World Bank. A workshop of seven states was organized in November 2005 along with representatives of NICD and World Bank in this regard.
Family through the Child
"Family through the Child", a Balwadi-oriented health project, was started with the assistance of Delhi Social Welfare Advisory Board in 1980. A health survey of 2000 children and their families was conducted in this scheme. Proper health facilities were provided to the families of these children of the Balwadis. Also organized a reorientation course for Bal-Sevikas in DMA during the project.
Save the Girl Child Campaign
The issue of falling sex ratio and female foeticide was effectively highlighted by IMA by various Campaigns during my tenure as President, MAMCOS.
"No Tobacco Day" and "Smoking or Health Choice is Yours"
Launched a massive Anti-Tobacco Campaign during my tenure as the secretary of DMA on the WHO Day on 7th April, 1980 on the theme of "Smoking or Health – Choice is Yours". Public awareness lectures were organized at various places in Delhi.
Dr Vinay Aggarwal: A Prolific Personality
Author
'Manual of Medical Emergencies' – a popular book for casualty, medical officers and family physicians
'Textbook of Family Medicine' – a Ready Reckoner for Family Physicians
Founder Editor, 'Family Medicine India' – quarterly Journal of IMA-CGP
Editor-in-Chief, 'Pushpanjali Health News' – a scientific Newsletter
Awards
Dr. B.C ROY National Award for the year 2006
DMA Centenary Award, 2014.
FICCI Healthcare Excellency Award, 2014.
IMA Dr B R Ramasubramanian Oration Award, 2015.
MAMCOS Excellence Award, 2015
GAPIO "Lifetime Achievement Award, 2015"
Vishisht Sewa Ratan Award, 2016
Chikitsa Ratan Award of IMA, 2006
Distinguished Service Award' of DMA, 1989-90
Best Alumnus Award' of Maulana Azad Medical College, 1992
Dr. P. N. Bahl Community Service Award by Delhi Medical Association, 1994.
IMA President's Appreciation Award, 2004
"Chikitsa Paras" Award by Smt. Suhagwati Khairati Ram Aggarwal Charitable Trust, Phagwara for 2005.
MAMCOS Exemplary Services Award, 2005.
'Man of the Year' Award of IMA East Delhi Branch for 1989
IMA President's Appreciation Award for Best President of Local Branch of IMA in 1981
Innumerable appreciation awards and certificates from various medical and social organizations.