Striving for the Greater Good
The newly elected Honorary Secretary General of IMA, Dr R N Tandon is committed to uphold the cause of affordable, quality healthcare as well as promote the welfare of the medical community in India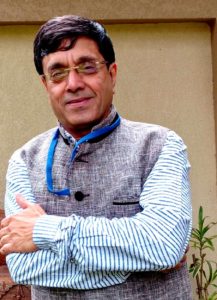 Dr R N Tandon
To further the cause of healthcare and the welfare of medical community in India, Dr R N Tandan has recently taken charge as honorary Secretary General at Indian Medical Association (IMA), the largest representative organisation of doctors of modern scientific medicine in the world with over 2.8 lakh registered members.
He has been associated with the national body for the last 28 years. Earlier, he served the Karol Bagh Branch of IMA as its Joint Secretary, Finance Secretary, Secretary and President, respectively.
Under his able guidance, various projects like contraceptive updates, treatment of diarrhoea, ORS-Zinc, breastfeeding, how to reduce infant mortality and prevention of child sexual abuse have received nationwide success. He has taken the IMA to great height in making its voice heard at the national as well as global level. He has been associated with UNICEF, UNFPA and Govt. of India for decades in various projects of crucial significance.
Dr Tandon belongs to Lucknow; he did his MBBS from Maharani Laxmibai Medical College, Jhansi and completed his MS in 1984. Subsequently, he moved to Delhi and joined Safdarjung hospital, and St. Stephen's Hospital. In 1988 he joined Jessa Ram Hospital as Surgeon. With his great dedication, efforts and involvement in the affairs of people in general and medical profession in particular, a Department of Surgery was started at Action Balaji Hospital in New Delhi.
Dr Tandon has vowed to live up to the noble objectives of IMA, prominent of which are the following:
• To promote and advance medical and allied sciences in all their different branches and to promote the improvement of public health and medical education in India.
• To maintain the honour and dignity and to uphold the interest of the medical profession and to promote co-operation amongst the members thereof.
• To work for the abolition of compartmentalization in medical education, medical services and registration in the country, and, thus, to achieve equality among all members of the profession.
The founding fathers, way back in 1928, while struggling for liberation of the motherland from the British rule, simultaneously felt the need of a national organisation of the medical profession. Before that, some members of the profession – a selected few – were members of the British Medical Association, which had opened branches in India to cater to the local needs. These stalwarts ultimately succeeded in formation of Indian Medical Association (IMA) and reached an agreement with the British Medical Association that they will have no branch in India.
In the year 1946, IMA helped in the formation of a world body, namely World Medical Association (WMA), and thus became its founder member. As an organisation IMA has been, and continues to play an important role in its deliberations. It hosted the III World Conference on Medical Education under the joint auspices of WMA and IMA in New Delhi in 1966.
According to Dr R N Tandon, IMA is the only representative, national voluntary organisation of doctors of progressive, scientific system of medicine, which looks after the interest of doctors as well as the well being of the community at large. Today, IMA is a well established organisation with its headquarters at Delhi and several branches in 29 states and union territories.
Dr Tandon has also worked as Surgeon in Jaipur Golden Hospital and Vinayak Hospital in New Delhi. He was coordinator of Jessa Ram Hospital, Delhi. In 1988, he joined the well known Karol Bagh Medical Society as an activist and Joint Secretary. He has held various posts in almost all the wings of IMA HQs such as Asstt. Secretary, Joint Secretary, Finance Secretary and other important posts. He has also held various important posts in Delhi Medical Association (DMA).
His wife Dr Vibha Tandon, Gynecologist, is a renowned SAG-CMO in Kasturba Gandhi Hospital in Delhi. He is blessed with two sons Shreya, and Aashrit.