Recognized internationally for his contributions in the field of cataract and refractive surgery, Dr Jagat Ram's exceptional qualities and skills have changed the lives of thousands of patients. Endowed with a healing touch or deep empathy he helps his peers and students in providing the best eye care services to the poorest of the poor as well the high and mighty in equal measure…
By Amresh Kumar Tiwary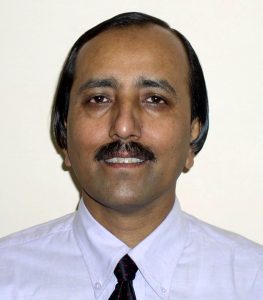 A 22-year-old youth who thought he had not cleared the examination of Post Graduate Institute of Medical Education and Research (PGIMER), now at 60, is the director of the same institute. Dr Jagat Ram is truly an inspiration and best known for his untiring devotion to both patient care and teaching. He recently received Padma Shri for his extraordinary contribution to medical services.
In an exclusive conversation with Double Helical, Dr Jagat Ram shares his journey from working in the fields of Pabyana village in Sirmaur district of Himachal Pradesh, to the feat of becoming the director of PGMIER:
Thinking that he had not cleared the entrance examination of PGIMER, he slept under the tree until he was woken up by a senior doctor who told him that they were calling his name for counselling for a long time. Didn't he want to take admission? "I was so naïve that I mistook the list of rejected candidates with the ones who had cleared the exam. I thought that I have not been selected and slept under the eucalyptus tree outside the director's office," he recalls. Dr M R Dogra, ophthalmologist, came running to him saying "You are sleeping here, while we are calling your name inside."
Dr Jagat Ram's father was a small farmer in Pabyana with modest earning. So, young Jagat used to help him in the fields to add to the family's income and fund his own studies. He used to walk seven to eight kilometers to his school in Rajgarh.
After scoring good marks in matriculation, Dr Jagat Ram went to his teacher with his report card and sought his advice about the subject he should take. The teacher said, 'since you have scored well, you should go for PCB'. So, this is how, he ended up opting for the medical field.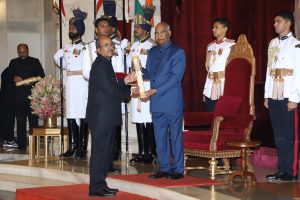 He received his Medical Degree (MBBS) from Medical College Shimla (HP) in 1978, followed by residency in Ophthalmology (MS) at PGIMER Chandigarh, which he completed in June 1982. Today he is Director, and Professor of Ophthalmology at the PGIMER. Besides being in the Board of Governors of Medical Council of India since September 26, 2018, he is also looking after the additional charge of Director, AIIMS, Rae Bareilly, Bathinda and Bilaspur.
He was awarded WHO Fellowship in the field of Phacoemulsification at Storm Eye Institute, Charleston, USA in 1993-1994 and another in Paediatric Cataract Surgery in 1998 at the same Institute. Administratively, he headed Ophthalmology Unit for 26 years, Members Selection Committee PGI for Ad hoc Faculty and other groups for 15 years, and Chairman, Institute Compassionate Appointment Committee for 8 years. He worked for Eye Bank Society of India for 24 years (as member, Secretary and now Vice-President). Presently, he is Chief Coordinator of International Council of Ophthalmology (London) from India and Chairman, Core Technical Committee (CTC-A), PGI.
He is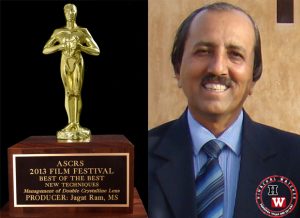 recognized internationally for his outstanding contributions in the field of cataract and refractive surgery. He has conducted several thousand surgical procedures with intraocular lens implantation on patients and over 9500 surgical procedures in children over a period of 37 years. He is a recipient of 24 national and international awards for his outstanding contribution and innovation. He received the "Best of the Best Winner" award for new surgical techniques "Management of Double Crystalline Lens" at American Society Cataract and Refractive Society (ASCRS) held at San Francisco, USA, 2013. India's national anthem was played at the bestowal ceremony of this most prestigious international honour. Again on May 9, 2016, he received Best of the Best Award at New Orleans, USA at the ASCRS which is a unique international honour. He received the Oscar of Paediatric Ophthalmology at the World Congress of Paediatric Ophthalmology in Barcelona in 2015.
Imbued with a missionary zeal, Prof. Jagat Ram has offered his services as an eye surgeon free of cost in over 130 eye relief and screening camps organized for the poorest of poor patients. He has excelled as a teacher, being personally involved in training hundreds of postgraduate students and ophthalmologists in specialized cataract surgery deputed and selected from all over the country. During his two-year foreign deputation at Republic of Seychelles by the Government of India (2003-2005) he was instrumental in eliminating the backlog of cataract blindness.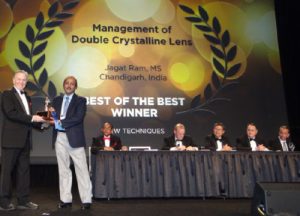 Professor Ram has contributed over 450 lectures on paediatric and age-related-cataract in national and international conferences. As a researcher, he has contributed over 300 research publications in reputed indexed national and international medical journals including New England Journal of Medicine and Lancet. His published research is widely cited and has made global impact.
Dr Jagat Ram has completed over 40 research projects with national and international collaborative support. Prof Ram is the first and only invitee from Asia-Pacific region to contribute to a Complete Issue on "Elimination of Cataract Blindness" in the world famous journal "Survey of Ophthalmology" in 1999. This was singularly a unique international honour. He is a scientific reviewer for several major national and international journals.
Prof. Ram has been recognized by Indian medical community as a clinician par excellence, who provides quality care to members of every section of the society. His exceptional surgical qualities and skills have changed the lives of thousands of patients. He is endowed with a healing touch or deep empathy for patients and learners. He has helped his peers and students to advance the cause of providing best eye care services to the poorest of the poor as well to high and mighty in equal measure.
It was not easy for him to fund his education. "I used to get around Rs 200 from PGIMER and rest my father used to arrange." "In 1993, I got a chance to visit USA for World Health Organization (WHO) fellowship. That was the turning point in my career. It was a transformative experience, which motivated me to work harder and set higher goals."
In a career spanning 37 years, he has received 24 national and international awards. "My father still does not know how much I have studied or what all are my achievements. He just knows that I am a doctor, that's it," said Dr Jagat Ram. "When I had joined PGIMER in 1980, I had never thought that I will become the director. I am thankful to those who believed in me and will ensure that I will give my best to the medical profession," he added.
Priority Areas for Dr Jagat Ram as Director, PGIMER
Dr Jagat Ram talks about the challenges ahead and measures taken by him to solve the long-standing problems like patient rush. Mincing no words, Dr Jagat Ram acts as a tough task master as and when needed. "If I come across as a humble person, it does not mean that strict actions will not be taken. To take the people along will remain my priority, but action will be taken against those found negligent in their duties. They will not be spared."
Managing patient rush
At present nearly 10,000 patients visit New OPD every day. The first challenge is how to reduce the waiting line. Dr Ram's focus is on increasing the online registrations, which at the moment is far from satisfactory. Secondly, the manpower is being mobilised to more crowded areas.
Less referral from other states
PGIMER is coordinating with adjoining states and asking them to refer only those who need tertiary care.
Focus on research
The institute has obtained a good ranking in research, which is very important for the image of an institute like PGIMER.
Swift action on erring officials
Swift action is taken in the event of any wrongdoing by any official or others, irrespective of their status. Decision making has been made quick. The Director has taken steps to discourage plagiarism and strict rules have been put in place.
Paediatric Cataract Surgery: Where Are We Today?
Despite significant advances in the field of ophthalmology, childhood blindness remains a major challenge and a cause of worry for ophthalmologists the world over. The magnitude of the problem is compounded in resource-limited countries such as India where the number of patients may be very high and the system is not designed well enough to suit the needs of the entire population. In India, more than 20% children may be visually impaired. This poses a challenge to the system; appropriate care and follow-up of these children requires significant dedication, skill and clinical resources, some of which may be scarce in our country. Our experiences in paediatric cataract surgery from a large tertiary eye care centre suggest that the challenges still need to be tackled in the present times.
A large number of children with cataract may be unreported. Among the general population, though the awareness of eye disorders in children has increased, the magnitude and seriousness of the problem is largely misunderstood. In our clinics, more than 30 children with congenital/developmental cataract are referred every week. The sheer number of surgeries performed in high volume centres may exceed 20 per week. This leads to an enormous strain on the health system. One of the difficulties is the availability of skilled anaesthetists to support such a large number of patients. In addition, young children require frequent examinations under anaesthesia during their early follow-up for detection of various conditions such as secondary glaucoma (and measurement of intraocular pressures), visual axis obscuration, inflammation, need for additional surgeries, among others.
In addition to the manpower required for performing surgeries and follow-up, wholesome management of paediatric cataract surgeries requires a team effort – which includes counsellors, skilled optometrists, paediatricians, paediatric nurses, experienced ophthalmic surgeons, paediatric ophthalmologists, and researchers. While advances have been made in the field of paediatric cataract surgery, setups and hospitals consisting of such dedicated teams are few in our country. Thus, with the expansion of knowledge, it is imperative to plan, innovate and open centres of excellence in the field of paediatric cataract surgery.
One must also consider the need for rapid expansion in the field of advanced diagnostics and laboratory sciences that focus on research in the field of etiopathogenesis of infantile/developmental cataract. Bench side-to-clinic research in the field of paediatric cataract surgery is lacking. Recently, novel tools such as next-generation DNA sequencing have been introduced to identify various genetic loci responsible for lenticular opacity in young children. In addition, bioengineering research that helps in the designing of new intraocular lenses (IOL), ocular instruments, and pharmacological agents for prevention of visual axis obscuration/posterior capsular opacification are needed.
In the literature, there are several reports on the use of improved surgical techniques for optimizing results in paediatric cataract surgery. More prospective studies are needed that explain the long-term efficacy of newer IOL calculation formulae, IOL design and materials, and use of pharmacological agents to prevent secondary cataract. More literature on the approaches to tackle complicated paediatric cataract cases such as those with spherophakia and lenticonus from skilled surgeons across the globe is needed as well. Children with congenital/developmental cataract require adequate time for a thorough clinical and systemic evaluation. Often congenital cataract may be associated with corneal opacities or glaucoma. Such cases may be very difficult to diagnose and manage and require specialized case in tertiary care centres with an experienced paediatric ophthalmology team. Children with concomitant retinal diseases also require special attention, such as those with persistent foetal vasculature. Thus, the ophthalmologist working in the field of paediatric cataract surgery requires significant dedication, devotion and time, and may need to prioritize paediatric cases over adult cataracts so that justifiable care is provided to the children in need. It is the goal of paediatric cataract surgery to ensure clear visual axis and placement of the IOL in the capsular bag. With innovations such as toric and multifocal IOLs, it has become a challenge to choose patients that are likely to have improved visual results with such IOLs. Thus, preoperative planning in the present times requires expertise more than ever before. The clinician must keep in mind the need to perform appropriate procedures to ensure adequate development of vision during the critical stage of brain growth.
Post-cataract surgery inflammation may lead to failure of all the hard work and short-lived success of successful IOL implantation. The authors have worked on various techniques over the past several decades such as continuous curvilinear capsulorhexis, primary posterior capsulotomy with limited anterior vitrectomy, and use of phacoaspiration systems with better fluidics and control system, among others. In our centre, we receive a significant number of children with uveitis, trauma and other pathologies such as micro-ophthalmia. In order to innovate, we have employed newer techniques such as use of intraocular depot steroids like dexamethasone implants (Ozurdex®) to improve outcomes after paediatric cataract surgery. However, much needs to be learnt in order to optimize postoperative inflammation control to prevent further complications such as capsular phimosis, opacification, IOL tilt, and decentration.
In conclusion, there are a number of challenges that we need to overcome in the field of paediatric cataract surgery. Over a period of time, we have experienced improved surgical results in our patients undergoing modern paediatric cataract surgery. In the past couple of decades, there have been numerous advances in fields such as surgical instrumentation, phacoaspiration devices, materials and design of IOLs and development of more potent anti-inflammatory drugs. It is prudent for ophthalmologists working in the field of paediatric cataract surgery to join hands and make further efforts to ensure wholesome development of blind children in our country as well as internationally.