A more effective hearing solution, available in a range of product offerings, one can choose from Cochlear Implant devices and solutions that best fits one's needs and lifestyle
By Dr (Major) Vipin Kakar (Retd) / Dr Jaiswal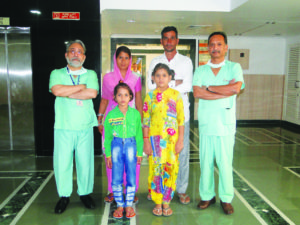 The Child is the father of Man" remarked William Wordsworth in a poem 'My heart Leaps Up.' Since 1802, this phrase has appeared in many references and indicates an adult is the product of his habits, manners and behavior that he inculcated during his childhood.
A Cochlear Implant is an established, effective and long-term hearing solution for people with moderate to profound hearing loss. The world's best Cochlear Implant technology is now available in India. The success rate of Cochlear Implant is amazingly good if it is done at the right age followed by speech therapy for 2-3 years.
Cochlear Implant's technology now knows all over the world and it has been included into National Programme for Deafness. It is a well-known practice for patients who are deaf from birth or become deaf after acquiring knowledge. Available in a range of product offerings, one can choose from devices and solutions that best fits one's needs and lifestyle. Available through a multitude of clinics across the country, it's backed by the unmatched Cochlear advantage and excellent service and support.
Cochlear Implant is capable of directly stimulating the cochlear hearing nerve, bypassing the damaged area of the hearing pathway. Unlike traditional hearing aids that amplify, or make sounds louder, a cochlear Implant system can be a more effective hearing solution for certain people.
And when it comes to effectively managing hearing loss, among other factors, the brand of ear Implants has been shown to make a significant difference in the speech performance outcomes of post-linguistically deafened adults1.
In recent past, Cochlear Implant has been at the forefront of developing technologically advanced solutions that offer superior hearing performance. In its endeavor to create cutting-edge hearing solutions, Cochlear has helped bring the gift of sound to more than quarter of a million people across the world.
Deafness is broadly divided into pre-lingual and post-lingual.
Pre-lingual means who become deaf before acquiring language or deaf from birth; in this case Cochlear Implant should be done as early as possible preferably before age of 5 years. Post-lingual means who become deaf (due to some ear disease or use of auto toxin drugs) after acquiring knowledge; in these patients Cochlear Implant is most beneficial at any age.
Incidence of deafness in India is at present 250 to 400 among one lakh birth. The main cause of such deafness may be congenital or hereditary, consanguineous marriage and certain infectious diseases like Rubella during pregnancy. The amount of hearing loss someone maybe experiencing can be ranked as mild, moderate, severe or profound. Hearing tests measure how much sound we can hear. There are many different types of tests and a clinic or health professional will carry out the best tests to assess you or your child's hearing. The results of hearing tests can be shown on a chart called an audiogram.
Measuring one's hearing helps to find the type of hearing problem you or your child might have and help your health professional suggest the best treatment options.
Hearing loss is measured in decibels hearing level (or dBHL). This number represents the softest level you or your child can hear. Hearing level can be measured for pure tone sounds, as well as for speech sounds, and can be reported for both ears (bilateral) or for each ear individually (unilateral).
In normal hearing, you can hear quiet sounds down to 20 dBHL. In mild hearing loss, you can hear between 25 – 39 dBHL. You have difficulty following speech in noisy situations. Moderate hearing loss occurs in your better ear between 40 – 69 dBHL; you have difficulty following speech without a hearing aid.
The government under its National Scheme gives free implant to the poor. The base of Implant programe is new born hearing screen programme where deafness can be detected at day one. We follow 1-3-6 programme, means detection of hearing loss should be before one month of age. Confirmed diagnosis, hearing and fitting should be for three months of age. Treatment should be completed by 6 months. If child is not getting enough benefit with hearing aid, then Cochlear Implant should be done by one and half years of age. The crucial age of language acquisition is 2-5 years. With this, we expect he/she should become new normal hearing and speaking child who goes to normal mainstream schooling.
Once we miss this age, the child will be devoid of becoming a normal hearing and speaking child. Normally, the Cochlear Implant costs around Rs 6 lakh. The success rate of Cochlear Implant is amazingly good if it is done at the right age being followed by speech therapy for 2-3 years. At present, no Indian company manufactures Cochlear Implant. A silent revolution is on to help speech-impaired children. The government is planning to put the high-cost Cochlear Implant surgery within the reach of most citizens, with talk of experimental trials of an indigenous version estimated to cost as less as Rs one lakh.
The price of a Cochlear Implant till recently was Rs 11 lakh per unit but crashed to Rs 6 lakh after the Centre invited competitive bids for its scheme supporting disabled persons with aids and appliances. The Centre has begun to support 500 children annually for Cochlear Implants.
Defence Research and Development Organisation (DRDO), recently made a presentation to Artificial Limbs Manufacturing Corporation of India under social justice ministry (MSJ) on the Implant it has developed. While it is a much more affordable version of available cures for hearing-speech handicaps, it has been languishing without clinical trials for some time now. "We are committed to making Cochlear Implants cheap and are looking at clinical trials for what the DRDO has developed.
The main roadblock in clinical trials is the risk of failure at the experiment stage. Sources said the Centre may look at giving risk guarantees to the person who agrees to undergo the trial surgery. "Bold steps are needed for a surgery that is so expensive for a common disability," a senior official said. Cochlear Implant can be a magic cure for children who are deaf and, as a consequence, speechless. This operation can only be done on children of up to six years.
An estimate shows that around 10,000 children need Implants annually and only Tamil Nadu, Kerala, MP, Chhattisgarh and Maharashtra provide it in small numbers.
How child listen from cochlear Implant?
Sunita Kakar, Director Swar Clinic and Senior Therapist, said, "Cochlear Implant is a device which converts sound energy into electrical impulses and delivers it to auditory nerves. With this device, child immediately starts perceiving sound as electrical sparks which are initially meaningless to child. To give meaning to these is the work of Auditory Verbal Therapist. Child slowly starts learning different kinds of sounds e.g. for dog – bhow bhow, cat – meow meow, snake – ssssss, train – chuk chuk etc. Then comes the words, two words and later on three-word sentences are added in training. Gradually, child's language is expanded in a natural tone. Therapists also train the mother and empower her to work with child at home towards common goal.
As child grows and acquire basic language, group sessions are added to prepare child to integrate him into mainstream schooling. This whole process from starting takes 2-3 yrs of hard work of therapist and mother. The outcomes are so good that many times you cannot make out that child is having hearing loss.
(The authors are Senior ENT and Cochlear Implant Consultants, Sri Balaji Action Medical Institute, New Delhi)