Vaccination in India injecting confidence
The pandemic has affected every country and raised the cases toll to 107,007,730 all over the world. However, we fought this deadly contagion which almost took a year to overcome.…..
By Dr. N K Prasanna / Dr. S K Varshney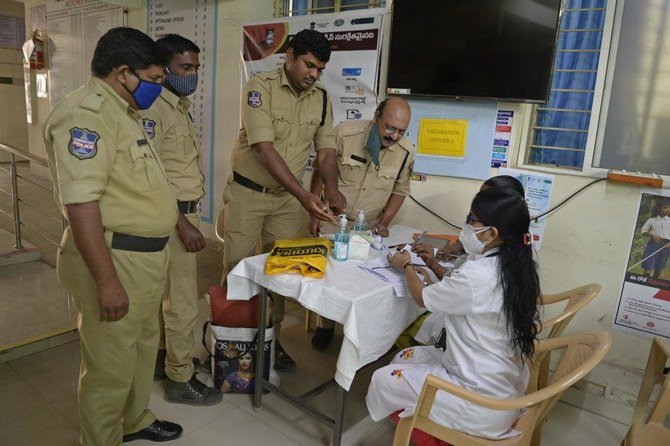 The pandemic has affected every country and raised the cases toll to 107,007,730 all over the world. However, we fought this deadly contagion which almost took a year to overcome. The US became the worst-hit country by the pandemic with the highest affected coronavirus cases which is almost 27,700,629 followed by India, Brazil, Russia, and United Kingdom.
India has proved its self-sufficiency by developing the indigenous COVID‒19 vaccine that is not only helping citizens residing in India but also the vaccines are being imported to our neighborhood countries as a gift. Here only the achievements of India don't end, it has broken all the records in the world's largest worldwide vaccination drive initially started on 16 January 2021. India has accelerated the vaccination drive and became the fastest country to vaccinate 7 million people countrywide in a short period of just 28 days. In a country like India where the population is very huge as well covering the healthcare worker in every city with the maintenance of cold storage technologies itself a big task but it has lived up to the expectations which are commendable. However, the countries like the USA took 26 days to reach the mark of 6 million whereas the UK took 46 days to achieve this much population.
In the vaccination drive, almost 1.91 lakh beneficiaries received vaccine jabs on the first day in which Uttar Pradesh was the highest number of beneficiaries of about 21,291. Despite some states had reported a few mild to moderate 'Adverse Event Following Immunization' (AEFI). The accumulative number of frontline and healthcare workers immunized against the virus has crossed the 6 million mark on 8 February 2021. As of now, Total 62,59,008 recipients got immunized through 1,24,744 sessions worldwide this comprise 54,12,270 health care workers and 6,23,390 front line workers. On the 24th day of the inoculation drive, Total 4,46,646 recipients including 1,60,710 healthcare workers and 2,85,936 frontline workers were immunized across 10,269 sessions conducted countrywide so far.
Almost 11 States/ Union Territories have vaccinated more than 65 % of the registered healthcare workers and less than 40% coverage has been recorded including Delhi, Punjab, Ladakh, J&K, D&NH, Chandigarh, Meghalaya, Tamil Nadu, Nagaland, Manipur, and Puducherry.
Total 1,05,48,521 people have been recovered from this pandemic as well as the number of affected people also decreasing gradually. The recovery rate of India is among the highest recovery rates in the world followed by UK, USA, Italy, Russia, Brazil, and Germany. India's case fatality rate (CFR) of 1.43% is the lowest among the other countries; the global average is 2.18%.
According to Indian Council for Medical Research (ICMR), total 20,25,87,752 sample has been tested for covid-19 so far and at present only 1,43,652 active cases are there in India. While the cases are decreasing on one side, vaccination is also climbing steadily. Although the good news is that no link has been found between the vaccines and post-vaccination deaths. Some states have started phase II of the vaccination while others are anticipated to start the session soon and phase III will be starting from March.
The pace of India's COVID recovery is bringing new sunshine to the entire country moreover it is hoped that things will soon get better. A lot of countries are expecting some ray of hope from the Indian government while India is also expanding its hand of friendship to other needy countries. Vaccination work is in progress, now just we have to wait for few more months with all the precautions to get things normalized.
(The authors are from CSIR-National Institute of Science Communication and Information Resources, New Delhi/Department of Science and Technology, New Delhi)
raisedembellished with a raised pattern created by pressure or embroideryMore (Definitions, Synonyms, Translation)