Paradigm shift in patient care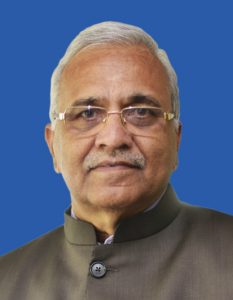 In patient–centred hospitals, the patient is not only at the centre of care, but needs to be informed and made part of the decision-making. Care plan is organised around his/her medical condition over full cycle of care encompassing outpatient, inpatient and rehabilitative care as well as supporting services such as nutrition, social work, and behavioral health …
By Dr Girdhar Gyani
A patient-friendly hospital would mean that all its staff, aided by formal structure, processes and practices, work towards providing a warm and personal human touch to the care being given to their patients, their relatives and other visitors to the hospital.
In patient registration & admission, obtaining general consent, quick turn-around of beds, quick transfer of admitted patients to their wards and personal care, patients will have the right to receive treatment irrespective of their type of primary and associated illnesses, socio-economic status, age, gender, sexual orientation, religion, caste, cultural preferences, linguistic and geographical origins or political affiliations.
Right to personal dignity and to receive care without any form of stigma and discrimination is ensured. Privacy during examination and treatment, protection from physical abuse and neglect are built within the hospital's documented system. Respect of special needs such as spiritual and cultural preferences, right to confidentiality of sensitive personal information are practised in letter and spirit. Patients are educated on risks, benefits, expected treatment outcomes and possible complications, to enable them to make informed decisions, and involve them in the care planning and delivery process.
In changing time, when healthcare has become political/ election agenda, the patient centered care is no more an option but a necessary aspect for any hospital. Hospital is unique organization in the sense that many look at it as charitable/social service whereas for all practical purposes, it is like any other industry, yet as complex if not more than an aerospace industry. 
These days we even talk of patient-driven hospitals which are step ahead of patient-centric hospitals. While patient-centric necessarily implies that clinicians are in charge, even if the patient is at the centre but in patient-driven hospitals, the patient is not only at the centre but is empowered in selecting the care plan and making decisions as well. In current incentive structure, providers get paid for the number of services they provide such as number of patient visits, number of surgeries, etc. However, in a consumer-driven marketplace, they will be paid for reducing hospital stays, improving safety and quality, and providing tools for consumers to manage their own health. Care is organized around patient's medical condition over full cycle of care encompassing outpatient, inpatient and rehabilitative care as well as supporting services (i.e. nutrition, social work, behavioral health etc) as against, in most cases, care gets delivered in a sequential & un-coordinated way, with focus on caring for specific set of medical conditions.
FEATURES OF PATIENT CENTERED HOSPITALS:
All staff are considered caregivers. Under this principle, everyone in the workforce, from housekeeping staff to the CEO, is part of patients' care experience. Regardless of one's role, each person is expected to put the patient first.
Care is based on full cycle. The focus is on the continuum of care for patients rather than episodes of care.
Care is customized and reflects patient needs, values and choices. Customizing care recognizes that each patient is different and may have different needs and preferences, including making environment comfortable to individual patients.
Sharing of Information. In a patient-centered environment, all members of the care team — including the patient — need to be aware of the patient's status and care plan. "If the patient is going to be the centre of care, patient needs to be informed and made part of the decision-making,"
Patient safety is priority. Making patient safety a visible priority demonstrates the organization's commitment to patient care.
Transparency is hall mark. True patient-centered care requires transparency between providers and patients and among providers. Providers should be "upfront and honest with information so that patients and their associates can make informed decisions with their care plans.
Shared decision making. The hospital need to imbibe principle of shared decision making among all clinicians and associate staff. All processes should be performed from a "patient-value" perspective
The patient is in control for their care. As mentioned above, the patient needs to be fully involved in knowing and decision making about the care plan, the possible complications and outcomes including the cost.
INSTITUTIONALIZING: It is important that hospital has the formal documented system, incorporating all the points mentioned above. All hospital staff take ownership of their work processes. Outcomes are monitored and measured and made available in public domain. Some of the key considerations may include the following;
Making sure that staff members understand their roles: One of the biggest obstacles in achieving patient-centered care in the workplace is that we are unable to define the roles of employees at different levels. The front desk staff thinks it's the responsibility of the floor nurses; the floor nurses think it's the responsibility of the physicians etc. However, for patient-centered care to be successful, everyone must take full ownership of their respective roles from treating patients with courtesy and respect to making sure that all needs are met prior to discharge.
Setting Goals: It is important that the hospital sets measurable goals at each level like, goals for each specialty department, goals for each support function and goals for key individual functionaries. These goals need to be derivatives of organisational goals under monitoring by top management.
Reward and Recognitions: In addition to setting of goals, rewards are a powerful motivator. When an employee sees others receiving recognition, he feels compelled to work harder and achieve his own recognition. If an employee is consistently meeting goals, earning accolades from patients and their families, offering genuine emotional support, focusing on patients and ensuring patients are fully educated before leaving the hospital, he/she needs to be made an example for others.
Establish SOPs: The best way to make sure your hospital staff follows procedures is to make them easy to digest through user friendly SOPs. Document processes, and include specific examples on how to accomplish the pillars of patient-centered care, such as involving patient's family in case decisions, making physical comfort a top priority and educating the patient. Most importantly, though, ensure everyone has the opportunity to ask questions so you can quickly clear up all possible ifs and buts.
Establish relation with patient advocates/ associations: Patient advocates live in patient-centered care. Their entire purpose is to ensure patients get the care they need, and so they spend plenty of time listening to patient concerns. Cooperating with these professionals will allow hospitals to have insight into opinions and sentiments we may not otherwise come to know. By taking this feedback, and applying it to procedural changes, can help make a real impact.
CONCLUSION:
In changing time, when healthcare has become political/ election agenda, the patient-centered care is no more an option but a necessary aspect for any hospital. Hospital is a unique organisation in the sense that many look at it as charitable/social service whereas for all practical purposes, it is like any other industry, yet as complex if not more than an aerospace industry. The stakes are high as it involves lives of human beings. High ended technology on one hand is making care much safer but along with increases the cost. With increased awareness about the healthcare needs, the demand and expectations from patients are increasing on continuous basis.
The principles of modern management which were earlier not considered as part of healthcare set up are now required to be integral part of any hospital setup. Hospital setups are required to adopt the principles of inverted pyramid, bringing focus on empowerment of front desk staff and keeping patients at the top of pyramid. Care for full cycle including bundled payment is going to be future norm. The compensation will be linked with clinical outcomes and patient feedback taken from third party. These are going to be big challenges for hospitals. Adopting SMART technology is going to help in becoming patient centric, besides that it would also help in improving patient safety and operational efficiency. All in all, it is going to be challenging time but for sure the hospitals which are truly patient centric/ driven will only survive.
(The author is Director General, Association of Healthcare Providers, India)