Preserving Life and Efficacy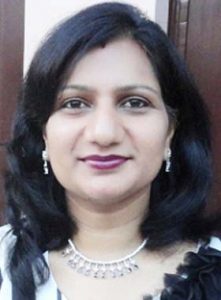 Cold chain management involving storage and transportation of temperature sensitive pharmaceutical and biological products has assumed critical significance. Pharmaceutical companies need to meet global regulatory requirements while handling, storing, and distributing biopharmaceuticals….
By Dr Geeta Aggarwal
The global biopharmaceuticals market was valued at USD 237, 250.8 million in 2018, and is estimated to be valued at USD 388,997.3 million in 2024, witnessing a CAGR of 8.59%. The market growth is attributed to the growing acceptance for biopharmaceuticals due to their ability to treat previously untreatable diseases, resulting in huge market demand for biopharmaceuticals.
Biopharmaceuticals offer several benefits, such as highly effective and potent action, fewer side effects, and the potential to actually cure diseases rather than merely treat the symptoms, which have significantly increased the demand for biopharmaceutical products. Biopharmaceuticals have reduced the number of deaths due to cancer and HIV/AIDS in the past decade, which has led to an increase in the adoption of biopharmaceuticals in the global market. Biopharmaceuticals have given an alternative to the previously less effective and sometimes unsafe treatments, and it allows clinicians to tailor treatments to the specific medical problems experienced by each patient.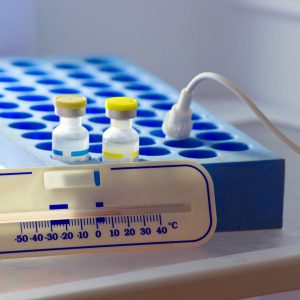 Pharmaceutical companies have various global regulatory requirements to meet while handling, storing, and distributing environmentally sensitive products. Their focus is to provide cold chain management for temperature sensitive pharmaceuticals to ensure that the quality and efficiency of the product will not be compromised.
The Pharmaceutical Commerce's annual Biopharma Cold Chain Sourcebook, 2017, estimates that the pharma cold chain logistics are total up to $ 13.4 billion, growing at a 5-6% rate. Also, the value of temperature sensitive pharmaceuticals being shipped is projected to grow 10.7%, reflecting that the industry is learning to efficiently manage cold chains.
It is estimated that by 2021, pharma cold chain logistics will be worth $16.6 billion. The global pharma industry today is almost $1.2 trillion, is projected to rise by 41% by 2021. Within that, products that require refrigerated and cold storage and transport are worth around $283 billion and will rise 70% over the same span. Continued strong growth in insulin products and vaccines is also propelling growth, as is the broader adoption of all these products from developed economies to underdeveloped ones, especially in Asia.
Currently, seven of the top 10 best-selling pharmaceutical products in the world are biotechnology-derived large molecules, requiring refrigerated storage and handling at 2-8°C. The industry's migration to these new medicines that require cold chain injects tremendous complexity into the distribution process. Regulatory bodies are increasingly demanding proof that products have been kept within an approved temperature range during transportation.
"Cold Chain" Or "Cold Chain Management" is the controlled temperature storage and transportation of temperature sensitive pharmaceutical and biological products. An unbroken cold chain (an uninterrupted series of storage and distribution activities) which maintain a given temperature range is mandatory for this.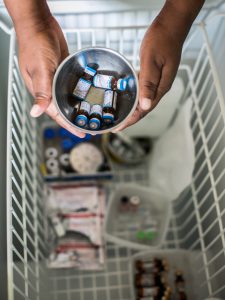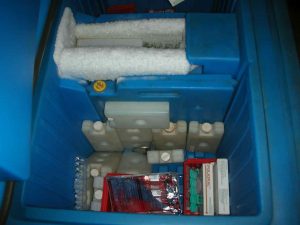 Need of cold chain management in healthcare:
 Reducing wastage of precious medicines
 Maintaining product lifespan and safety
 Ensuring a safe product reaches patients
"Temperature control", or "cold chain", is therefore crucial to the pharmaceutical industry and healthcare systems. A breakdown of cold chain at any point in the distribution can lead to a loss of potency, which cannot be reversed. This may result in the failure of the pharmaceutical products to create the desired response, requirement of extra doses for patients, increased costs for providers, and even damage to public confidence in products.
Regulatory requirements for handling temperature sensitive products:
• USFDA
o 21 CFR 203.32 "Prescription Drug Marketing – Drug sample storage and handling requirements
o 21 CFR 211.150 of Subpart H: Holding and Distribution
• USP General Chapter <1079> Good Storage and Shipping Practices
• EU: Directive 2001/83/EC, Title VII on the wholesale distribution of medicinal products for human use
• WHO Guidelines on the international packaging and shipping of vaccines
• CDSCO (MOHFW, GOI): Guidelines on Good Distribution Practices For Biological Products
• ICH: ICH Q1A (R2) Stability testing of new drug substances and products
• PDA (The Parenteral Drug Association): "Guidance for Temperature-Controlled Medicinal Products: Maintaining the Quality of Temperature-Sensitive Medicinal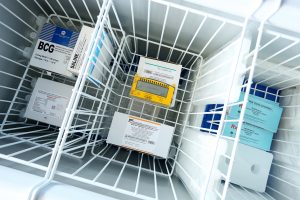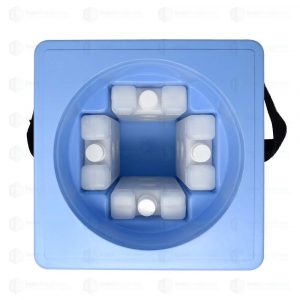 Products through the Transportation Environment" Technical Report No. 39, revised 2007: (Suppl., vol. 61, No. S-2); and PDA Technical Report 46 Last Mile
It is a regulatory expectation that product license holders document their supply chain processes and use current best practices for the distribution of their cold chain products. This includes rationale and justification for the use of ambient temperature profiles within the distribution environment. This decision is critical to the package design, as the more challenging the profile, the more robust and expensive the package.
Challenges of regulatory compliance for cold chain:
Companies need to demonstrate compliance with official standards with all the necessary documentation pertaining to protocol, validation or qualification reports. The distribution process must be validated to ensure there is no negative impact on the safety, efficacy or quality of the drug substance. But there are always chances of low level of regulatory compliance for temperature sensitive pharmaceutical drugs/ vaccines because of:
 Lack of understanding of cold chain
 Lack of awareness on impact of cold chain breakage
 Complex validation requirements
 High cost of validated shipping solutions
What, if low temperature: Good temperature control during the storage and transport of biopharmaceuticals like vaccines is critical to ensure their potency and safety. Liquid formulations of aluminium-based vaccines against diphtheria, pertussis, tetanus, hepatitis B and Haemophilus influenzae type B, alone or in combination (adsorbed vaccines), should not be frozen. However, practices that expose vaccines to sub-zero temperatures are widespread in both developed and developing countries at all health system levels. When a vaccine is damaged by freezing, the potency lost can never be restored and the damage becomes permanent. Freeze-damaged vaccines have lower immunogenicity and are more likely to cause local reactions, such as sterile abscesses.
Never freeze vaccines like Cholera, DTaP-hepatitis B-Hib-IPV (hexavalent), DTwP or DTwP-hepatitis B-Hib (pentavalent), Hepatitis B (Hep B), Hib (liquid), Human papillomavirus (HPV), Inactivated poliovirus (IPV), Influenza, Pneumococcal, Rotavirus (liquid and freeze-dried) and Tetanus, DT, Td. These vaccines are highly sensitive to frozen temperature.
What, if high temperature: Exposure to temperatures outside these ranges (above or below) may result in reduced vaccine potency and increased risk of vaccine-preventable diseases. Most sensitive vaccines to heat include Oral poliovirus (OPV), influenza, inactivated poliovirus (IPV), Japanese encephalitis (freeze-dried), Measles or measles-rubella or measles-mumps-rubella (freeze-dried).
Keep your vaccines safe by using validated cold chain shipping solution during distribution. The ideal features required for cold chain shipping box are:
• Validated for accurate temperature control as per regulatory requirement (as required by individual product).
• Can withstand seasonal variations: Hot Summer and Cold Winter (Extreme), Spring and Autumn (Mild)
• Usable for all modes of transport: Air, Ground and/or Rail
• All the necessary documentations pertaining to protocol, validation or qualification reports is developed for users to meet regulatory requirements.
• Development of unique and rigorous distribution temperature profiles for testing of insulated shipping containers considering high and low temperature conditions (robust)
• Development of temperature profiles accurately represent the expected ambient temperature exposure that these packages might experience during shipment.
• Cost effective solution
• Minimum impact on environment (reusable product)
• Optimal size and weight of box to facilitate one-person handling.
• It should offer maximum payload capacity.
Impact of validated and innovative packaging solution:
• Validation requirements will be met
•Companies can demonstrate compliance to official standards
• No negative impact on the safety, efficacy or quality of the drug products
• Innovative solution will help to stop cold chain breakage
• Cost-effective validated shipping solutions for multinational, national and smallscale companies
• Less impact on environment (reusable product).
(The author is Assistant Registrar, Delhi Pharmaceutical Sciences & Research University, New Delhi)