Severe rheumatoid arthritis and generalized osteoporosis are treatable with knee replacement surgery which can involve partial or total replacement, depending on the condition of the patient
By Team Double Helical
Rashmi Sahni (name changed), aged 52 years, came to Dr Ramneek Mahajan, Director of Orthopaedics and Head, Joint Replacement at Saket City Hospital, New Delhi with complaint of severe rheumatoid arthritis and her condition was so severe that she was brought on wheelchair. The patient, suffering from pain in both the knees, was bedridden with grossly deformed knees for a long time despite being on medical observation along with secondary flexion contracture of knee with diffuse/generalized osteoporosis. In osteoporosis, it is very complicated to perform knee replacement surgery because the bones become quite weak and porous.
Generally, osteoporosis is a medical condition in which the bones become brittle and fragile from loss of tissue, typically as a result of hormonal changes or deficiency of calcium or vitamin D whereas Rheumatoid Arthritis affects multiple joints of body and later the disease starts affecting the weight bearing joints of lower limbs leading to secondary arthritis.
Knee replacement surgery involves removing a damaged joint and putting in a new one. The doctor usually suggests knee replacement to improve how you live as replacing a joint can relieve pain and help you move and feel better. This technique gave a new life to Rashmi, who came with unbearable pain and was not able to stand on her own feet.
Every replacement is performed in different formats usually known as partial and total replacement, depending on the condition of the patient. In Rashmi's condition, after being thoroughly investigated, patient underwent surgery but due to severe Osteoporosis and associated knee deformity, constrained implants generally used for revision surgery were used for primary case.
Rehabilitation protocol was altered for her. Initial concentration was on range of movement & strength building of muscles. Nearly after a month, she started to stand gently with utmost care to stimulate muscle. Nearly six weeks to two months later, she started with baby steps using walker and gradually due to sheer willpower and good physiotherapy, she regained her strength and now in six months she is independently mobile without support.
"Before I came to Dr Ramneek, I was not even able to take a single step. I hadn't slept whole nights due to unbearable pain in my knees from the last 15 years. Now after knee replacement I am not only able to stand on my feet but I can walk easily, also, I can bend my legs. It's like a new life to me because I had become hopeless and accepted my knee pain as a permanent disability but Dr Ramneek and his team proved me wrong", said a beaming Rashmi Sahni.
Surgeon Par Excellence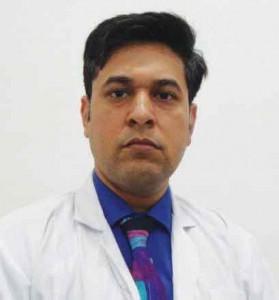 Dr Ramneek Mahajan has experience of over15 yearsin handling Orthopedics and Joint Replacement cases. His chosen specializations include Joint Replacement and Arthroscopy. He has to his credit approximately more than 2500 joint replacements and more than 10000 other orthopedic surgeries. He completed his M.S. and M.Ch. in Orthopedics and has done Fellowships in Joint replacement from Singapore General Hospital, Singapore; Puettlingen Hospital, Germany and The Prince Charles Hospital, Brisbane Australia.
He started his career in Government Medical College, Aurangabad. Currently, performing surgery at Saket City Hospital, New Delhi, Dr. Mahajan has also been holdingthe position of Director of Orthopaedics and Head, Joint Replacement at this hospital since 2014. Since 2005, Dr. Mahajan has been working extensively in Primary Hip, Knee and Revision Joint Replacement. He worked as Head of Orthopaedics at the Nova Specialty Hospital, Kailash Colony from 2010 to 2014. Dr. Mahajan was also a Visiting Orthopaedic Surgeon for the Fortis Hospital from 2009 to 2014.