The much-talked-about MP from Madhepura has a humane side to his political life – he has dedicated himself to providing free healthcare services to the suffering humanity
By team Double Helical
Rajesh Ranjan, popularly known as Pappu Yadav, has a different facet to his personality — he has made it his life's mission to provide free health services to the needy. Currently, Member of Parliament from Madhepura, he is founder and leader of Jan Adhikar Party. His wife Ranjeet Ranjan, an MP from Supaul, is a Congress leader.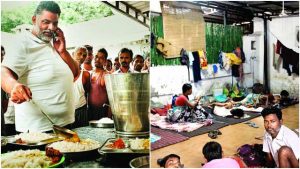 Pappu Yadav was born on 24 December 1967 in a landlord family in Khurda Karveli village, Purnia district, Bihar. He did his schooling from Anand Marg, School, Anand Palli in Supoul. He completed graduation in Political Science from B N Mandal University, Madhepura. He did Diploma in Disaster Management and Human Rights from IGNOU. His real name is Rajesh Ranjan but he was nicknamed as Pappu by his grandfather in his childhood.
Madhepura is the popular place of Gope (Yadav). There is a popular phrase is popular in his constituency– "Rome Pope ka, Madhepura Gope (Yadav) Ka". He was elected to the Bihar Legislative Assembly from Singheshwarsthan, Madhepura in 1990 as an independent candidate, and in 1991 he contested and was elected to the 10th Lok Sabha from Purnia.

Renu (name changed), 61, who suffers from partial paralysis, was rushed to the Patna Medical College and Hospital (PMCH), following the death of her husband recently. She had plunged into a serious condition due the lack of proper nutrition and medical care. Pappu Yadav met her family members and gave them cash money for her treatment and directed the hospital officials to take proper care of the woman whose son and other family members had left their native place Barbigha (Bihar) for Gujarat in search of employment.
Yadav believes that the BJP-supported Nitish Kumar government has been destroying healthcare system in Bihar through its misguided policies and his personal ambitions at the cost of development in the state. The healthcare delivery has collapsed across the state. There are few doctors and insufficient number of medicines available for patients. The pathetic condition prevails starting from smaller hospitals and health centres in villages to PMCH. Places where the government had earlier appointed doctors are also devoid of doctors and medicines and there have been reports of widespread irregularities in the purchase of medicines.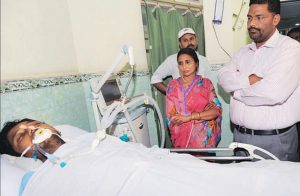 According to Pappu Yadav, the state government is hardly bothered whether people are able to avail adequate healthcare in the state. He does not want the people should become so helpless that they die whether in Bihar or in in Delhi. In New Delhi, MP Pappu Yadav and his wife MP Ranjeet Ranjan, have named their official residence as 'Sevashram' and started serving patients there. Hundreds of patients and their families are able to avail this service. Their lodging is done free of cost. There are patients who come here from all over the country. Pappu Yadav and his wife have set the example for all the MPs of the country today.
Pappu Yadav thinks doctors need to be a lot more responsive towards patients. Of course, they have tremendous work load, but they must treat all patients with more care and compassion. Whenever they get complaints from the patients in hospitals, they should immediately reach the hospital and attend to them. His party often takes to the streets demanding more responsible and prompt care on the part of doctors in his home town as well as in the city of Delhi.
The residence of the couple at Kasturba Gandhi Marg, 11 A, Balwant Roy Mehta Lane ln Delhi has turned into 'Sevashram' for hundreds of patients from Bihar and other states who receive free medical care as well as arrangements for food and lodging. Pappu Yadav and his wife themselves supervise all these arrangements so that no patient has any problem.
A dedicated staff of three deployed at the 'Sevashram' helps patients visit hospitals, meet doctors, conduct tests, and, in some cases, arrange for alternate free options. A kitchen serves them food two times a day, and over 70 kg of rice, along with rotis, dal and vegetables, is cooked every day. The doors of their official residence are open to patients for 24 hours. Pappu Yadav and his entire family have dedicated themselves for the care of patients. Given the growing dengue and chikungunya cases in Delhi, he has also opened his residence for the service of these patients. He often visits healthcare institutions like AIIMS, Lok Nayak Jaiprakash Narayan Hospital and Ram Manohar Lohia Hospital in Delhi to know about the conditions of patients. According to him, the state of healthcare services in the country is very bad. The government is not discharging its duties in a responsible manner. The patients are often forced to buy medicine from the outside.
Pappu Yadav says that you will not believe that patients from different families have to share the same bed. This is anarchy of the system. In such a situation, people are suffering the most All government claims are hollow. Delhi CM Arvind Kejriwal is not living up to his commitment to serve the aam admi or the common man. The ordinary people are suffering the most whereas rich people go to five-star hospitals for expensive treatment. Seeing such pathetic conditions, he decided to come forward to help the sick and the needy. His team of volunteers ensures that complete hygienic conditions are provided for patients and their attendants.
In Sevashram, most of the patients suffer from ailments like cancer, kidney and liver disease. Apart from free food arrangements for all, they receive special care. Financial help is also given to them as per the requirement. Ramji Lal, who arrived from Patna, said that if there was no such service, he would not be in this world today. People were languishing in hospitals. But now they have got a new life. For such patients, Pappu Yadav and his wife laid the foundation of the Sevashram and today thousands of people have benefitted from it.
Pappu Yadav wants doctors to be dedicated to the service of humanity. Sometimes many in their profession are insensitive to problems of the common man. The MP from Madhepura has given a new lease of life to many people. For example when Mahendra was diagnosed with a heart valve disease, he bore the news as a death sentence. The labourer from the Purnia district had no money for his expensive treatment, while queues outside government hospitals were too long. Mahendra then came to know about Pappu Yadav, who has been helping the needy since 1998. He immediately came to Delhi and with the MP's help, received Rs one lakh from the Pradhan Mantri Rahat Kosh. The remaining Rs 25,000 required for the surgery were given by the party of Pappu Yadav. His valve was successfully replaced.
Pappu Yadav says, "Powerful people have been deceiving the common man for long. I just want them to reach out, go and talk to the common people, instead of harping on issues of temples and reservations. We should take care of people's basic needs first. I am trying to help as much as I can. It is also for my own peace of mind and conscience."