Looking to protect your skin in the scorching summers? Go back to Nature that has given us wonderful herbs endowed with therapeutic and rejuvenating properties
By Team Double Helical
Want to have that perfectly glowing skin but not sure what to do about it? Well, the answer lies in your own surroundings! We often fail to realize the importance of the things that are easily available to us – the biggest example being 'nature' itself. Just look around and you will find that there are numerous valuable herbs and plants that have endless therapeutic and rejuvenating properties that could be a boon to your skin in the scorching heat.
Here are three useful, easily available herbs that will pacify your doshas and keep your skin healthy and glowing in summers: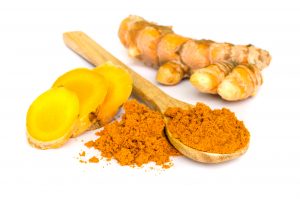 Turmeric (Haldi)
Turmeric purifies blood, nourishes the skin and gives it a healthy natural glow and radiance. It has anti-inflammatory, anti-aging and anti-bacterial properties that help reduce inflammation of skin, acne, pimples, blemishes, pigmentation, and prevent many skin ailments. It also helps heal and prevent dry skin, and slows down the skin aging process.
Ayurvedic Properties:
Quality (Guna): Rough, Light
Taste (Rasa): Pungent, Bitter
Post-digestive Effect (Vipaka): Bitter
Potency (Virya): Warm
Effect on Doshas: Pacifies Vata,
Pitta and Kapha
How to Use:
To treat pimples, make a paste of one teaspoon of sandalwood powder mixed with one teaspoon of turmeric. Add one teaspoon of water to make the paste, and apply to pimples before bed.
For itchy skin, apply the mixture of one teaspoon of sandalwood with one teaspoon of turmeric and one teaspoon of lime juice. Leave on for 20 to 30 minutes and rinse with cool water.
Sandalwood oil can be used as a moisturizer on the face and body and is also great for massaging.
Mix five tablespoons of coconut oil with two teaspoons of almond oil. Add four teaspoons of sandalwood powder, and apply the mixture to the overexposed areas of your skin. You will notice a considerable improvement in your tan.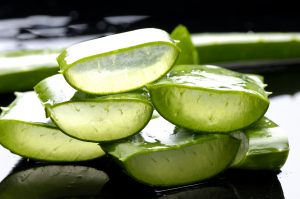 Aloe Vera (Ghritkumari)
Aloe Vera has been well known for centuries for its anti-inflammatory, anti-fungal, healing and cooling properties. It facilities healing of any kind – be it a skin wound, acne, burn, scald, blisters, insect bites, rashes, urticaria, vaginal infections, allergic reactions or dry skin. The gel of this plant helps to protect the outer layers of the skin, keeps the skin cool and reduces inflammation.
Ayurvedic Properties:
Quality: Heavy, Oily
Taste: Bitter
Post-digestive Effect: Pungent
Potency: Cold
Effect on Doshas: Pacifies Pitta and Kapha
How to use:
Applying Aloe Vera gel on the skin prior to application of make-up can prevent the skin from drying.
Blend the pulp of some fresh fruits with Aloe Vera gel in a blender and use it as a pack to keep the skin cool.
Mix Aloe Vera with wheat germ oil or almond oil to use it as a moisturizing pack.
To treat pigmentation, get a fresh leaf of Aloe Vera and split it to remove the gel. Apply this on clean skin and leave for about 20 minutes.
In case of sunburn, the application of Aloe Vera-based cream acts as a protective layer on the skin and helps replenish its moisture.