DEFEATING Cancer with Care and Compassion
Action Cancer Hospital organized an extremely vibrant and inspiring programme to commemorate the World Cancer Day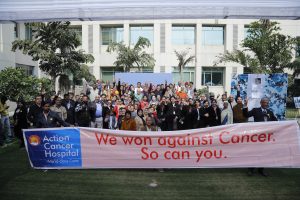 Action Cancer Hospital, organized a lively programme on the occasion of World Cancer Day in its premises on February 4, 2020. The event saw keen participation of doctors, nurses, support staff as well as the patients who are leading a healthy life after receiving successful treatment of cancer at the hospital. It may be recalled that this commemorative programme is being organized regularly in this hospital since 2015.
With her keen and active participation, Smt Shalu Agarwal represented the entire hospital management comprising, among others, Founder and Chairman, Lala Mange Ram Agarwal, Vice Chairman Nand Kishore Agrawal and President Rajkumar Gupta. Besides her, other notable attendees of the programme included Dr Asha Aggarwal, Medical Superintendent, Dr Anand Bansal, Medical Director, Dr JB Sharma, Dr Sushant Mittal, Dr Samit Purohit, Dr Ajay Sharma, Dr Rajesh Jain, Dr Manish Pandey, Dr Harpreet Singh, Dr Shruti Bhatia, and Dr Atul Goswami.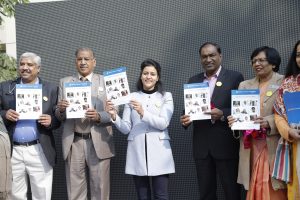 There is no doubt that with the help and support of these personalities and other family members, the hospital is progressing rapidly and its credibility and fame is increasing day-by-day. The hospital offers all healthcare facilities along with highly qualified doctors, nurses, support staff and state-of-the-art machines and equipment.
The program started with rendering of Ganesh Vandana and lighting of the lamp, followed by distribution of gifts to the people, including free coupons of mammography worth Rs 2500 each. There were also free arrangements for measurement of BP, sugar, and weight check at the venue. A colourful cultural programme was also organized in which the attendees walked the ramp in groups on the stage. Gagan Narang played an important role in making the programme successful, memorable and spectacular.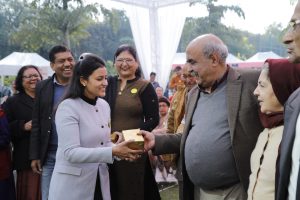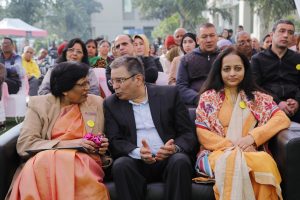 The visitors were told that happy life can be lived by defeating cancer. The people who have received cancer treatment at the hospital, ranging from general public to teachers, bank managers, IAS officers to foreigners, articulated their memoirs in a very emotional way, expressing their deep gratitude to doctors and nurses, support staff and hospital management. Most of the people said that this hospital restored their faith in life again. It is worth noting that along with all facilities at Sri Balaji Action Hospital, special attention is given to cleanliness, sanitation and greenery so that the patients can experience pollution-free environment to help in their treatment of disease.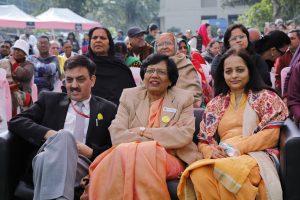 Dr JB Sharma and Dr Purnima said that though cancer is lethal, adherence to a good lifestyle, consumption of healthy food, avoidance of tobacco products and alcohol, coupled with regular physical exercise, can definitely make a difference in countering this disease. They strongly advocated provision of HPV vaccine to girls in the age-group of 9 to 15 years to save them from cervical cancer.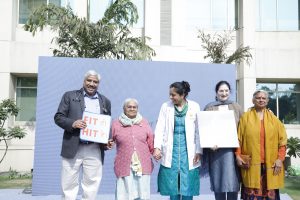 Shalu Aggarwal, in her address said that unwavering faith and ceaseless endeavours are the mantras that can rekindle hope of life in patients. Even in the case of last stage-patients, doctors and nurses keep up serving them every moment, which makes the attendants of the patients also believe that God can still show some miracle. She underscored the need for holding on to hope till the last moment, because those who try never lose. She expressed her heartfelt gratitude to doctors, nurses and all staff for creating such positive vibes. She thanked all those who attended the programme and wished them a healthy life.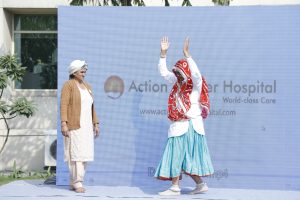 Sri Balaji Action Medical Institute and Action Cancer Hospital is a well-known, credible hospital that occupies a leading position in the list of top level hospitals in the country in many ways. Spread over a wide area with attractive large lawns, the hospital is equipped with the latest facilities to treat all diseases at very low cost. The staff of this leading hospital are very friendly, cooperative and cheerful so that there is no inconvenience for the patients and their family members. Nand Kishore Agarwal, Vice Chairman of the hospital is a messiah of social service, with unmatched leadership abilities.