Over the years, there has been a steady rise in the population of the older people who are unfortunately the most ignored and neglected segment of society. To safeguard their needs of financial security, health care, shelter and welfare, including protection against abuse and exploitation, the Government runs multiple programmes and schemes, which aim at making a difference in the lives of senior citizens …
By Dr Suneela Garg/ Dr Divya Gupta/ Dr Samar Hossain
India is gradually undergoing a demographic change. With the decline in fertility and mortality rates accompanied by an improvement in child survival and increased life expectancy. A significant feature of demographic change is the progressive increase in the number of elderly persons. The number of elderly persons has increased from 1.98 crore in 1951 to 7.6 crore in 2001, and 10.38 crore in 2011. The projections indicate that the number of 60+ in India will increase to 14.3 crore in 2021 and 17.3 crore in 2026. Continuous increase in life expectancy means that more people are now living longer. General improvement in the health care facilities over the years is one of the main reasons for continuing increase in proportion of population of senior citizens. The WHO has declared 2020-2030 as the decade of elderly. Ensuring that they not merely live longer, but lead a secure, dignified and productive life is a major challenge.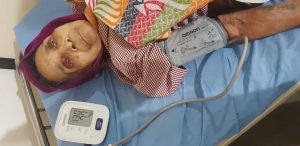 The problems of the elderly in India were not serious in the past because the numbers were small and the elderly were provided with social protection by their family members. But owing to relatively recent socio-economic changes, ageing of the population is emerging as a problem that requires consideration before it becomes critical. Change in socio-economic status and various health problems adversely affect an individual's way of life during old age.
ISSUES FACING THE ELDERLY IN INDIA
Arthritis, hypertension, hearing impairment, defective vision, diabetes and varicose veins are among the usual diseases faced by the elderly. These chronic diseases tend to occur more in women and tend to increase with age. Use of tobacco and alcohol is more among the urban slum dwellers. Illiteracy and poverty leads to more chronic diseases like tuberculosis, HIV/AIDS, dengue fever etc.
Most of the poor old age people also suffer from nutritional deficiencies that include iron deficiency, calcium deficiency and vitamin A deficiency eventually leading to blindness if not treated.
The aged people are often financially bankrupt since their assets, properties and wealth are legally transferred to their children. So, most elderly people do not have an emergency fund available to meet their basic needs leaving them dependent on their children or other family members financially.
Elderly abuse is also a very important issue of the elderly. Violence on the elderly can be in various forms mainly – physical, sexual, emotional, neglect, abandonment and financial. For raising awareness regarding this, 15th June every year is set aside as World Elder Abuse Awareness Day (WEAAD) by the United Nations.
Finally, many elderly suffer from isolation and alienation from the society and their family members leading them into depression, loneliness and also psychological disorders.
SCHEMES & POLICIES FOR THE ELDERLY
The Ministry of Social Justice and Empowerment & Ministry of Health and Family Welfare focus on formulating policies and programmes for the elderly in close collaboration with state governments, non-governmental organizations and civil societies. The programmes aim at their welfare and maintenance especially for indigent elderly. They are in tandem with the Global Strategy and Action Plan for Ageing and Health adopted by the World Health Assembly.
1. National Policy for Older Persons (NPOP) 1999
The primary objectives of this policy are to:
Ensure the well-being of the elderly so that they do not become marginalized, unprotected or ignored on any count.
Encourage families to take care of their older family members by adopting mechanisms for improving intergenerational ties so as to make the elderly a part and parcel of families.
Encourage individuals to make adequate provision for their own as well as their spouse's old age.
Provide protection on various grounds like financial security, health care, shelter and welfare, including protection against abuse and exploitation.
Enable and support voluntary and non-governmental organizations to supplement the care provided by the family and recognizing the need for expansion of social and community services with universal accessibility.
Provide care and protection to the vulnerable elderly people by ensuring for them an equitable share in the benefits of development.
Provide adequate healthcare facility to the elderly.
National Council for Older Persons (NCOP) was constituted in 1999 under the chairpersonship of the Ministry of Social Justice and Empowerment to operationalize the National Policy on Older Persons. The NCOP is the highest body to advise the Government in the formulation and implementation of policy and programmes for the elderly.
2. Maintenance and Welfare of Parents and Senior Citizens Act, 2007
The objectives of the Act are:
Revocation of transfer of property by senior citizens in case of negligence by relatives.
Maintenance of parents/senior citizens by children/ relatives made obligatory and justiciable through Tribunals.
Pension provision for the elderly.
Adequate medical facilities and security for senior citizens.
Establishment of old age homes for the indigent senior citizens.
The Act was enacted on 31st December 2007. It accords prime responsibility for the maintenance of parents on their children, grandchildren or even relatives who may possibly inherit the property of a senior citizen.
3. National Program for Health Care of Elderly, 2010
Keeping in view the recommendations made in the "National Policy on Older Persons" as well as the State's obligation under the "Maintenance & Welfare of Parents & Senior Citizens Act 2007", the Ministry of Health & Family Welfare (MoHFW) launched the "National Programme for the Health Care of Elderly" (NPHCE) during the year 2010, to address various health related problems of elderly people. The NPHCE is sponsored and its implementation is monitored by the MoHFW. However, once the programme is fully implemented throughout the country, the responsibility of running it will lie with the state governments.
The beneficiaries of this programme are the elderly people (above 60 years) in the country.
Free, specialised health care facilities are provided exclusively for the elderly people through the state health delivery system viz:
District hospitals with Geriatric Clinic (OPD) and 10 bedded Geriatric WardBi-weekly Geriatric Clinic at Community Health Centres
Weekly Geriatric Clinic at Public Health Centres
Domiciliary visits to the elderly persons by ANM/Male Health Workers posted under Sub-Centres and provision of callipers and supportive devices to make them ambulatory.
Referral treatment at the Regional Geriatric Centres with 30 bedded Department of Geriatrics.
The Centres of Excellence – National Centres for Ageing are – AIIMS, New Delhi and Madras Medical College, Chennai.
Main Aims of NPHCE are –
Preventive and promotive health care services such as regular physical exercise, balanced diet, stress management, avoidance of smoking or tobacco products and prevention of fall, etc. are provided by expanding access to health practices through domiciliary visits by trained health workers. They impart health education to old persons as well as their family members entrusted with care of older persons.
Dedicated outdoor and indoor patients services are developed at PHCs, CHCs, District Hospitals and Regional Geriatric Centres for management of chronic and disabling diseases.
In service training is imparted to the health manpower using standard training modules prepared with the help of medical colleges and regional institutions to overcome the shortage of trained medical and para-medical professionals in geriatric medicine. The post-graduate courses in geriatric medicine have been introduced in Regional Geriatric Centres for which additional teaching and supportive faculties are provided to these institutions.
Therapeutic modalities like therapeutic exercises, training in activities of daily life (ADL) & treatment of pain and inflammation through physiotherapy unit are arranged at CHC, district hospital and Regional Geriatric Centre levels.
Health education programmes using mass media, folk media and other communication channels are being promoted to reach out to the target community for promoting the concept of healthy ageing, importance of physical exercise, healthy habits, and reduction of stress. Camps for regular medical check-up are being organized at various levels.
Some other initiatives –
• Integrated Program for Older Persons
It is a scheme by Ministry of Social Justice and Empowerment since 1992 with the objective of improving the quality of life of senior citizens by providing basic amenities like shelter, food, medical care and entertainment opportunities and by encouraging productive and active ageing. Under this Scheme, financial assistance is provided to NGOs/voluntary organizations, Panchayati Raj institutions etc. for maintenance of old age homes, respite care homes and continuous care homes, multi-service centres, mobile medicare units, day care centres for Alzheimer's disease/ dementia patients, and physiotherapy clinics for older persons etc.
• Indira Gandhi National Old Age Pension Scheme
Indira Gandhi National Old Age Pension Scheme (IGNOAPS), earlier called as "National Old Age Pension Scheme (NOAPS)", implemented by Ministry of Rural Development, is a social sector scheme and forms part of the National Social Assistance Programme (NSAP) which came into effect from 15th August, 1995. Under IGNOAPS, central assistance of Rs. 200/- per month is provided to persons in the age group of 60-79 years and Rs. 500/- per month to persons of 80 years and above and belonging to below poverty line (BPL) household as per the criteria by Government of India. State/UTs have been requested to contribute at least the same amount under the scheme.
• Vayoshreshtha Sammans – A Scheme of National Award for Senior Citizens
This scheme was launched in 2005 and is dedicated to senior citizens. It is funded by the Central government and is applicable for eminent senior citizens and institutes involved in rendering distinguished services for the cause of elderly persons.
• Rashtriya Vayoshri Yojana
RVV is a scheme funded from the Senior Citizens Welfare Fund since 2016 for providing physical aids and assisted-living devices for senior citizens belonging to BPL category. The devices like walking sticks, elbow crutches, walkers/crutches, tripods/quadpods, hearing aids, wheelchair, artificial dentures and spectacles are distributed free of cost to the beneficiaries in camp mode. RVV is executed by Artificial Limbs Manufacturing Corporation of India (ALIMCO) under the Ministry of Social Justice and Empowerment.
• The Pradhan Mantri Vaya Vandana Yojana
It is a pension scheme announced by the Government of India exclusively for the senior citizens aged 60 years and above which is available from 4th May, 2017 to 31st March, 2020. The scheme will be operated by Life Insurance Corporation of India (LIC). On payment of initial lump sum amount ranging from`1.5 lakhs for a minimum pension of `1,000/month to a maximum of `15lakh for a maximum pension of `10,000/month for a policy term of 10 years, the beneficiary will get guaranteed rate assured pension based on return at 8% per annum. The sum is payable on monthly or quarterly or half yearly or annual basis.
(The authors are Director Professor/ Senior Residents Doctor, Department of Community Medicine, Maulana Azad Medical College, New Delhi)