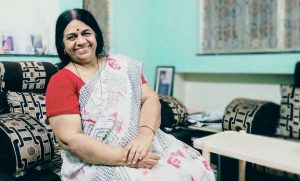 The incidence of violent crimes against doctors has been increasing across the country. Violence can never be justified against someone who is attempting to save a person's life. It is essential that certain strategies are devised to guarantee the safety of healthcare providers under adverse situations...
By Dr Aruna R. Prakash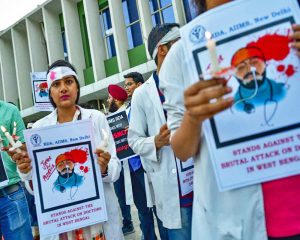 Now-a-days violence against doctors is in the news with increasing frequency. Number of incidents of attacks on doctors and other healthcare workers across the country has risen sharply over the last few years. Violence against medical professionals occurs in the form of physical violence, verbal abuse, aggressive gesture, blackmailing, mob lynching and cyber bullying.
According to a recent Indian Medical Association (IMA) study, more than 75% of doctors have faced some form of violence as verbal or physical abuse in hospital premises during their carrier span. It was also observed that the fear of violence was the most common cause for stress for 43% doctors.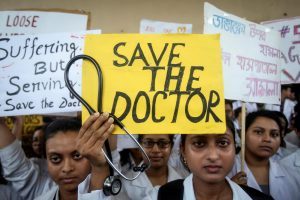 A recent IMA study said that doctors faced maximum violence while providing emergency or critical services. Out of that, more than 48% of such incidents have been reported from intensive care units (ICUs) or post-surgery. The highest number of violence was reported at the point of emergency care and 70% of the cases of violence were initiated by the patient's relatives.
The incidence of violent crimes against doctors has been increasing with the highest violence rate occurring in Delhi, Maharashtra and Uttar Pradesh. Based on this situation, many medical organisations have declared medicine as a dangerous profession. They opined that doctors should be provided personal security as many a times the medical professionals are being roughed up or even killed by disgruntled relatives of the patient.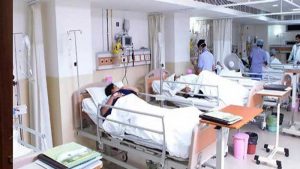 One of such unfortunate incidents happened on August 25, 2001. Shiv Sena leader Anant Dighe was admitted to Thane's Singhania Hospital following injury in a highway accident. Singhania is the biggest private sector hospital in this Mumbai suburb, with speciality services otherwise not available in the area. Mr Dighe was stable following an operation for a leg fracture but a few hours after the surgery he suffered cardio-respiratory arrest believed to be a sudden cardiac event or a pulmonary embolus and died.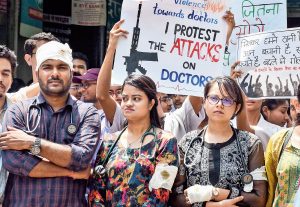 Following news of his death, a mob of Sena followers went on a rampage, destroying all furniture and equipment. Staff and patients fled the premises while a small posse of policemen looked on. The damage to the hospital is estimated to be around Rs 10 crore.
In a more recent incident of violence, Dr Paribaha Mukherjee and his other colleague were brutally attacked by a violent mob at NRS Medical College (NRSMC), Kolkata allegedly by the relatives of a 75-year-old patient who died at the NRSMC on the night of June 10. The medicos were blamed for negligence by deceased's kin after which a mob consisting of more than 200 people, attacked the junior doctors at the hospital. One of them was grievously injured in the assault and sustained a serious skull injury.
Nationwide spread of doctors; agitation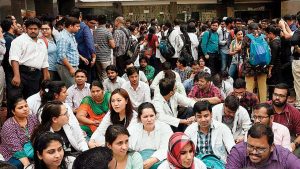 The assault by a mob on Dr Paribaha Mukherjee on 11 June sparked widespread protests in the state, and found support from doctors across the nation. Following Chief Minister Mamata Banerjee's 24-hour ultimatum to end the strike, the protests spread further and the IMA declared a nationwide doctors' strike.
Inadequate and unacceptable response of Chief Minister Mamata Banerjee further angered the doctors who refused to call off their strike despite an ultimatum received from her.
The doctors hardened their stand after Banerjee's outburst that accused the doctors for acting with some political motives. On this, doctors demanded an unconditional apology from the chief minister.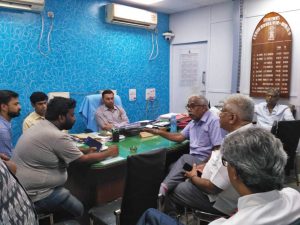 With no solution in sight, there were voices of dissent from sections of the ruling Trinamool Congress as well. Among these Banerjee's nephew Abesh Banerjee, a junior doctor, was seen leading a protest at a hospital while Kolkata Mayor and minister Firhad Hakim's daughter, Shabba Hakim, criticised the role of the ruling party on this issue. Another MP's son also took this matter to Facebook in support of this protest.
To condemn the violence against medical professionals in the country, IMA, the apex body of doctors, protested wearing black badges, holding dharnas and peace marches. Then they called for a strike on June 17 with withdrawal of non-essential health services. They demanded that hospitals should be declared as safe zones and provision of appropriate security should be the responsibility of the state.

How the issue was resolved
IMA wrote to Union Home Minister Amit Shah demanding enactment of a central law to check violence against health care workers in hospitals. IMA wanted an exemplary action by the state government as well as also all the legitimate demands of the resident doctors in West Bengal to be accepted unconditionally. It was also mentioned that a national law against violence in hospitals has to be brought in urgently that should provide a minimum of seven years imprisonment for hospital violence.
Viewing huge protests by the medical fraternity across the country over violence against doctors in hospitals, Union Health Minister Harsh Vardhan assured that the government will revisit the issue of drafting a central law regarding the safety of medicos and healthcare facility. He wrote to all states requesting chief ministers to consider enacting specific legislation for protecting doctors and medical professionals from any form of violence.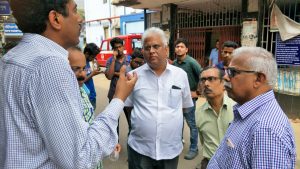 After the doctors' delegation highlighted the gaps in security in and around hospital premises, Banerjee directed the police to appoint nodal officers at all state government hospitals. Besides 31 junior doctors, West Bengal health minister Chandrima Bhattacharya, health secretary Anil Verma and other state officials also attended the meeting.
Later on doctors withdraw their strike after meeting with the Chief Minister Mamta Banerjee. As the meeting was positive and fruitful, they appealed all junior doctors across Bengal to resume work as soon as possible. They also decided to give time to the state government to implement their proposals raised in the meeting.
Let us have a closer look at the root of this situation
Violence can never be justified against someone who is attempting to save a person's life. Let us think for a while why the patients and their relatives who used to worship the doctors as God are now beating them up? Are these pre-meditated attacks? What is provoking patients to attack medical professionals? Is failure in communication causing patients to misunderstand their loved one's condition?
Reasons for violence against health workers are manifold. India has a very large proportion of population that is deprived of healthcare. In this situation, any encounter with existing medical system results in catastrophic expenditure for most people. It is not difficult to understand why people hold the medical community responsible if anything goes amiss. We can see this escalating as people are becoming increasingly less tolerant of poor service.
In earlier days failure in recovery was just accepted as fate or the will of God. That was the time when the belief in the doctor was absolute and there was no question of him having done anything but the best for the patient. Now a view like doctors do the surgery just for the money is enough to provoke patient's relatives to some extent. It is not the case that all incidents of violence follow the same pattern. There are many situations too where patients have untreatable conditions and doctors communicate the same and still face violence. But these are not as common.
One more reason is failure in communication due to the doctor being busy. It is often the aggravating factor. Generally patients do not have any problem with the doctor not spending enough time or paying enough attention as long as the outcome is good. But when the patient dies or suffers a complication, lack of attention or communication becomes a cause for violence. Another major issue is low healthcare literacy among general public. This coupled with the limited recourse for dissatisfaction, offers a potent combination for a violent ending.
One more reason for this is we have a very slow judicial process that often leads to patient relatives venting their frustrations and anger on the spot. The whole process can take years to get a verdict in consumer or other courts and the appeal process can drag on for decades. In case you have lost a loved one due to what you consider as a gross or criminal negligence and if there is an option between going to a consumer court versus settling scores instantly people opt for the latter.
What are the DRAWBACKS in the existing system?
There is no program at local or national level that addresses the issues of safety of primary healthcare physicians. In general, the security arrangements across the hospitals are not enough to prevent any aggression and violence against doctors. This provides a sense of freedom to the patients or their relatives to express their stress and anger towards the hospital staff in any legal or illegal manner. As the number of female healthcare providers is also increasing, it is necessary that certain strategies are devised to guarantee the safety of health care providers under adverse situations.
Healthcare industry has thousands of sincere doctors and other professionals working in their patient's best interests. But thanks to the rotten apples in their midst, their lives too are being put at risk and that is a tragedy. As long as the conditions leading to such violence persist, these attacks are unlikely to stop. If the healthcare industry thinks that security guards are the answer, God only can help it.
Any of these attacks are not pre-meditated. Often the patient has already spent a lot of money and is at the end of his financial tether. When relatives have been told to expect an improvement and there is a sudden deterioration followed by loss of the patient, there is an instant feeling of anger that manifests as violence. We all know that in medicine, there are no guarantees and patients can develop complications any time despite the best efforts of doctors.
Conclusion
Any form of violence against medical profession and facilities will be counterproductive as well as demoralise health providers thus taking away the confidence and courage of medical professionals especially in critical situations. Ultimately the situation will adversely impact on patient care and safety and implications will be far reaching.
As Dr Harsh Vardhan rightly opined that better communication with doctors and a compassionate approach to take care of the genuine problems being faced by them in day-to-day functioning would definitely be helpful in tiding over the crisis.
Violence dominates our lives as never before and it is our ethical responsibility to respond to it in the right way. The medical profession must do more than just condemn such violence. In addition to that it must also reflect on the ethics of its own practice. However, structured safety measures like a three-layer security, CCTV cameras and restriction of entry of visitors should be well defined and enforced uniformly across the country in all sectors.
(The author is a researcher formerly associated with CSIR)