Man of the Moment J P Nadda
Continuing an unbeaten successful knock in his first innings at the Centre, Union Minister for Health and Family Welfare, J P Nadda has a big role cut out for him in the Himachal Pradesh Assembly elections, which are due in December 2017. While as Health Minister, he has formulated and executed crucial public health programmes and policies, now he is all set to lend his extraordinary organisational skills to the party in the battle for taking over the reins of the snow-clad state
By Team Double Helical
Pride of Himachal Pradesh, a state famous for hill and heavy snowfall, Jagat Prakash Nadda (popularly known as J P Nadda), currently Union Minister for Health and Family Welfare, is one of the top strategists in Bharatiya Janata Party. It bears testimony to his astute strategic and organizational skills that he has worked as party election head in many states in his earlier stints.
J P Nadda is a very calm, composed and mature leader as he does not like controversies, that is why he has never made any controversial statement that may have landed his party in trouble. In the current political scenario, his status can be measured by the fact that the party always consults him in all matters of significance.
Early Life
Nadda was born on Dec 2, 1960 in Patna, Bihar and did his graduation from Patna University. He started participating in politics and joined Akhil Bharatiya Vidyarthi Parishad (ABVP), the students' wing of the Rashtriya Swayamsevak Sangh (RSS). He keenly participated in the JP movement and contributed his bit to the fight waged under the leadership of the iconic Jai Prakash Narayan against the dictatorial regime of the then prime minister Indira Gandhi.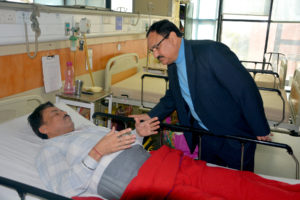 In 1977, he was elected Secretary, Patna University Students Union on the ticket of ABVP. Subsequently, he held many position at ABVP. Nadda was equally good in sports also. He represented Bihar in swimming at state and national level competitions. His father was vice chancellor at Patna University at that time.
Higher Studies and Marriage
Later he joined Himachal University for pursuing his Bachelor of Laws (LLB) and a post-graduate degree in political science. He got married to Dr Mallika Nadda, daughter of former Lok Sabha MP from Jabalpur (in Madhya Pradesh), Jayshree Banerjee. Mallika teaches history in the Himachal University. She was also member of ABVP, and national secretary from the year 1988 to 1999.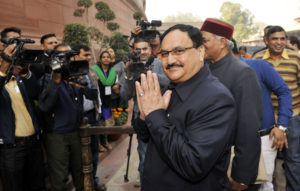 Entry into State Politics
In 1987, he formed Rashtriya Sangharsh Morcha against the ruling Congress party in Himachal Pradesh. In 1989, he became the election head of the youth wing of BJP. At that time he was only 29 years old. Three years later he was elected as president of Bhartiya Janata Yuva Morcha.
He won three elections to Himachal legislative Assembly and became minister for three times in the Himachal government, holding charge of environment, health and law ministries, respectively. He won his first Assembly election from Bilaspur (Sadar) in Himachal in 1993.
His main achievement as environment minister was setting up forest police stations to check forest crimes, launching community-driven plantation, setting up forest ponds and undertaking a massive plantation of deodars to restore the decline green cover of Shimla. He was focused on spreading greenery in his karma-bhoomi.
Elevation to Central Politics
In 2012, he was selected for Rajya Sabha and after that he got a cabinet berth as Minister of Health in the Narendra Modi government. Since his elevation to the Union cabinet, Nadda is being considered as a very strong contender or potential chief minister of Himachal Pradesh where Assembly elections are due in December 2017. He has done Himachal proud by his multifaceted achievements, with the state now looking up to this son of the soil to steer it to further heights of glory.
Starting his political career as a student leader of the ABVP in 1978, Nadda had also worked closely both with Nitin Gadkari and Amit Shah even in the party's youth wing – the Bharatiya Yuva Morcha – from 1991 to 1994.
A close confidant of Modi, Nadda's name was doing the rounds as the potential BJP chief after Rajnath Singh was inducted into the Central government as the home minister.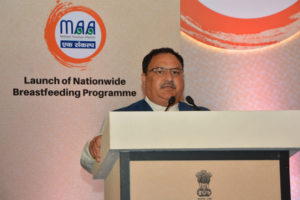 Achievements as Union Health Minister
As Union Minister for Health and Family Affairs, Govt of India, JP Nadda is on a mission to find out holistic solutions for healthcare issues in India. Ever since taking charge of the Union Health Ministry on November 10, 2014, he has formulated and executed crucial public health programmes and policies to achieve universal health coverage. One of them is Mission Indradhanush that aims to cover all those children by 2020 who are either unvaccinated or are partially vaccinated against seven vaccine preventable diseases which include diphtheria, whooping cough, tetanus, polio, tuberculosis, measles and hepatitis B. His government's Immunization Programme is one of the key interventions for protection of children from life threatening conditions, which are preventable. It is one of the largest immunization programmes in the world and a major public health intervention in the country targeting more than 2.6 crore newborns & close to 3 crore pregnant women annually through more than 90 lakh immunization sessions.
A BRICS workshop was held on drugs and medical devices in Goa, India in November 2016 for concluding a Memorandum of Understanding on regulatory collaboration with a view to improving the regulatory standards, certification and systems for medical products among BRICS countries.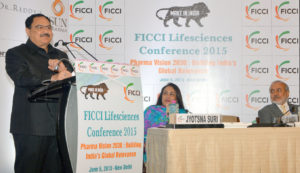 Addressing the two-day 6th BRICS Health Ministers Meet, J P Nadda said that BRICS gives us a very important platform to collaborate in healthcare, in an environment of mutual trust and co-operation. Recalling the Declarations and Communiqués jointly issued by BRICS, Health Ministers and Member States meetings in Beijing, Delhi, Capetown, Brasilia, Moscow and Geneva, Nadda said that these joint statements are our pillars of strength and a guide to our future work together.
According to J P Nadda, India has achieved substantial improvements in human development index and impressive gains in health in the past several years. India's life expectancy at birth has nearly doubled since independence. Under-five mortality rate and maternal mortality ratio have declined by over 60% since 1990. New HIV infection among adult population has declined by 57%. Substantial reductions have been achieved in the incidence of and mortality from major infectious diseases, such as tuberculosis, malaria, pneumonia and diarrhoeal diseases.
The BRICS ministers agreed to constitute a working group, to work on strengthening regulatory systems, sharing of information, appropriate regulatory approaches in case of international and national health emergencies and provide recommendations for the promotion of research and development of innovative medical products (drugs, vaccines and medical technologies).
The Ministers adopted the BRICS TB Cooperation Plan and supported the recommendations made by the BRICS workshop on HIV and Tuberculosis, held in Ahmedabad, India in November 2016, including the need for the suggested political, technical and financial actions to address the public health challenges of TB and HIV among BRICS countries.
They agreed to set up a BRICS network on TB Research and creation of a research and development consortium on TB, HIV and Malaria. The Ministers agreed to support the Global Ministerial Conference on the fight against TB to be held in Moscow in 2017 and the UN High-Level Meeting on TB at United Nations Headquarters in 2018. The Health Ministers appreciated India for a successful organization of the seventh session of the Conference of the Parties to the WHO Framework Convention on Tobacco Control, in November 2016.They also acknowledged that Anti-Microbial Resistance (AMR) is a serious global public health issue and emphasized the need to implement the WHO's Global Action Plan on AMR and National Plans in this regard.
It speaks of Nadda's able leadership and collective efforts of all stakeholders of the healthcare sector that in 2016, India celebrated five years since the last case of wild polio was reported. WHO headquarters confirmed India's claim of yaws free status in 2016. WHO has validated the elimination of maternal and neonatal tetanus in 2015 from India. Cases of kala-azar declined by 11% in 2015 from 2014, and 78% since 2006. Leprosy has been eliminated in 84% of all districts.
"The threat of Non-Communicable Diseases is dangerous for our countries since they not only result in premature deaths and disabilities, but are also responsible for low productivity, losses in economic growth and high health-care costs. NCDs are also a major barrier to the achievement of Sustainable Development Goals relating to reduction in poverty, improvement of maternal and child health, child mortality as well as in control of AIDS, tuberculosis and malaria. We must, therefore, renew our resolve and commitment to fight NCDs together on the BRICS platform, through innovative strategies," Nadda, said.
The establishment of a state-of-the-art Centre for Integrative Medicine in a record time of two months is an incredible achievement for AIIMS. As Nadda appropriately puts it, "The Centre for Integrative Medicine and Research is a pioneering initiative by AIIMS to research, documentation and delivery of holistic healthcare in the quest for convergence of contemporary medicine with India's ancient and traditional medical practices. It has been envisioned as a "state of the art" research centre where top experts from various disciplines of contemporary medicine will collaborate with Yoga and Ayurveda specialists, both for disease treatment, and for preventive healthcare. This step shall witness an integrated approach to healthcare, where the focus shifts from treatment to wellbeing and prevention of diseases. The Centre will provide a potent platform for integrating the contemporary allopathy with the benefits of traditional knowledge in healthcare such a Yoga and Ayurveda."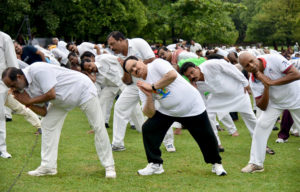 The Health Minister believes that the Government has placed a significant emphasis on Yoga and traditional systems of medicine and the establishment of the integrative centre is a major step forward in the Government's efforts to promotion of Yoga as an integrative discipline. The launch of the Centre came just a day after Prime Minister Narendra Modi's call for making Yoga even more popular globally. The adoption of June 21st as International Yoga Day by the United Nations has brought Yoga to the forefront of the collective world consciousness.
The Centre will seek scientific validation of our ancient medicine systems with a focus on Yoga. It has been designed as a perfect platform for rigorous research to establish the efficacy of our traditional methods of healing, which in turn should pave the way for their greater international scientific acceptability. Such studies are already underway in foreign universities, and AIIMS is now attempting to drive this effort in India through the establishment of the CIMR.
JP Nadda is determined to improve the patient-doctor ratio in the country, for which he emphasises on building up the primary and secondary health infrastructure with the co-operation of states. He has also launched AMRIT stores that distribute affordable cancer and heart disease drugs. Under National Health Mission (NHM), the health ministry is paying special attention to maternal and child care. Significantly, tuberculosis and HIV numbers are in decline. His ministry is also focusing on Digital Health. "We want to bring about improvements in Indian public healthcare delivery by progressively using information & communication technology under the overall objective of Digital India," he said.
The minister is also keen on "National Medical Commission (NMC) Bill" which provides for constitution of NMC in place of Medical Council of India (MCI). He constituted a four-member committee headed by Vice Chairman NITI Aayog to examine all options for reforms in MCI and suggest the way forward. The Committee has framed a draft "National Medical Commission (NMC) Bill" which provides for constitution of NMC in place of MCI. The draft NMC Bill was placed on the official website of NITI Aayog seeking comments of public/ experts. Various comments including that of state governments were received in this regard. After extensive deliberations, some suggestions have been incorporated by the Committee while submitting the final NMC Bill.
Time for a New Beginning
Thus, Nadda has a very ambitious agenda to execute on the health front. But he is always willing to render his services to the party in the organisational matters. And the forthcoming Assembly elections in Himachal Pradesh provide yet another befitting platform to Nadda to prove his organisational acumen and leadership skills and uncanny knack for devising an effective, winning electoral strategy.