Offering a wealth of nutrition
Shree Rathnam restaurant is helping the people lead healthier and more energetic lives by offering its choicest range of cuisine that abounds in taste as well as nutrition.
By Abhigyan / Abhinav
Located at Metro Station Commercial Complex, Kaushambi, Ghaziabad, Uttar Pradesh, Shree Rathnam is the standalone pure vegetarian restaurant that is contributing to the general health and wellbeing of people by offering finest and freshest, authentic South Indian food. The brand launched its first outlet at Paschim Vihar in 2012 and now its extensive menu also includes North Indian and Chinese cuisine for people from all walks of life on quick serve basis, at an exceptionally reasonable price.
Ramesh Bangera, Senior Manager, says, "Pure food contributes to a healthy body with a healthy and pure mind and that is what the brand is delivering since its inception. The brand was awarded with "Times Food award for best South Indian Cuisine" in 2013 and since then it has never looked back. It proudly boasts of 44 successful operational outlets in India with few in the pipeline within a short period of time.
Shree Rathnam was launched as a one-of-its-kind restaurant with a common view to excel in India and abroad with the finest quality and cost effective pure vegetarian food in a cool and modern ambience supported by experienced and courteous staff.
Ramesh Bangera adds, "We are committed to provide our patrons the most delicious, finest & freshest authentic South Indian food all made with the finest ingredients along with a mix of North Indian and Chinese cuisine. People from all regions of India can truly enjoy the gala dining experience at exceptionally reasonable price in an environment that soothes the frayed nerves, is cozy and comfortable." The restaurant offers multi cuisine and an extensive menu on quick serve basis that caters to human palate a wide range of tastes. It wants the taste, flavour and aroma to linger on for a longer period at least in the mind if not in the mouth of the guest. Therefore, it wishes to make the dining experience of its customers a physically, mentally and spiritually satisfying one.
"We definitely provide value for money and strive hard to live up to the expectations of our customers. We wish to ensure customer satisfaction with a missionary zeal. Customer review is always welcome," Bangera quips.
Rajesh Talwar, who works in MNC, said, "Idli, dosa, sambhar, vadas and rasam are things that every person who loves South Indian food will go looking for at all the restaurants in Delhi. Thankfully, we have a couple of restaurants dedicated simply to South Indian cuisines. Out of all the South Indian restaurants in Delhi-NCR, the one that you might come across often is Shree Rathnam, Kaushambi (Ghaziabad). This budget-friendly vegetarian restaurant has gained popularity across the capital city and there is a lot that it has to offer to people who love quality food. The restaurant gradually has made its presence felt across Delhi-NCR as a popular restaurant where people from not just middle-class families but also other walks of life come to get a taste of the best of delicacies.
The restaurant has an extensive menu at an exceptionally reasonable price. It's quickly becoming the first choice for people who are looking to dine in at a South Indian restaurant.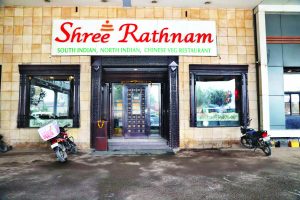 Shree Rathnam Menu
The popularity of the restaurant stems from the fact that it has a wide range of cuisines to offer. You can pick from their categories even other than their authentic South Indian menu. Other than their extensive South Indian varieties, they also have their signature Veg Fixed Thali, Uthapams, Soups, Salad Bar, Chinese, North Indian and plenty of dessert options, sweets, ice creams, and much more.
Kavita Bhutani who lives in Shipra Society at Indirapuram, says, "Shree Rathnam is a pretty decent option if you wanna have some good South Indian food. The food here tastes yummy and gives you a nice South Indian feel. I love their Masala Dosa which is my all-time favourite dish here. The dosa here is very crispy and stuffed with quality ingredients."
Rupesh Dadlani, a resident of Design Arc, Vaishali, says, "The quality of food is so good. Ideal place for your food cravings. I really like the varieties of dosa they serve, amazing taste and fresh crispy. I like butter roasted dosa, spring roll dosa and masala dosa. Also, butter masala dosa and chili garlic noodles are so tasty".